Tiger Woods – Profile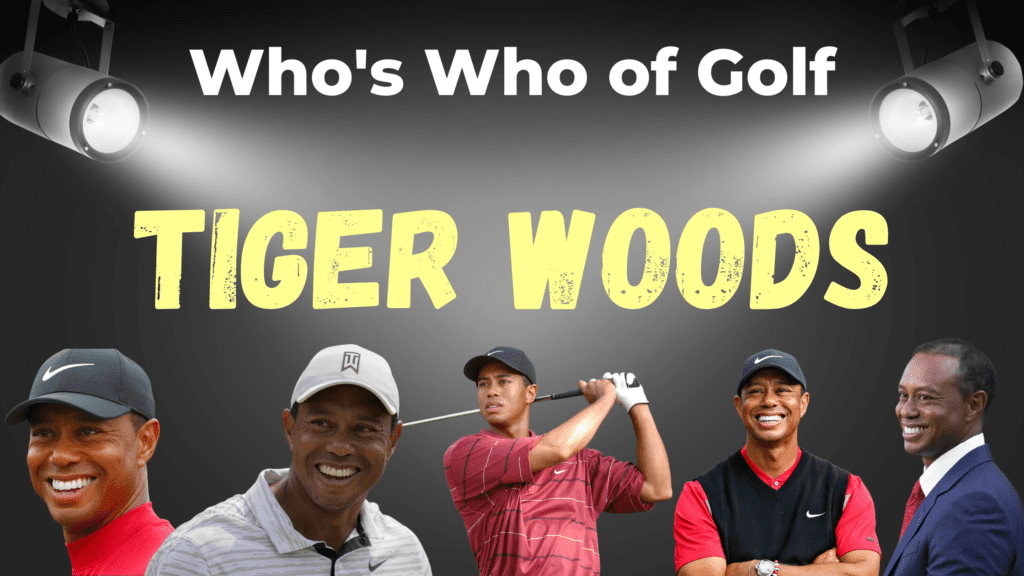 Full Name: Eldrick Tont Woods
Nickname: Tiger
Born: December 30th, 1975
Place of Birth: Cypress, California, U.S.
Sporting Nationality: United States 🇺🇸
Children: Sam Alexis Woods & Charlie Axel Woods
Who Is Tiger Woods?
Tiger Woods likely needs little introduction! Arguably the greatest golfer in the history of the game, Tiger has amassed more titles and money through golf than anyone else in the history of the game.
Woods is a professional golfer who plays his golf on the PGA Tour. From an early age Woods has changed the way that the world looks at golf, bringing a new level to elite sports in general. His hard work and dedication to the sport has been unrivalled. It all began with his father Earl Woods who coached and fine tuned Tiger from an early age. Tiger was certainly a child prodigy and prior to turning professional he won six Junior World Golf Championships.
Woods turned professional in 1996, since then he has spent a record 683 weeks as World Number 1 including 281 consecutive weeks from June 2005 to October 2010. He is tied equal with Sam Snead with a record 82 career PGA Tour Wins. Tiger has won the second most major titles in the history of the game. Three behind Jack Nicklaus, Woods has won 15 major championships.
Is Tiger the most popular golfer on Instagram?
Watch below to find out.
Why Does Tiger Woods Wear Red on a Sunday?
Famously, out of superstition Woods always wears red on the final day of a tournament.
"I've worn red ever since my college days basically, or junior golf days – big events on the last day. I just stuck with it out of superstition, and it worked. I just happened to choose a school that actually was red, and we wore red on our final day of events. So it worked out."

Tiger Woods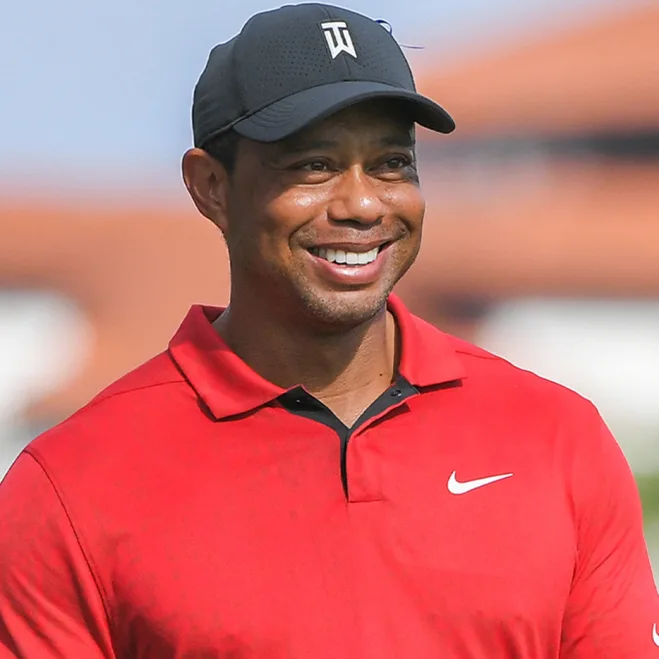 Below you can read some of Tiger's incredible records.
Tiger Woods Swing 2022
Over the years Tiger's swing has changed. Tiger has had to make some of the changes more recently due to medical limitations following his well documented injuries. Here's a look at his Tiger's swing in slow motion during his match with Rory McIlroy against Justin Thomas and Jordan Spieth in 2022.
Where does Tiger Woods Live?
As you would imagine, Woods has a rather impressive property portfolio. The pick of the bunch is his stunning Jupiter Island, Florida mansion worth in excess of $50 million.
There's two main buildings adding up to around 10,000 sq. ft. of indoor space. The buildings are connected by a glass covered walkway and a series of underground tunnels. Outside there's swimming pools, tennis & basketball courts, a running track and Tiger's very own 4 hole golf course. The Woods mansion also has a private cinema, games room, oxygen therapy room and state-of-the art gym. To top this all off there's a small private beach where Tiger keeps his $20 million yacht named "Privacy".
Tiger Woods Social Media Links:
33 Amazing Tiger Woods Facts:
Tiger holds the record for the most weeks as World number 1. He has been number one for an incredible 683 weeks including a record single run of 281 consecutive weeks.
Tiger Woods' scoring average of 68.17 in 2000 was the lowest in PGA Tour history, exceeding the 68.33 average by Byron Nelson in 1945.
Earnings – Nobody in the history of golf has won more money that Tiger Woods on the PGA Tour (in excess of $120 million).
With 82 all-time PGA Tour victories, Tiger Woods is tied with Sam Snead for the most wins in PGA Tour history.
Tiger has had 20 Career hole in ones including 3 on the PGA Tour.
Woods is credited with 41 European Tour victories (the third highest of all time) despite never being a full member.
Between 1998 and 2005, Tiger Woods made the cut in 142 consecutive events to break the PGA TOUR record of 113 events previously held by Byron Nelson. Woods' streak began with the 1998 Buick Invitational and ended with the 2005 Wachovia Championship.
In 2000 Woods won the US Open Championship to be the youngest player ever to win the career Grand Slam (aged 24 years old).
Tiger became the youngest ever Masters winner when he won it in 1997 aged 21 years and 104 days old.
Tiger is the only golfer to win the U.S. Amateur three times in a row, doing so in 1994-95-96.
Woods is the only player to win the US Junior, US Amateur, and the US Open title … he's won them all at least three times!
Woods won the Junior World Championships 6 times.
Tiger holds the record for the biggest margin of victory at The Masters. He won the Green Jacket by 12 strokes in 1997.
US Open Champion – In 2000 Tiger set the record winning margin for the US Open as a 72 hole competition. Woods won by a record 15 strokes, surely one that will never be broken.
Woods also holds the record for the largest Open Championship victory, with his 8 shot win at St Andrews.
In 2021 Wood won the Masters to become the only golfer in the history of the male game to win all four majors in a row. The feat was dubbed the "Tiger Slam".
Woods broke 80 aged 8 years old.
In 2007/2008 Woods recorded 14 successive rounds of 68 or better.
After winning the 2006 WGC-American Express Championship, Tiger became the first player in PGA Tour history to win at least eight times in three different seasons.
Woods is the only player to have won all four majors by at least five strokes.
The only time Woods won a major without a share of the final-round lead came at the 2019 Masters, where he overcame Francesco Molinari.
Tiger Woods has been named PGA Tour Player of the Year a record 11 times.
Woods has won seven majors by three shots or more (more than any player).
When holding at least a share of a tournament lead after 54 holes tiger has won 54 out of 58 times, when leading his record is 42/2.
Woods is one of only five players to complete the career Grand Slam, winning the Masters, U.S. Open, British Open and PGA Championship in his career. He accomplished the feat when he won the 2000 British Open at St. Andrews. The others to do so are Gene Sarazen, Ben Hogan, Gary Player and Jack Nicklaus.
The record for most consecutive rounds at par or better on the PGA Tour is also held by Tiger. In 2000/2001 Tiger had a stretch of 52 rounds of tournament golf on or under par.
Woods has successfully defended a PGA TOUR title more than any other golfer, a record 24 times.
Nobody has won as many Vardon Trophy's as Tiger Woods. He has won the low scoring average trophy nine times.
Each time Jack Nicklaus played a major championship for the final time, Woods won it: the 2000 U.S. Open and PGA Championship, and in 2005, The Masters and The Open Championship.
Favourite Course? Tiger has won eight times at the same course, Bay Hill, Firestone and Torrey Pines.
Unusually, Woods tends to only carry two specialist wedges (56 and 60), choosing more often to bolster his bag with an additional long iron or 5 wood.
Woods has used the same putter (Scotty Cameron, Newport 2) for 14 of his 15 Major championship titles.
Tiger has won at least five tournaments in 10 different seasons.
You can read all about other golfing record breakers in our Who's Who of Golf.