40 Best YouTube Golf Videos to Watch in 2023 [UPDATED]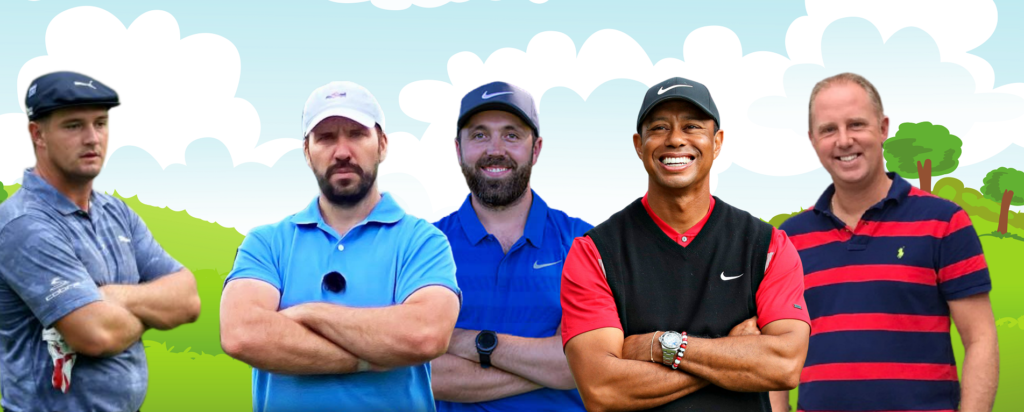 DISCLOSURE: THIS POST MAY CONTAIN AFFILIATE LINKS, MEANING I GET A COMMISSION IF YOU DECIDE TO MAKE A PURCHASE THROUGH MY LINKS, AT NO COST TO YOU. PLEASE READ MY DISCLOSURE FOR MORE INFO.
Having spent hundreds of hours in the last 12 months watching golf content on YouTube, I think I'm fairly well placed to have an opinion on the best YouTube golf videos to watch in 2023. I'm sharing my favourite 40 YouTube Golf Videos below and also some of the other YouTube channels that I enjoy watching. I haven't ranked them from 1 to 40, purely because I actually love all of these videos, so choosing one above another would be an almost impossible task (although for the record, the last one is definitely the best!)
This article shouldn't have taken long to write, but it ended up taking me days. Each time I started researching, I ended up in a YouTube Wormhole watching videos rather than writing about them!
Firstly, I'm starting off with the original "God of YouTube Golf" Rick Shiels. Rick was one of the first YouTubers on the scene way back in 2012. Over the last 12 months, there are loads of videos that I've enjoyed from Rick, so writing a best YouTube golf videos article without starting off with him would have felt wrong. I have particularly enjoyed Rick's summer link-up series with the Good Good team.
It's actually a video from early 2022 that I loved the most. It's a video with fellow northerner and European Ryder Cup legend Tommy Fleetwood. They go head to head in a stroke play competition, with Rick getting a 10 shot head start. It was filmed on a wet and windy day at the fabulous JCB Golf & Country Club course in Staffordshire, England.
I genuinely could not stop smiling and laughing all the way through this one. Tommy is a very likeable character with super quick wit and a fantastic onscreen personality.
Rick also has a second channel called The Rick Shiels Golf Show. On this channel, he shares some of the key clips from his weekly podcast with Guy Charnock. Do you listen to his podcast? Are are you in the clubhouse (IYKYK)? If you do listen to podcasts, then I highly recommend this one. You can download it here from Apple Podcasts or Spotify.
When picking the best YouTube golf videos, then I also couldn't leave out the Good Good channel. This video in particular is priceless! I think if I was pushed really hard, then this would be the best one. "The Greatest Golf Shot in YouTube History" is quite simply that. Give it a watch, get invested, and I challenge you not to have hair standing up on the back of your neck by the end!
It's pretty simple to see why I like this video. Who wouldn't want to watch a video about the greatest golfer of all time's ridiculously, amazing Florida estate? Not only ranked in the my list of best YouTube golf Videos, but this house also has to be up there with the best Mansions in the world.
Tiger's estate has four golf holes, a basketball court, a running track, tennis court, an Oxygen therapy room, boathouse, cinema, basement games room (Tiger's favourite computer game is the same as mine, Call of Duty), swimming pool, diving pool, gym, and even his own private beach. Take a look at what you can have if you are THAT good at golf!
Peter Finch's channel has been a favourite of mine for some time. I was excited to actually bump into him this year before a lesson at Trafford Golf: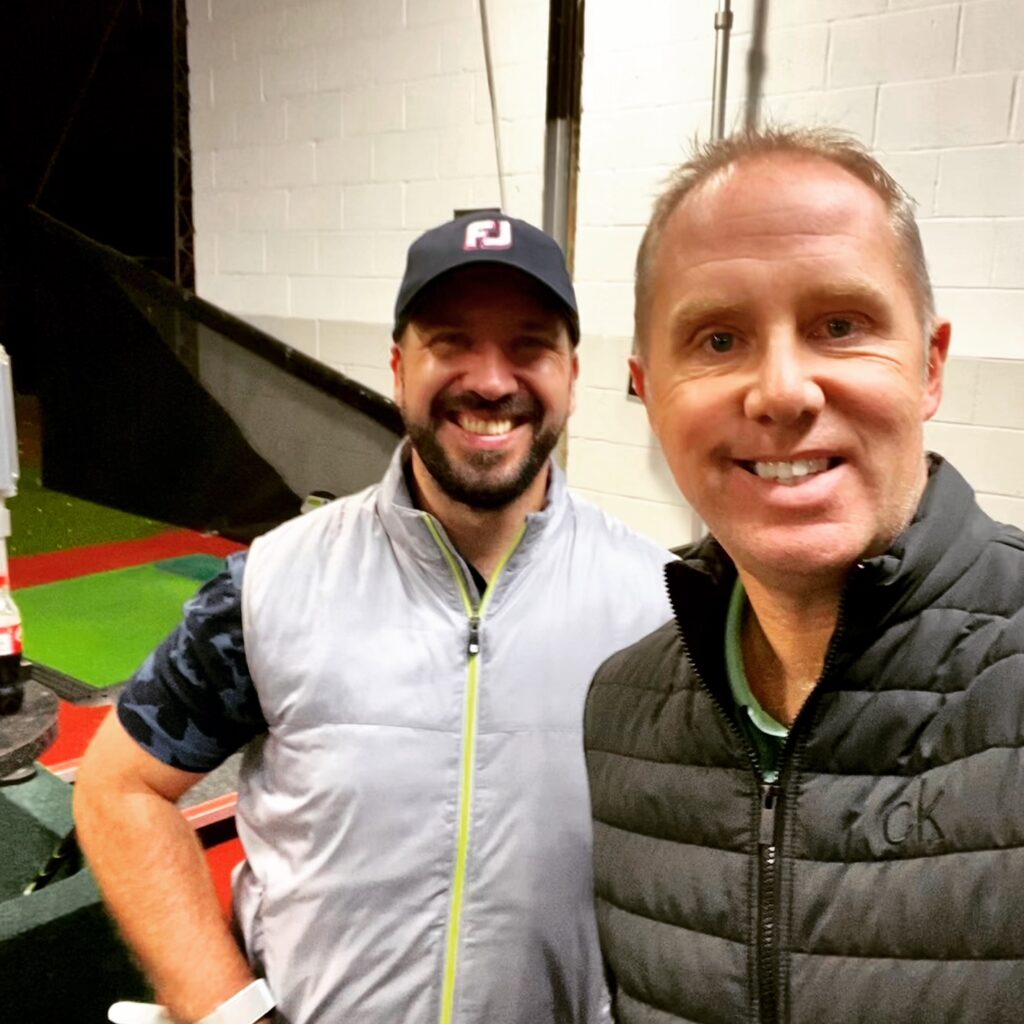 Pete has made lots of fantastic content in recent years, and one of my favourite YouTube videos is his hole in one video. This is a classic because even though it's also his job, you can clearly see the emotion and how much Pete clearly cares about and loves his golf.
But it's not just Pete. His team of happy helpers appear on the channel too, and while the video I've chosen isn't one of their most watched videos, it is is my favourite video of the year from Peter Finch Golf. Kieran, David, and Jacob take on Pete in a Texas Scramble match over nine holes. The prize is a week off work for the guys, or if Pete wins, then he gets to create a post on their personal social media accounts. I love seeing and hearing the camaraderie between the four of them; it's clear that they all love their job (who wouldn't?)
Garrett Clarke was born in Kansas City on April 8th 2000. Clarke has been hitting incredible golf trick shots and creating some of the best YouTube golf videos since 2013. Garrett is the founder and one sixth of Good Good Golf.
In 2022 Garrett ramped up the volume of videos he posted on his own YouTube account. He posted over 60 videos! There's a lot to choose from in terms of picking my favourite. Personally I loved this video of Garrett with former world number one and 2023 European Ryder Cup Captain Luke Donald.
Matt is another YouTuber like Rick Shiels, who cut his teeth at the Trafford Golf Centre Academy. Matt is newer to the scene than his two good friends Rick & Pete.
I started watching his videos towards the end of 2020. Although the knowledge and content within them was very good, Matt's initial presenting style was a little awkward (like mine). However, Matt is a perfect example to me that if you work hard it will pay off. Fast forward to today, we have a confident and dare I say witty Matt Fryer presenting regular YouTube videos that are packed with fun but also quality hints and tips that I find simple to take onboard and understand. His teaching style is thorough and informative yet jovial and full of laughter. For me, his one liners (albeit mostly Dad jokes) steal the headlines in the YouTuber's Texas Scramble match with Peter Finch, Rick Shiels, & Andy Carter.
Here's my favourite video of Matt's, and for me this one is all about emotion. Again, it's a hole in one video. Not from as far away as Good Good, but this is an absolute "slam dunk" peach. Matt's excitement makes it for me.
Yes, there's a theme here. Who'd have thought it … another Northern YouTube golfer. James Robinson is one of my favourite YouTuber's. He's a little Marmite in the YouTube world. He is not scared of calling a few people out or of sharing his opinion, but I like Marmite, and his channel.
James posts a LOT of content! He's one of the few YouTube golfers who posts every single day. There's lots of good, honest product reviews and also lots of silly experiments. Look out for his catchphrase "Let's do it, and let's do it now!"
James likes to try lots of different things. Like others above, the clear thing that comes through in his content is his love for the game of golf. He has lots of friends that join him on his account. Quite a few of them are also YouTubers or have become so since appearing on his channel. He's made sooooo many videos this year that it was really difficult to choose the best one … but I found this video about the Scotty Cameron putter that James bought from Wish a really interesting watch. If you've ever thought of buying a "cheaper" golf club from Wish or another shopping website where the price looks too good to be true, then I would definitely recommend watching this video first.
James also has a second account "Off Course." This is well worth a watch, and there's more about that below in the "Ones to Watch" section.
Since his "beef with Brookes" in 2021, Bryson seems to have kept a lower profile. His YouTube channel though has been growing. In 2022 he posted 39 videos compared to 23 the year before. I'm sure the Players Impact Program has got nothing to do with that …
Bryson has mainly been in the headlines throughout the last 12 months due to his "beef" with Brookes Koepka. In 2021, though, he also launched his YouTube channel. It's suspected to be his effort to earn some of the $40m PGA bonus pot that is "designed to compensate players who are judged to drive fan and sponsor engagement."
It was interesting to see behind the scenes with the 2020 Major Champion in the 2022 PLDA World Long Drive Tournament. I also really enjoy seeing the behind the scenes video such as his tour of the home he grew up in, but my favourite video was "How To Swing A Golf Club (like me) | Bryson DeChambeau". I
Obviously, if we're talking best YouTube golf videos, then clearly I saved the best until last! Ha. On a serious note, I've absolutely loved learning how to make YouTube videos. I've learned a lot since the first videos, but I'm still a million miles away from the quality of the guys above. I'm enjoying the journey and can't wait to be bring you more content in 2023.
Here's my most popular YouTube video, my review of the Quick Hit Practice Net from Quick Play Sports.
If you like this article, then maybe you could pay me in kindness, by subscribing to my channel here … it costs you nothing!
Other Best YouTube Golf Videos to Watch
There are so many fantastic channels on YouTube, and while I may have highlighted my top ten best YouTube golf videos, there are also hundreds of other amazing golf YouTube creators out there right now. Here's a small selection of some of the other channels I love:
Alex is a PGA golf professional and top coach. If you're looking for game improvement tips then Alex is your man! He is working with lots of the top names in golf to share his coaching around the globe.
Andy is an everyday golfer from East Kilbride in Glasgow. He's been playing golf for years, but a couple of years ago he decided to setup a YouTube channel to share his hints and tips for mid-handicap golfers.
Andy has a successful Golf Blog that he has been writing for a few years. He doesn't post content too often on YouTube, but when he does the video's are thorough, interesting and well thought out. Certainly worth a follow so that you get notified when Andy posts something new.
Andy (supported by daughter Hannah) shares his unbiased opinions and reviews on various golf products. They also have a great website with their own range of AG merchandise.
Andy is one of the four amigos with Rick, Pete, and Matt. Carter is a PGA Teaching professional based at the Pete Cowen Golf Academy at Jumeirah Golf Estates in Dubai. In the latter half of 2021, he really started to increase his output on YouTube, mainly with coaching hints and tips. You can pick up some good practice drills from Andy's channel or just watch him living the dream in Dubai … and in the UK. In 2022 Andy returned to the UK for family reasons although he still spends plenty of time in Dubai as well. When he moved back to the UK he seriously ramped up his YouTube output. Head over to his channel there's LOADS of really useful hints and tips.
Chris' channel is good to watch if you're looking for help with your short game and putting. Often seen knocking around with James Robinson, Chris is another Yorkshire based YouTuber. He is also a specialist putting coach, and that has seen him spend a lot of time away on both the Men's and Ladies' European tour.
Louis Jean is the God of "doing things differently" on a golf course and the face (with his Dad) of ClubFaceUK. Louis started as a TikTok sensation that very quickly emerged onto all platforms. I absolutely love his genius content ideas. I'm not sure why more people aren't cutting the shaft off their putter and sticking it on their driver?!
Andy and Riley are, as the name suggests, a Father and Son duo, and they are also two very good golfers. I've enjoyed watching Riley's golf progress throughout the year and particularly enjoyed watching them build their artificial putting green. Andy is a low-handicap golfer who smashes it miles off the tee. Riley is a junior golfer with A LOT of potential. It's so fun watching his journey.
They already have a brilliant website jam-packed full of equipment reviews, hints, and tips, and now Fun Golf are just starting out in the YouTube world. If their YouTube channel is half as good as their website content, then this will definitely be one to keep an eye on in 2023. If you're looking for a range finder, then watch their honest review on the Shot Scope Pro L1 range finder. Craig Barnard, the founder of Fun Golf has also written his own book How to Improve You Golf.
I originally started watching Gaz because he loved going live on YouTube. You may know him from his six years on Geordie Shore. I've been watching his content now for just over a year. He's a straight-talking livewire who is full of energy. I thought his channel deserved a mention because it is different and exciting to watch.
He will probably hate me saying this because he is of course his own man, but Gary comes out of the same stable as James Robinson of Huddersfield Golf Club. Gary is a PGA Pro there and only started his channel in 2021. I particularly liked his videos teaching Toheed, who is a brand new golfer, how to play golf. I found it interesting to see how a PGA pro works with a complete beginner and what areas Gary focused on.
Danny and Matt post a new video every other week. In 2021, they hit the magic 1000 sub marker after a year full of consistent posting. Follow them as they aim to improve their golf together while showing you plenty of very relatable content along the way!
Kevin has been killing it this year with his Instagram Reels, but his shoe reviews on YouTube are where he really excels. When you need new shoes, be sure to check here first!
Hosted by the lively Liam Harrison, the Golf Mates channel has been growing and evolving for many years. Liam brings together the likes of OMP, Mr Barlow, Ebay Pete, Smiley Lee, and Young Man Josh to bring very relatable hints and tips from the many courses they travel to around the UK. Golf mates recently featured KatyPlaysGolf who plays at our very own Flixton Golf Club, on their channel.
Ashley, Charlie, and Button are three very likeable guys from Essex who only started their channel in April 2021. They have created some brilliant content since then. I most enjoyed their Texas Scramble videos trying to break some course records. They are smashing it lead by their infectious frontman Ashley!
After leaving Good Good at the end of 2022 Grant will be focussing hard on his own channel moving forward. Definitely a YouTube Golf one to watch in 2023.
Jazzy is on a mission to "change the world of golf for women one swing at a time". Having been introduced to golf in 2017 Jazzy quickly recognised the need for improvement within women's and junior golf. Check out her YouTube channel where you'll find her sporting Jazzy golf clothes and filming with famous golfers such as Sir Nick Faldo and Tommy Fleetwood. Jazzy is another "new" face to golf that is smashing it at the moment. More recently she has been flying the flag and campaigning for women's and junior golf, and presenting content for huge names such as Sky Sports.
Looking for help with you golf fitness? Look no further. Joe is a fabulous fitness and performance coach. On his channel you can find really useful short videos that will help you improve your mobility and strength.
After 20 years in the Royal Navy, Lee Whittaker is now earning his living full time in Golf. Until summer 2022 he had a custom-fitting studio and golf shop based out of Ashbury Hotels Golf Resort in Devon. Lee has now started working for DHG Media (Dan Hendriksen's brand) based out of Churston Golf Club but hopefully he'll still be posting great content.
I first started watching Lee's channel in 2021, and what really attracted me was his brutal honesty and hard work. His regular videos are a mixture of Vlogging and hints and tips.
Gabe is based in Tampa, Florida, and mainly focuses on reviewing golf clubs and tech. If you're looking to buy a GPS watch or similar, there's tons of products reviewed on his channel.
Piers and Andy are flying high with meandmygolf.com. In my opinion, they have created the best structured online golf coaching lessons around. They coach European and PGA Tour golfer Aaron Rai and bring their vast coaching knowledge to the screen in an easy to digest yet technical format. Piers and Andy were one of the very original golf advice channels on YouTube.
Mia is probably the chattiest YouTube golfer you'll ever find! Her golf story is a really interesting one; you can see it here. Mia has been killing it on Instagram since her American Golf experience, and has recently even written her own book Just Don't Give Up. It's a great gift to help inform or change any child's perception of golf.
Mia's astronomical growth continued in 2022 with more huge names appearing on her channel.
Michael is another YouTuber from the North. Based at Penrith Golf Hub, his speciality content is golf club reviews and coaching hints & tips. If you want to know how hard it is to make YouTube videos, then take a look at his hilarious outtakes here.
Micah Morris will 100% be someone to look out for in 2023. He acrimoniously split from the Good Good team towards the end of 2022 siting "misalignment" and "growing apart" as the fundamental reasons. While he loved his time at Good Good Micah now wants to pursue professional golf and posting his own content which will almost certainly be worth a watch! Keep your eyes peeled on this channel … I'm calling it as the ONE TO WATCH in 2023.
Having made the college Golf Team, Matt graduated from San Diego State University and headed to Hollywood to work in the television and film industry. Fast forward 20 years and he's now using his film experience to bring top quality content to YouTube. I love his excitable presenting style because he brings a lot of fun to his videos.
If you can't get enough of James, then you can see him here on his off-course channel. With his fiancée Laura and dog Jameson, you get to see some insight into their everyday lives and also James' obsession with cars.
Iona's channel is one of my more recent discoveries. I found her channel after watching her incredible round with Rick Shiels around Crail Golfing Society. I absolutely loved Iona's cheery manor and energt around the course. Obviously it helps when playing great golf. Iona Stephen is a former professional golfer who is probably best know for her presenting on Sky Sports.
Finton and James are a couple of regular guys who love golf and share their updates and honest product reviews in a fun and easy to watch way. Keep an eye on their channel and their fantastic giveaways.
Seb Carmichael-Brown is a content creator and competitive golfer who's YouTube channel has been going strong since 2016. I have only more recently started following Seb on YouTube … with over 150 videos so far I've got a bit of catching up to do!
If, like me, you are a football fan, then you will almost certainly know of Tubes (Peter Dean) from the hit UK Saturday morning show Soccer AM. Tubes and his brother, Ange, setup their YouTube channel in February 2019. With his soccer contacts, Tubes and his brother bring unique content to YouTube and an insight into the lives of some of the best footballers in the world. Tubes also talks very openly about his battle with Alcoholism that lead to his 2018 heart attack. Through the videos, he tells very frank and honest stories about his life as an alcoholic and how he has since been able to pick himself up and find his desire for life again.
Tyler is a playing golf professional born in South Africa and now living in the UK. This is another channel that only started in 2021, but Tyler has already amassed over 4k subscribers with his short coaching clips. If you want quick tips, then checkout his channel.
Are there any channels and videos that would make it into your list of best YouTube golf videos that I haven't mentioned?
Bye for now!