What is Par in Golf? Golf Scoring Explained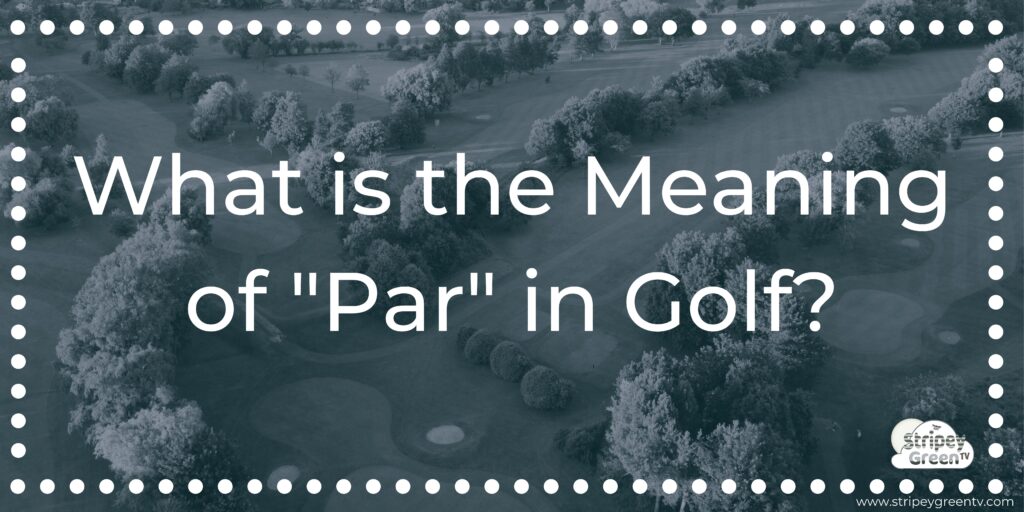 DISCLOSURE: THIS POST MAY CONTAIN AFFILIATE LINKS, MEANING I GET A COMMISSION IF YOU DECIDE TO MAKE A PURCHASE THROUGH MY LINKS, AT NO COST TO YOU. PLEASE READ MY DISCLOSURE FOR MORE INFO.
Definition of Par
Par is the baseline for describing golf scores, both by hole and by round. Read more below about this term and watch Mr. Short Game take on the hardest par 3 golf course in the world!
Dictionary.com describes par as "the number of strokes set as a standard for a specific hole or a complete course."
The R&A explains a par as the following:
Par reflects the score a scratch player is expected to score on a given hole and may be allocated depending on the playing difficulty of the hole, including any effective length correction factors: for example, elevation changes, forced lay-ups, and prevalent wind.

R&A – Appendix F – Establishing Par
The par for any single given hole is usually based around its length, but sometimes the difficulty of the hole also comes into the equation. The R&A recommend the par of a hole is established in accordance with the following hole lengths: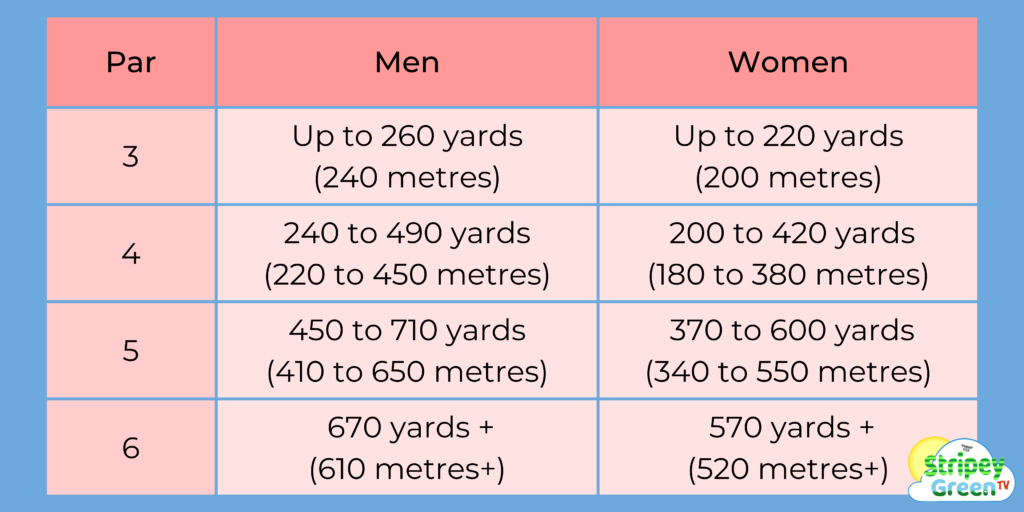 Par and Scoring On Individual Golf Holes
On a Par 4, if the hole is completed in 4 strokes, then the golfer is deemed to have "parred the hole" or "scored a par." Parring a hole is also referred to as "even-par" or "level par."
If a golfer scores one shot less than par, it is known as a birdie. Two shots less is known as an Eagle. Three shots better is known as an Albatross and four shots better is known as a Condor. Moving the other way over, par scores are known as "bogeys." One over par is a bogey, two is a double bogey, three is a triple bogey, four is a quadruple bogey, five is over is a quintuple bogey, and the rest are shown in the table below.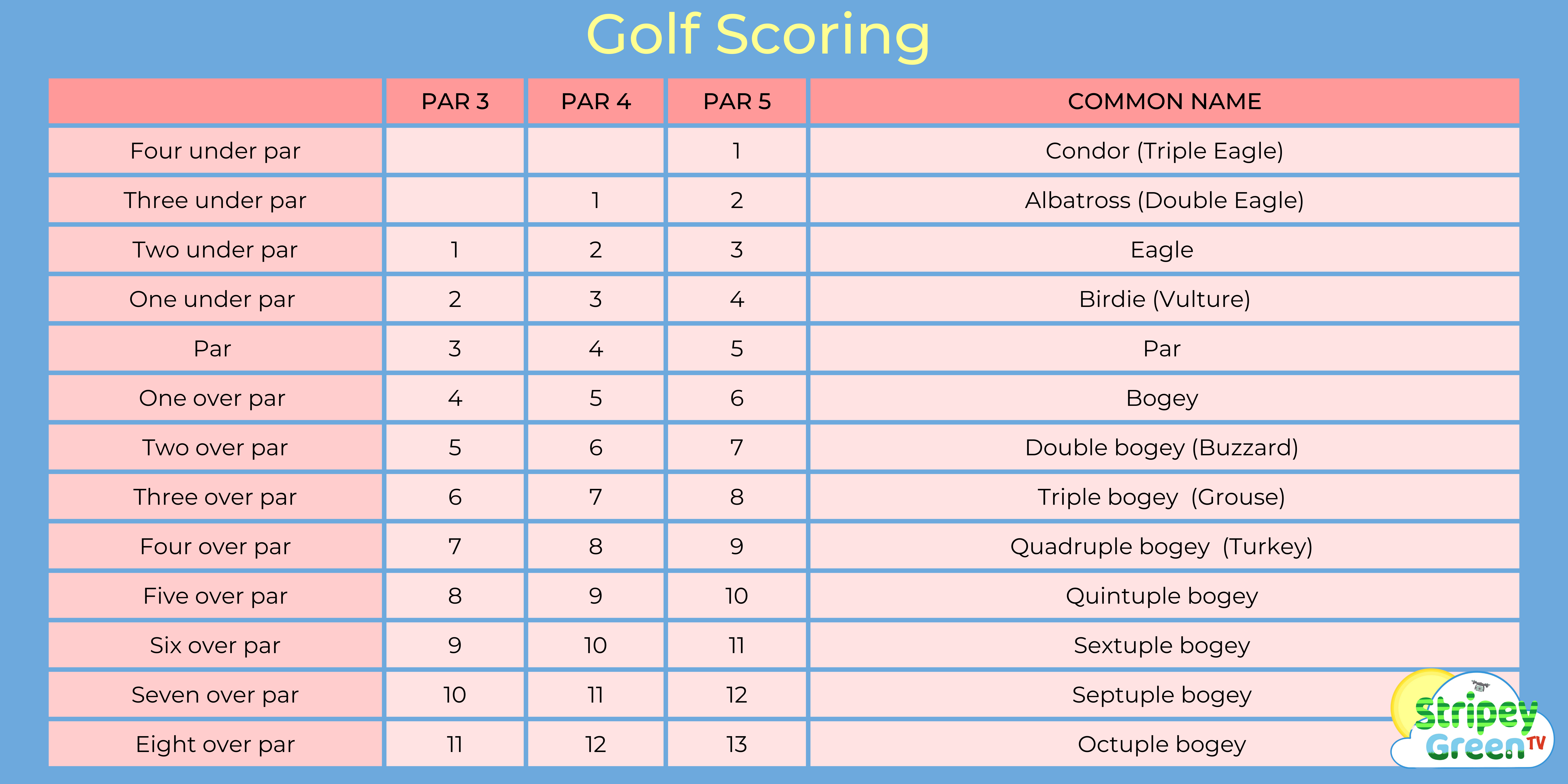 Par Includes 2 Putts
A golfer is expected to take 2 putts on a hole to score a par.
Par 3: 1 shot to reach green plus 2 putts to make par
Par 4: 2 shots to reach green plus 2 putts to make par
Par 5: 3 shots to reach green plus 2 putts to make par
Par 6: 4 shots to reach green plus 2 putts to make par
Par and Stableford
Scoring a par in Stableford earns a golfer two points. If a golfer scores a gross bogey but receives a shot because of their handicap, then they would then have scored a net par, which is worth two points.
Read more about Stableford Scoring in our article here:
The Par of a Golf Course
The par of an entire golf course is the combined score of the "pars" of the holes on the course. For example, if a course had 18 Par 4 holes, then the total par for the course would be 72 shots (18 x 4).
Usually, a golf course is made up of a mixture of par 3s, par 4s, and par 5s. Most commonly, the combination of all the holes will add up to 68-73 shots, although some course have less and some more.
Par and Handicaps
While par gives a golfer an idea of how they are playing against their handicap, it is not a true reflection of what their actual course handicap is. Working out a handicap is a much more complex process than simply working out the playing average against par. A handicap is affected by the Course Rating and the Slope Index of a golf course. The overall par of a golf course is therefore not always a true reflection of its difficulty.
For example, a golf course of 6,000 yards could have the same par as a course of 6,500 yards. It's quite likely though that the longer course will be harder; therefore, it would have a higher slope index (basically, a difficulty rating). The slope index defines the handicap that a golfer plays off on any particular course on a given day. The number of shots a player receives also depends on which tee they are playing from and what type of competition is being played.
Is a Par a good score in golf?
Yes, a par is a very good score on either a single hole or an entire course. Par every hole on a golf course, then a golfer will have played to "scratch" or scored par. Scoring below par is exceptional! If a net par is scored on every hole, then the golfer will have played to their handicap on that day.
The scores end up on a golfers scorecard. I have found what I think is the best golf scorecard holder. The holder is in fantastic condition even after a few years of VERY regular use. I often receive very positive comments about it.
How do you save Par?
"Saving Par" is a term generally used for someone who scores a par on a hole from an unlikely position. When a golfer misses the green with their antepenultimate shot, they would be adjudged to have saved par if they finished the hole with a par. For example, if a golfer hit their second shot on a par 4 into a greenside bulker, they could be deemed as saving par by "getting up and down" from the bunker.
Par or Better Record
The record for most consecutive rounds at par or better on the PGA Tour is held by Tiger Woods. In 2000/2001 Tiger had an incredible stretch of 52 rounds of tournament golf on or under par.
What is a Par 3 Course?
A Par 3 course is a golf course that is solely made up of par 3 holes. As explained above, each green is expected to be reached in one shot. Most commonly, these courses are designed for quick, fun games of golf.
A fine example is one of the hardest Par 3 golf courses in the world: the exclusive Vickery Creek Couse in Atlanta, Georgia. Watch Mr. Short Game take on the Vickery Creek back nine below.
Good luck getting to play Vickery Creek though. Read the PitchPutt.org to see a list of how to get a game here.
What is an Academy Golf Course?
An Academy course (also known as an Executive Course) tends to be a shorter, easier golf course. This type of course is usually either nine or eighteen holes. On an eighteen hole Academy course, the par would likely be in the late 50s or low 60s, as opposed to 68-73 on a standard golf course.
Anyone is usually welcome to play an Academy Course, although they are designed more for beginners and golfers wanting to practice their short game. Unlike most standard golf courses, many Academy courses don't require a golfer to hold a handicap in order to play.
Conclusion
Par is a versatile term used to describe the number of shots a "scratch golfer" is expected to hit on either a single hole or a series of holes making up a golf course.
I hope you've enjoyed reading all about Par. Keen on learning more about golf? Read more of our blog articles here.
Bye for now!