Stripey Green TV are delighted to be able to offer you professional golf shot tracker quality graphics overlaid on to your golf shot videos and golf content. Add Shot Tracer to your videos and content today to make you stand out from the crowd.
Almost all top golf content now show a golf ball tracker. SGTV can apply Shot Tracers to your videos of full swings, pitch shots, chip shots or putting videos. Adding shot tracer to your videos can take a lot of time. Send your videos to us and we can apply the graphics in a timely manner.
Visit our fiverr gig page for more details including availability and pricing.
Stripey Green TV can add a golf shot tracker to almost any of your golf shot videos. Ideally use a tripod. Golf shot tracking is still possible to add to a hand held video. Pro tip; Film your shot from off to one side like the one above and also try to capture the whole flight … unlike the example above where I just managed to miss the apex at the top!
We can even add a tracer to your golf drone footage like below.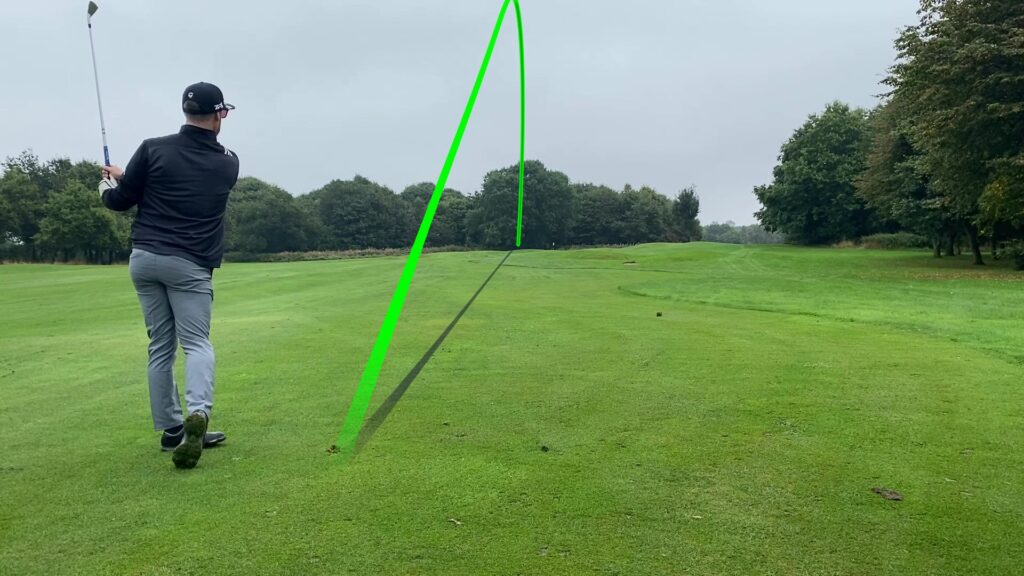 Choose your colour! You can have any colour of shot tracer.
Shot Tracer App
We use various different pieces of software to add graphics to your golf videos including the Shot Tracer app. Shot tracing can be time consuming and inaccurate. Take the hard work out of the job and let us track your golf ball for you!
FAQ
What colour is the Shot Tracer Line?
The most commonly requested colours are yellow, red and blue. These colours stand out well against the golf course but any colour is available, just send us the Hex code when submitting your requirements.
What is the best camera filming position for Golf Shot Tracker Videos?
Place your camera or phone about 6 paces behind the golfer. Rather than straight down the line of the shot you should be slightly off to the right side for a right handed golfer .
Do I need to use a Tripod to be able to add Shot Tracer?
Ideally you should use a tripod for any video that you want to add a golf ball tracking line too. Without a Tripod it may still work but results are unlikely to be as effective.
How Long Should My Golf Shot Video be?
Your video should ideally include the whole shot from the start of the backswing to the moment the ball stops moving.
What is the best video format for Shot Tracers?
We can support almost any video format, aspect ratio and frame rate.
Can you add a Golf Shot Tracker to my Putting Videos?
Yes, shot tracer to putting videos.
Can you add Shot Tracer to my Pitching or Chipping Videos?
Yes
Can you add Swing Tracer?
Yes we can accurately track the club head through the backswing, downswing and follow through as required.
How much does it cost?
Basic pricing is displayed on our fiverr page. For a bespoke quote please message us your requirements and we can send you a quote.
How long does it take?
This depends on how many golf shots you want the shot tracer adding to and if you would like any other graphics. Typically we can turn your videos around within 24 to 48 hours.
What happens if I don't like your golf shot tracker video?
You will always get the option for at least one revision of the work. If you don't like the colour for example, let us know and we'll change it for you. Remember though, we don't edit the actual footage and we can't improve your golf for you!