What is a Scratch Golfer?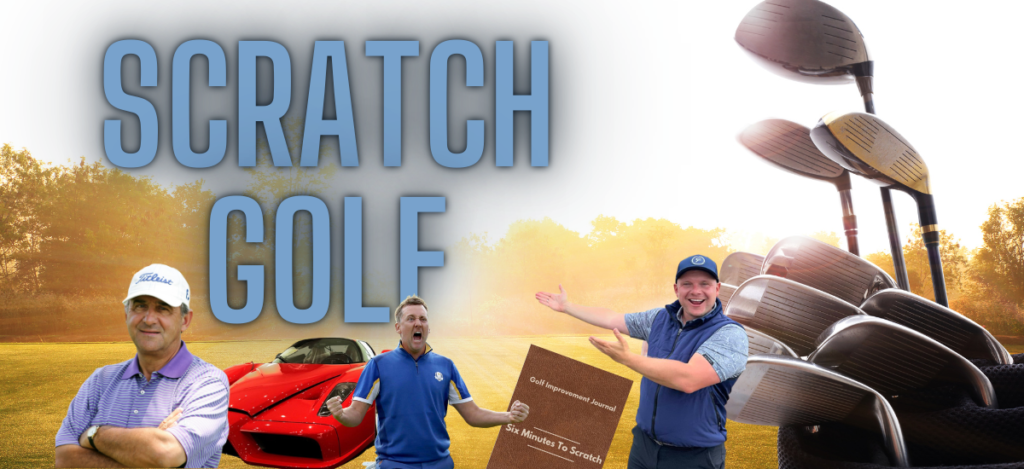 DISCLOSURE: THIS POST MAY CONTAIN AFFILIATE LINKS, MEANING I GET A COMMISSION IF YOU DECIDE TO MAKE A PURCHASE THROUGH MY LINKS, AT NO COST TO YOU. PLEASE READ MY DISCLOSURE FOR MORE INFO.
The word "scratch" derives from a line that was marked in the dirt as the starting line of a race for runners. The quickest runners would start on the scratch line, while the slower ones were given the advantage and could start in front of the scratch to make the race more intriguing and fair. It was a useful method of handicapping, and the outcome of the race ought to be very close.
Thus, the expression "beginning from scratch," which refers to starting over, originates from this race tactic. The scratch golfer has nothing, whereas the lesser players benefit from being able to deduct their handicap from their final score.
A scratch player is simply someone who regularly and successfully manages every area of their game. They can navigate the golf course, and can hit the right shots at the right moments. Golfers who play to scratch rarely have consecutive bad shots and have the mentality to bounce back quickly from setbacks.
A scratch golfer is one who plays to zero handicap or better. Golfers with a handicap below zero are more often referred to as "plus-handicappers."
What is the difference between a scratch golfer and pro?
A PGA Professional golfer should not be confused with a scratch golfer. To become a PGA pro, a golfer must give up their amateur status and prove themselves in one of the most cut-throat environments imaginable. But more crucially, to be a professional golfer, a player does not have to be a scratch player. Players can turn pro from as high as an 8.4 handicap.
All PGA professionals will be different standards, and they play golf for different reasons. There are over 80 different job roles that a PGA Pro may want to specialise in once they are qualified.
In the video below, you can see how James Robinson (PGA Pro) gets on against a scratch handicap golfer.
A good score for a typical course that relies solely on skills is 7-10 strokes over par. The US Open and PGA Championship, where scratch golfers have qualified, are examples of this fact. Most of the players shoot between 82 and 85 in both rounds and typically don't break 80.
There are two types of golf: tournament golf and regular golf. They are like comparing an FA Premier League match with non-league football game or the the Super Bowl with the BCS Championship game.
What handicap is a scratch golfer?
A golfer that can play to a course handicap of zero or less on any rated golf course is known as a "scratch golfer."
"For rating purposes," a male scratch golfer can reach a 470-yard hole in two shots at sea level and average 250 yards off the tee. A female scratch golfer can reach a 400-yard hole in two shots and average 210 yards off the tee.

What does "for rating purposes" mean? A rating is what the USGA assume performance is for a scratch golfer, which forms part of the calculation of the slope index of a golf course.
How good is a scratch golfer?
They are superior to the majority of golfers in the world. They often have few weaknesses and are extremely competent players.
Scratch golf is golf played to par or below. Keep in mind that par is the approximate number of strokes an experienced golfer would need to complete the course being played. Golfers with a zero handicap (playing off scratch) would be expected to play the course to par without any assistance and would not get any strokes on par to complete their round.
Does this score occur frequently? No. Neither a scratch golfer nor a PGA Tour player consistently shoots the same score, just like most players. According to Lou Stagner (Data Insights Lead at Arccos Golf), a golfer is only anticipated to play under their handicap once every 5 rounds. Therefore, despite the fact that they may be scratch golfers, they would inevitably shoot several rounds in the mid- to high-70s and occasionally even an 80+ or two. A larger percentage of their rounds, however, would be closer to par.
In a post on Twitter, Stagner states "You should beat your handicap by three shots only once out of every 20 rounds." He also goes on to suggest that a scratch golfer plays an average of 5.4 holes per round over par. If like me you're a fan of stats and data, Lou Stagner is a very interesting person to follow on Twitter. I've spent many an afternoon moodling around, reading his tweets.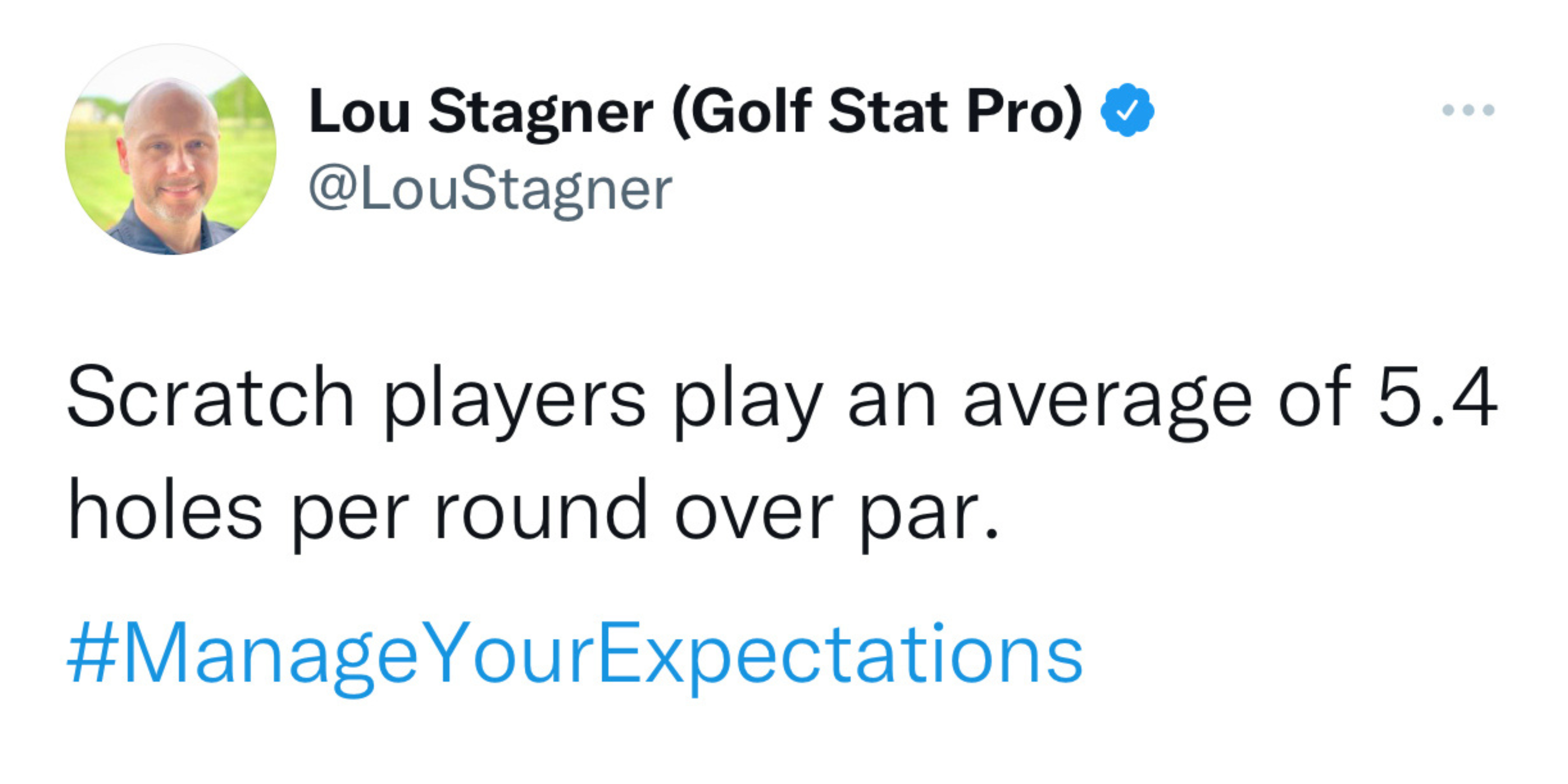 Can anyone become a scratch golfer?
For many golfers, being a scratch golfer is their ultimate objective. With time and focus, most golfers could get down to a scratch handicap. However, only a very small percentage make it.
Most people will never play scratch golf. Less than 2% of golfers have a handicap of 0 or lower according to the USGA. This statistic is due to the fact that achieving this goal is very time-consuming and extremely tough. A zero or better handicap is a fairly ambitious objective for most individuals. It's often said that players with larger handicaps may actually enjoy the game more … food for thought!
Hard Work
Ball striking needs to be the focal point of the scratch golfer's game. They don't need to be very long off the tee, but they do need to be hitting the majority of greens in regulation. If a scratch golfer misses a green in regulation, they will need to consistently get up and down for par.
A scratch golfer knows how to correct these errors, and this skill sets them apart from the rest of the field. A golfer at this level making two terrible errors in a row is exceedingly uncommon. Being a scratch golfer requires a blend of mental toughness, decision-making abilities, and of course athletic prowess.
Scratch Golfers don't panic when they hit a misplaced tee shot, miss a green in regulation, or three-putt. A scratch golfer is aware that they can recover. They're aware that there will be further chances to score throughout the round.
You must successfully practice, play frequently, fail, learn from your mistakes, adapt, and maintain a positive attitude. Some golfers find the journey to scratch to be much easier than others, but it is usually a long and winding road! It cannot be learned overnight or just through instruction. Becoming a scratch golfer takes time.
Are you looking to journal your way to becoming a scratch golfer? If so, why not check out the new journal from Craig Barnard, Six Minutes To Scratch: The Golf Journal To Improve Your Game.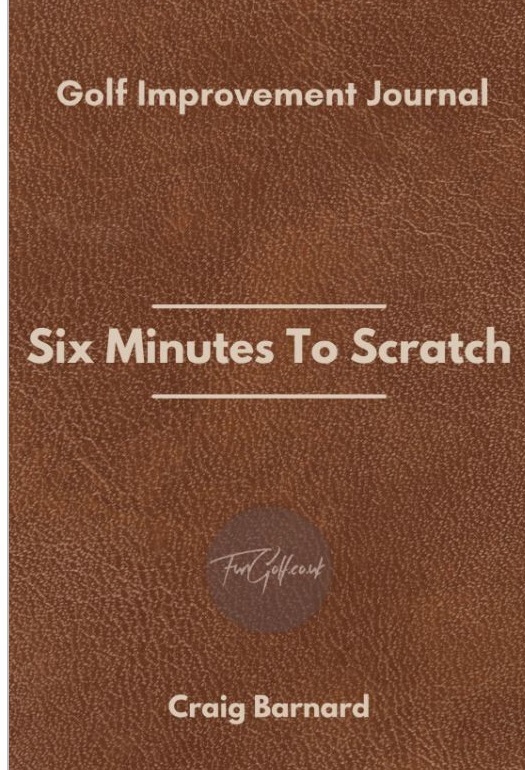 Do you need to be a scratch golfer to turn Pro?
No, you can turn pro from a handicap of 6.4 or less for men or 8.4 or less if you're female. Famously, Ian Poulter turned professional from a handicap of 4. Ian's not done too badly for himself …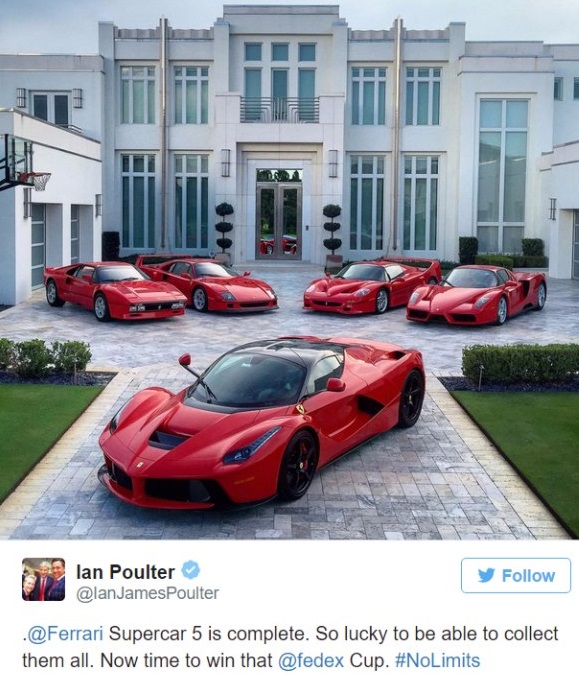 Conclusion
Playing off Scratch or being a Scratch Golfer is a huge threshold that many golfers aim for. To become a scratch golfer, you must have mastered every area of the game. That said, golf is a journey not a destination. Bob Rotella, author of "Golf is not a game of perfect," a thought provoking book that I can highly recommend, says:
"A golfer has to learn to enjoy the process of striving to improve. That process, not the end result, enriches life." & "Exceptional people really do come to believe that the journey is more important than the destination."

Bob Rotella
I firmly believe in his statements. If a golfer's focus is purely on the destination of scratch, it is much harder to achieve than if they focus on the journey. Enjoy the journey, share information, and savour the process, and the goal will be far more attainable.
Bye for now!