Foxhills Golf Club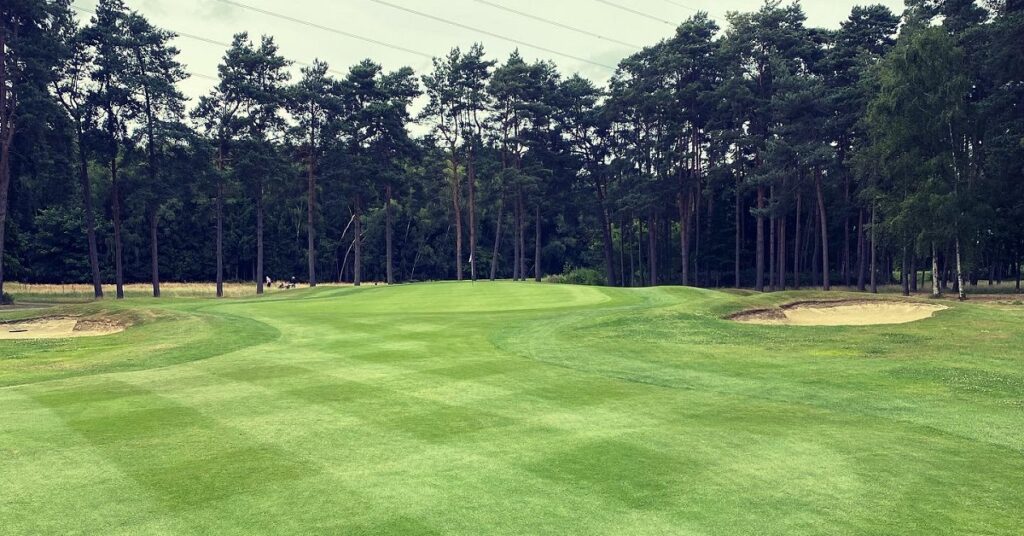 Located next to the village of Ottershaw, Foxhills Golf Club in Chertsey, Surrey, is a fabulous venue which plays host to two 18 hole Championship golf courses and a shorter nine hole par 3 course.
The two Championship courses, Longcross and Bernard Hunt, are regulars in lists of the top rated courses in the UK. The Longcross course is a tight tree-lined undulating course. The Bernard Hunt is slightly longer but more forgiving off the tee.
There is so much to like about Foxhills Golf Club & Resort. The customer service is exceptional, from checking in at the Foxhills Manor Hotel, to the very helpful staff in the Pro Shop, and then the service at the restaurants and bars. Everyone at Foxhills seems to have the right tone: polite, warm, and very professional.
The perfect spot for a short break
On top of the golf, there's a whole host of other fun to be had! There's Spa facilities (Including five separate swimming pools, 3 outdoor & 2 indoor), a Yoga Cabin, Group Indoor Cycling Studio, and fully equipped gym, or if you like cycling, the surrounding Surrey hills are perfect for all levels of cyclists (it's only 19 miles away from the Olympic cycling route Box Hill). Lastly, there are beautiful woodland trails, which are suitable for all the family.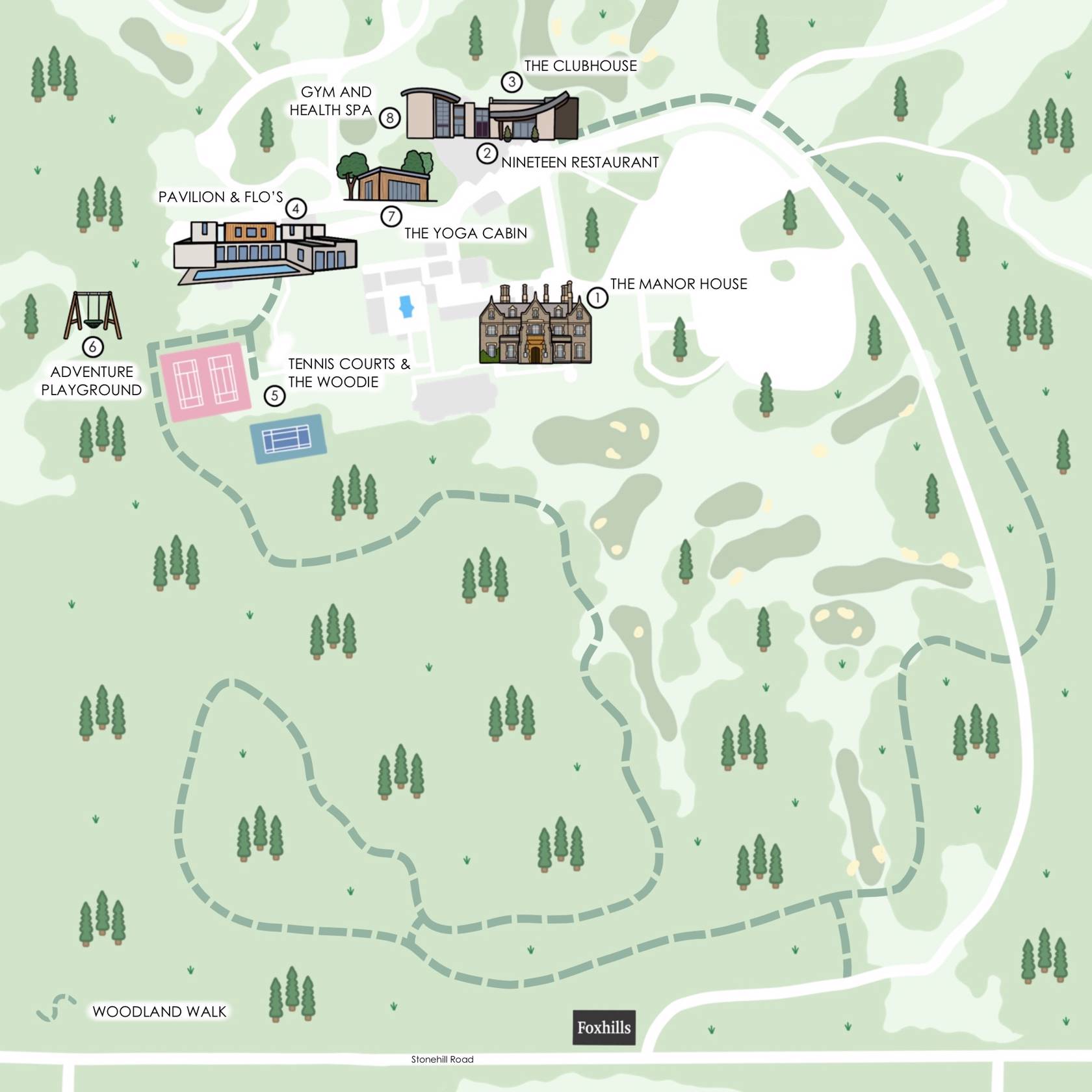 As if the onsite facilities weren't enough, when staying at Foxhills you're only a few miles away from other top golf courses too, including, Wentworth, Sunningdale and Woking Golf Club. It's also only spitting distance from Queenwood Golf Club, one of the most exclusive clubs in the country. Queenwood is so private that a secret login and password is required just to get onto their website! Hugh Grant, Michael Douglas, Catherine Zita-Jones, and Jamie Redknapp are all rumoured to be current or former members.
Foxhills Golf Club – Longcross Course
I was at Foxhills Golf Club towards the end of June 2022. I played the Longcross course twice over a couple of days as part of the BHTA Annual Golf Day. It had been relatively dry prior to my visit, and as a result the course was in good condition.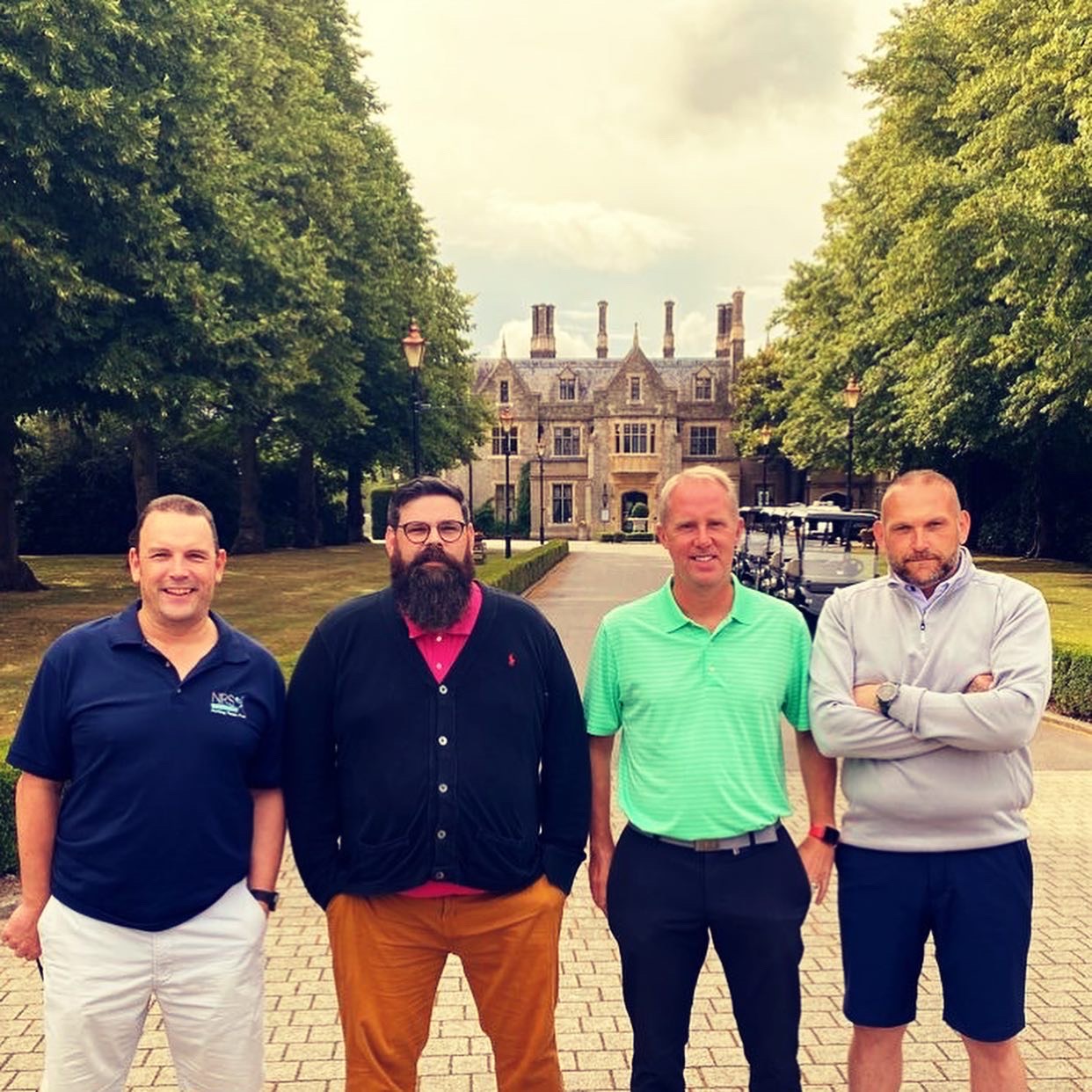 The Longcross course is a tree lined Par 72, laid out across a natural woodland landscape. I played from the yellow tees. The blue tees are further back, but not in a way that completely changes the course like at Birchwood Golf Club and many other courses. On the first day, I walked the course, which allowed me to truly appreciate the layout and slopes. On the tournament day, we used buggies. The buggies looked fairly new and were equipped with GPS.
Take a look at the stunning course and surroundings here:
How Long is the Longcross Golf Course?
The Longcross Golf Course is 6742 Yards long (6,165m) from their back, blue tees.
Foxhills Golf Club – Longcross Course Scorecard & Slope Index
🔵 Blue Tees: Par 72, 6742 Yards, Slope Index 137
⚪️ White Tees: Par 72, 6463 Yards, Slope Index 135
🟡 Yellow Tees: Par 72, 6205 Yards, Slope Index 133
🔴 Red Tees: Par 72, 5460 Yards, Slope Index 130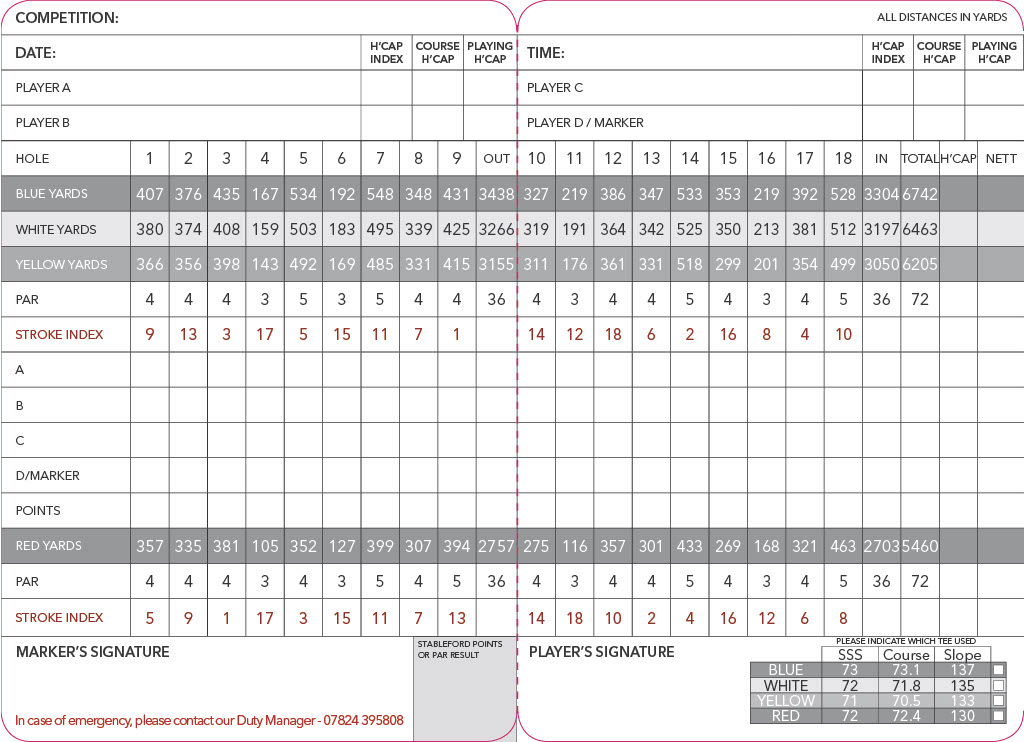 The 407 yard first hole sets the tone for the day. It starts with a tricky downhill drive with trees lining both sides. There's also thick rough on the right side and a brook running down the left hand side of the hole. Once the drive has been navigated, the approach shot requires finesse in order to land and hold it on the raised green, which is protected by greenside bunkers either side.
Playing a course twice certainly helps. On the First day, I was cautious and hit an iron off the tee. I slapped it into the rough on the right hand side and struggled all the way down the hole, ending up with a double bogey. While walking the hole I spotted a wide landing spot about 230-280 yards down the hole. On the second day I therefore braved a driver … and came off with a par. It also helped that we were playing a team event on the second day.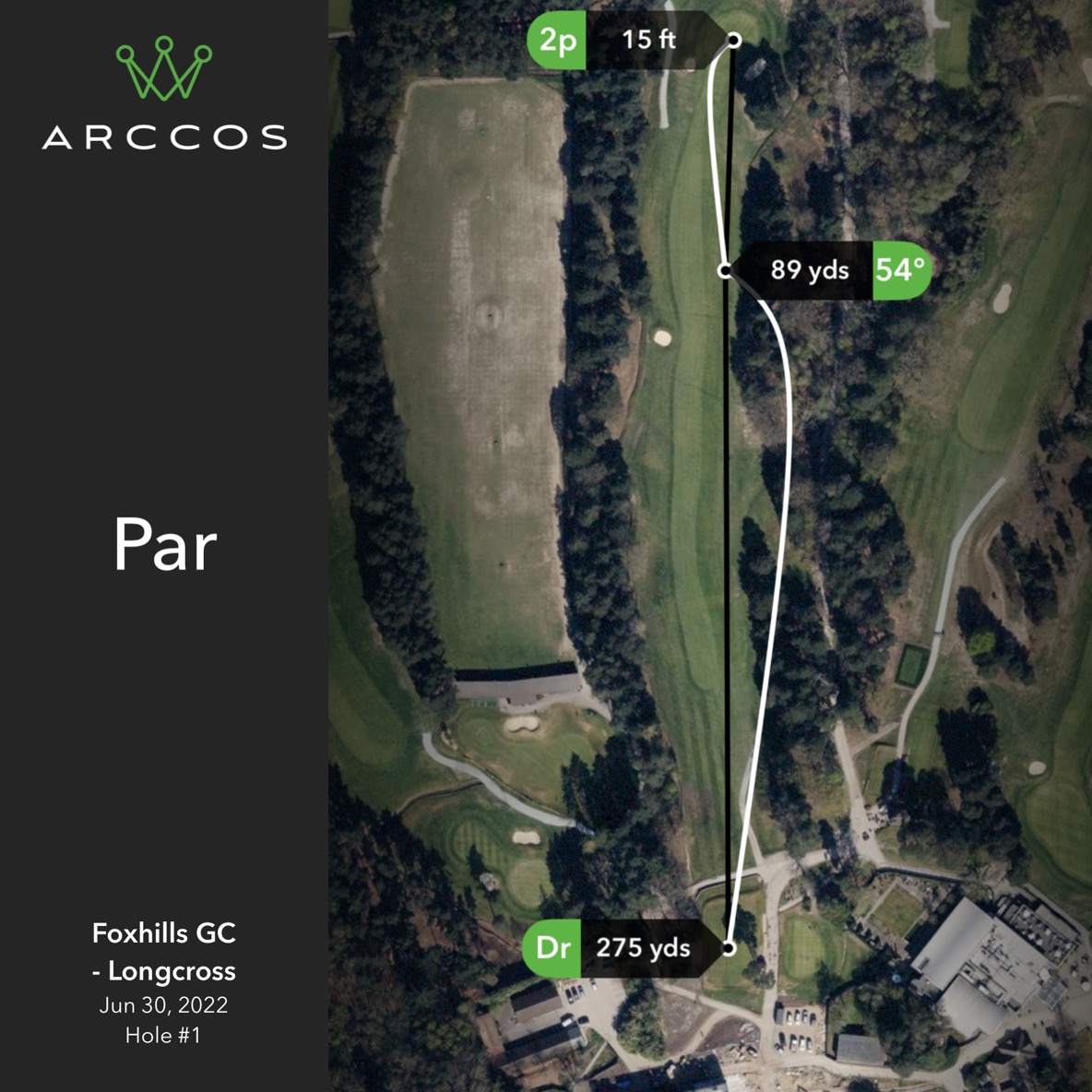 Foxhills Golf Club – Longcross Course Greens
The greens at Foxhills Longcross Course are generally large and very undulating. I didn't have too many straight putts! They were receptive (clearly well watered) and a reasonably lush green colour. The greens were a little slower than I'm used to at Flixton, but I think it was a result of being recently dressed, since there was a lot of sand on them. Also, I suspect they had let the greens grow a little to protect against the heat and heavy footfall.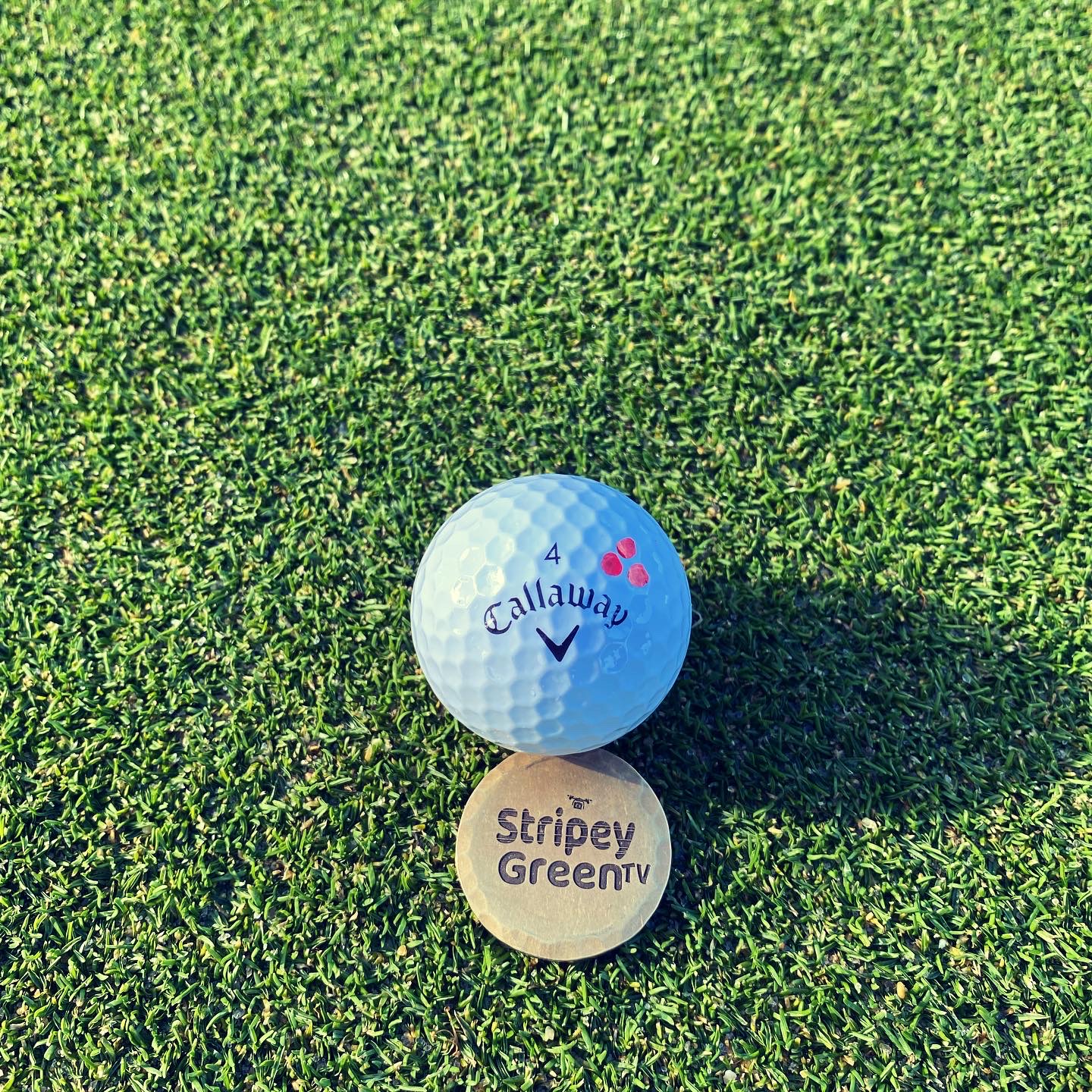 Longcross Golf Course Best Hole
There are multiple standout holes on the Longcross. Once voted by BBC Radio 5 Live as one of the greatest holes ever played, the signature hole is the 533 yard, Par 5, 14th hole. A picturesque tee shot from an elevated tee sweeps down to a sloping fairway with a large tree just left of centre on the approach. Behind the tree there is a pond to the left and a brook running right across the approach to the green, which is well protected with bunkers. It's a tough hole with stunning views.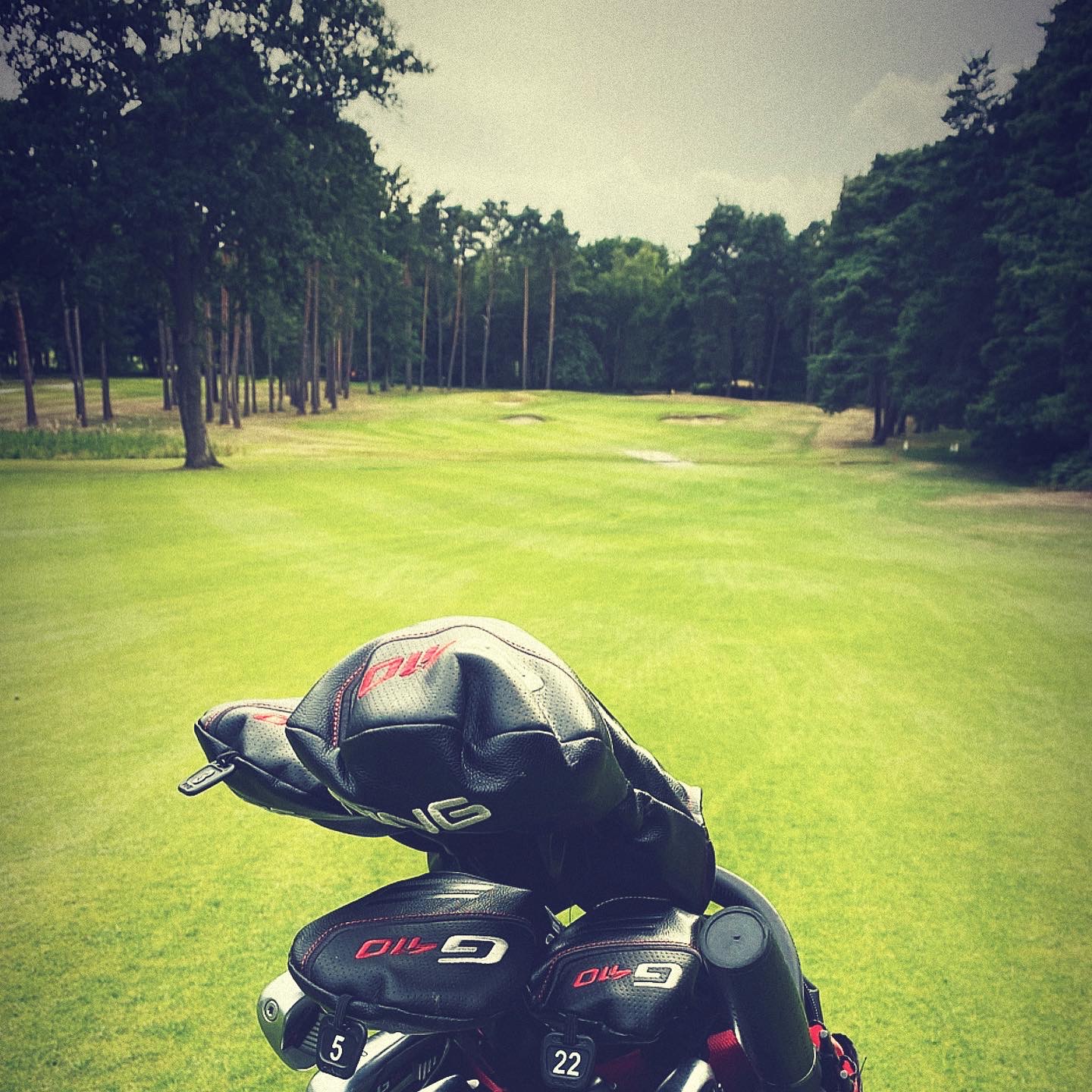 While the 14th has been acclaimed as a great hole, I'm not sure it's the greatest hole I've ever played. For me, the 6th hole at San Lorenzo Golf Club would eclipse it. In my opinion it might not even have been the best hole on the course. There were so many other great holes! I really enjoyed all of the par 3s and also the 1st, 8th, 9th, 10th, and 18th holes.
Foxhills Golf Practice Area
There's a team of PGA professionals based at Foxhills, and their golf practice facilities are fantastic. The main practice area is situated to the left of the first tee on the Longcross course. There is a covered, floodlit driving range onsite with 16 bays. "The Practice Den," which is a 3,500 square metre facility, also has two bunkers, synthetic hitting areas, and a huge undulating green, perfect for practising chipping, pitching putting, and bunker play.
Foxhills Clubhouse & Dining
The Clubhouse at Foxhills is modern and sleek. It provides a lovely backdrop to the double green that is the 18th on both the Longcross and the Bernard Hunt courses. There's a huge balcony overlooking these two greens with plenty of seating. For corporate events, it's the perfect space for a BBQ and relax after golf. The clubhouse is home to "Nineteen," their casual brasserie-style restaurant. We ate there on the first night, and the food was tasty and reasonably well-priced.
I stayed in one of the excellent guest rooms around the courtyard, and the next morning headed to the Fox dining rooms for breakfast. There was a wide choice for breakfast, full English, a "help yourself" continental, or a range of other freshly cooked breakfast options.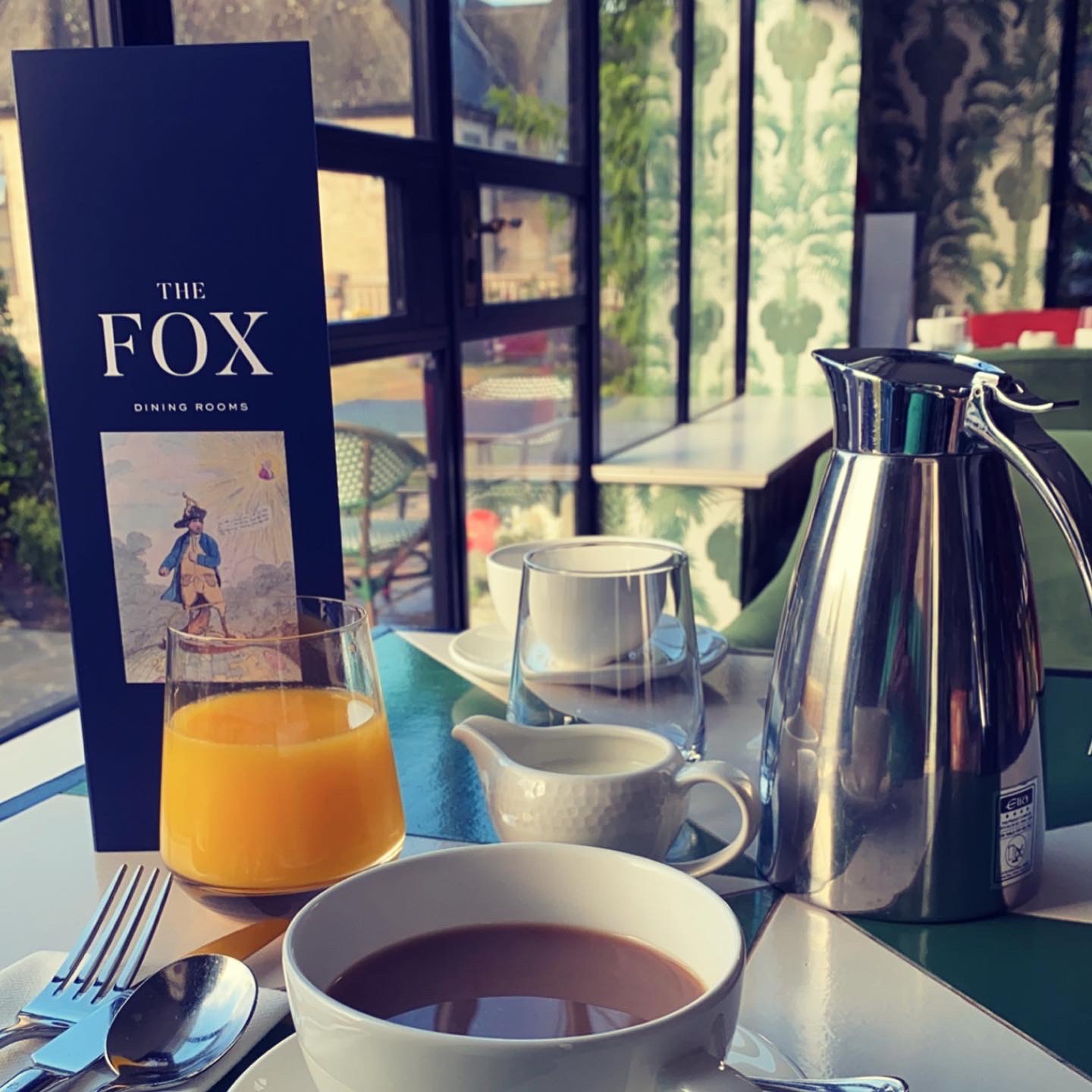 Pro Shop
In my view, the number one thing to have within a Pro Shop is good staff. Everything else is secondary. Foxhills had a lovely team in their Pro Shop. From their smiles and greetings to their helpful hints and tips, the team in the Pro Shop seemed to go the extra mile to make me feel welcome.
Aside from the staff, the shop was jam-packed full of the sort of products you would expect at a resort course. There were plenty of lovely Foxhills branded gear, and of course I indulged in my customary purchase of a ball marker.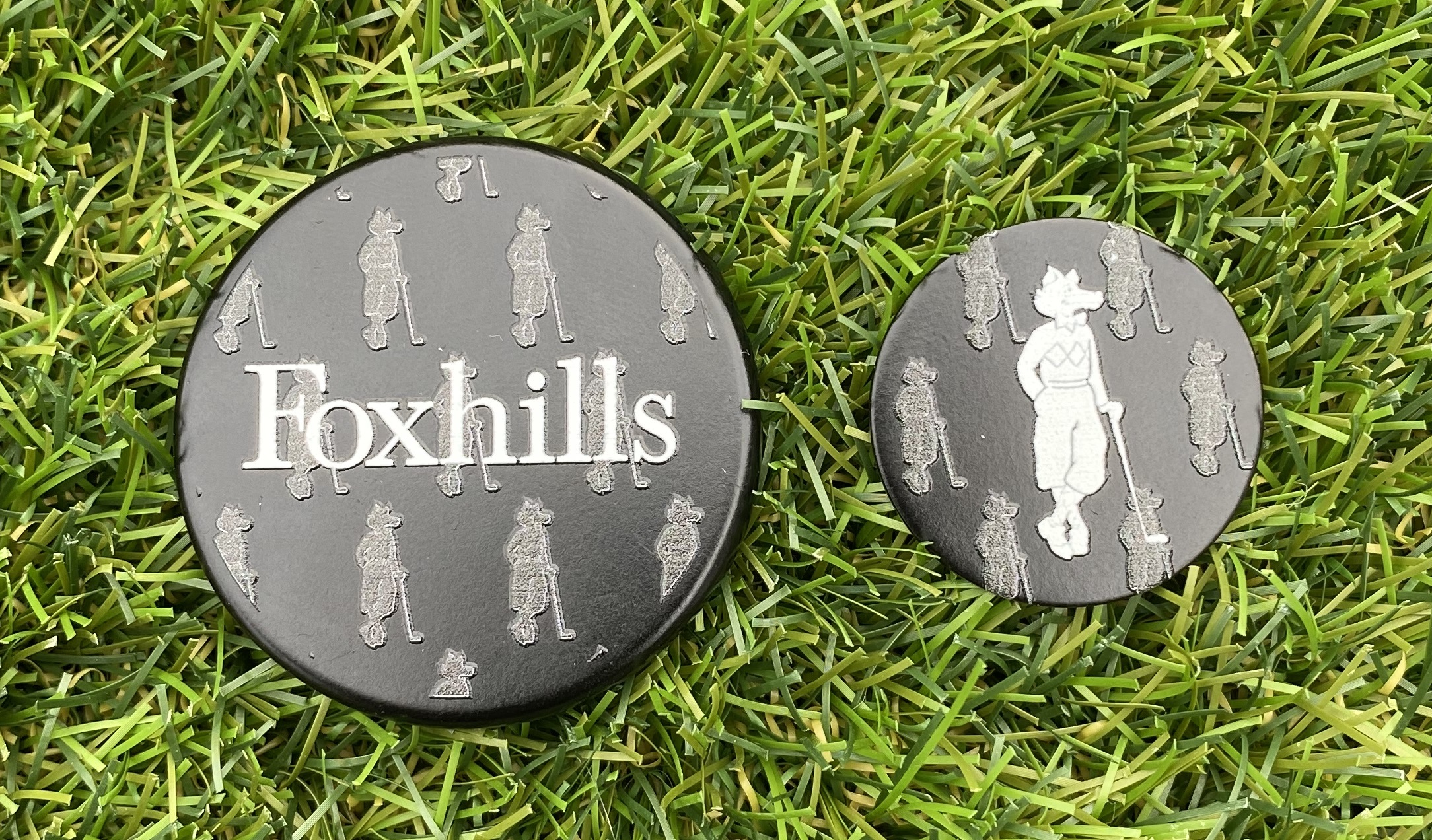 Foxhills Golf Club Contact Details
Address: Stonehill Rd, Ottershaw, Lyne, Chertsey KT16 0EL, United Kingdom
Telephone: 01932 872 050
Golf Pro: Various | Telephone: 01932 704 465
Website: https://www.foxhills.co.uk
Opening Hours
Monday

7:00 AM – 9:30 PM

Tuesday

7:00 AM – 9:30 PM

Wednesday

7:00 AM – 9:30 PM

Thursday

7:00 AM – 9:30 PM

Friday

7:00 AM – 9:30 PM

Saturday

7:00 AM – 9:30 PM

Sunday

7:00 AM – 9:30 PM
Summary
I am desperate to get back there! I'm certainly hoping to get another invite next year, and I would really like to try the other Championship course, the Bernard Hunt, and also the Par 3 Manor Course. If you get the opportunity to play here, then I highly recommend taking up the offer. With stunning views and absolutely top notch facilities, whether it's for a golf day, work meeting, or family break, Foxhills offers something for everyone, all backed up with the most important part: fabulous service.
You can keep up to date with the latest news at Foxhills Golf Club through their Facebook, Twitter, LinkedIn & Instagram accounts.
Enjoyed this review? Why not checkout my other course reviews and see where else I've played.
Bye for now …