Relentless Golf Speed Stick – Review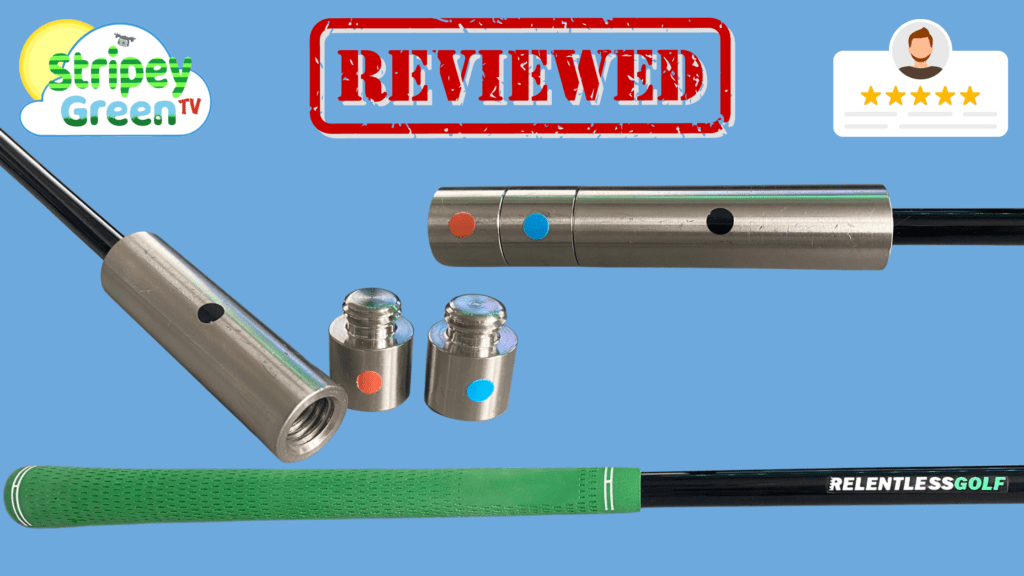 Relentless Golf Speed Stick – Price when reviewed: £64.99 / $83.58 | Check price on Amazon
Are you looking for a golf speed stick? Look no further! You don't need to read the rest of this review, just click below and buy it!
In all seriousness, if you are looking to use a speed sick to improve your golf swing speed, this is the best value option that I have found. Read the full review below, and see my INCREDIBLE results from just 8 weeks!
What is a speed stick in golf?
At its core, a speed stick is a specialised training aid designed to improve a golfer's swing speed, power, and tempo.
Consisting of weighted shafts or adjustable rods, a speed stick allows players to enhance their muscular strength, flexibility, and overall swing mechanics. By employing progressive resistance and precise training techniques, speed sticks assist golfers in developing faster club head speeds.
Faster club head speed = More distance
It's not only about raw distance though. Read on to find out why.
Why Should a Golfer buy the Relentless Golf Speed Stick?
Firstly, I couldn't believe the price of this stick. When I first started reading about swing speed training, all the sticks I saw were advertised in excess of £175 / $225. The Relentless Golf Speed Stick makes a refreshing change. At the time of writing this article it is just £64.99 / $83.58 on Amazon. You can also buy it direct from the Relentless Golf Website.
For that price I would have expected a flimsy version of the more expensive sticks I have seen previously. What I had delivered, was a premium feel, "clever" tool. I say clever, due to the design. Most of the other speed sticks I had tried previously were two or three separate different weight sticks. The Relentless Golf Speed Stick is just one shaft with a fixed weight on it, and then two different additional weights that can be screwed in to the end. The result is that with one stick you can achieve four differently weighted speed sticks.
Is Speed Training Difficult?
No! Depending on your current level it will likely be pretty easy for you to pick up an extra 10%. Read on to see how I added a LOT of speed to my golf swing using this very stick.
Tell me more about the Relentless Speed Stick
With all the weights attached the Relentless Speed Stick measures a total length of 45″ (114cm).
The main stick weighs 240g and then there are two removable weights. One weighs 35g and the other 50g. Attaching the weights in different ways allows you to create four separate total weights. 240g, 275g, 290g or 325g.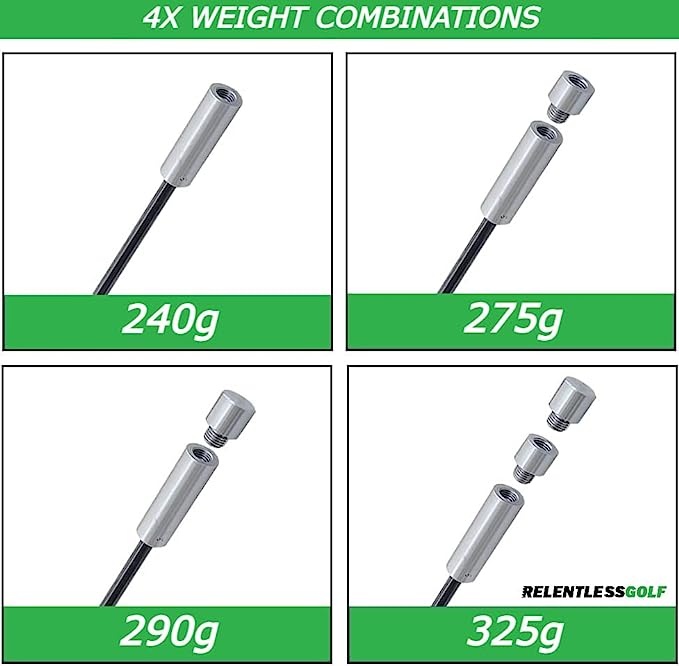 Given the four different adjustable weight options this speed stick is suitable for both male and female golfers.
My Golf Speed Stick Training Results
Okay, the proof is in the pudding as they say.
Firstly I needed to measure my starting swing speed. You would think in this modern day there would be a quick and simple app or something on your phone that can offer you swing speeds just from videoing it. Sadly not … nor, it seems, is there any cheap way to find it out.
There are many different ways of measuring your swing speed. Read our "How to Measure Your Golf Swing Speed" article to find out how I measure mine, and what other options there are depending on your budget.
Once I had my measuring device, I was able to measure my "starting speed".
Before seeing the below data I was a little surprised to see my starting "maximum swing speed" at only 94 MPH. With a handicap of 16, I was expecting to see a max swing speed above 100mph.
The main reason I looked into speed training, is because I felt that my golf swing was relatively slow compared to other golfers of a similar ability.
Average Swing Speeds for Golfers
Trackman have plotted the average swing speed against handicap in their fascinating recent article Performance of the Average Male Amateur Golfer. As you would expect the lower the handicap, the higher the average driver club speed. My results pre speed training were probably about normal for my handicap, although the 94 MPH was my max driver club speed, not the average as plotted below.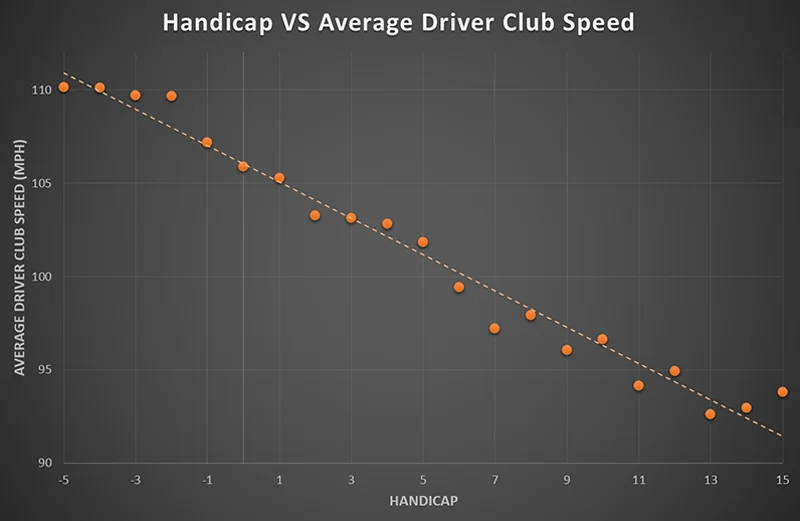 WARNING: SPEED TRAINING WILL PUT PRESSURE ON YOUR BODY. YOU WILL BE PUSHING IT TO THE LIMITS. SOME OF THE TRAINING METHODS OUT THERE AREN'T QUITE AS SAFE AS OTHERS!
I trained for 8 weeks using the Relentless Golf Speed School but there is also a free training plan.
Paul at Relentless has worked hard with Joe from Macro Golf to develop what they feel is a safe and effective method of speed training. If you don't know Joe, he's is a TPI trained golf fitness coach with a refreshing way of thinking. Definitely worth a follow on Instagram to find out more. Joe shares loads of free hints and tips on there. Regular readers of SGTV may remember the Golf Fitness School I attended with Joe in an effort to get fitter, during the winter of 2022.
The fact that Relentless Golf's training plans have been created in conjunction with Macro Golf, means that golfers can be sure that they are safe. Yes, they will still have impact on your body, (that's the idea right?!) but in a more structured and physically safe way. I've seen some training plans include exercises such as wrong handed, Happy Gilmore style swings, which I struggle to believe are safe or controlled enough to prevent injury.
Relentless Golf's methods don't include gimmicks like this and the training seem natural to the golf swing.
The Relentless training plan uses a combination of 6 different swings:
Full swings
Heel up swings
Max out swings
Slow back swings
Step swings
Deceleration swings
Over the 8 weeks the course ramps up from a slow and easy start to the crescendo of more intense training at the end. The training takes 10-20 minutes and to see good results within 8 weeks I'd suggest 3-4 sessions per week. At no point did I feel it was arduous, I really enjoyed it all.
Relentless Golf Speed School
The Relentless Golf free training plan is very good, but if you're someone that needs a little more structure and accountability, then Paul's Golf Speed School might just be worth a go. You can save money and purchase the stick and the speed school together directly from the Relentless Golf website.
The Golf Speed School is run using a combination of online meetings and a Whatsapp group. Paul helps steer you through the 8 week free course adding lots additional content along the way.
Not only did we follow the basics from within the free course, but the school also gave access to some of the fantastic suite of fitness videos from Macro Golf. These are a mixture of strength and mobility. They helped me lose over a stone during the course!
The mobility aspect of Macro Golf's training is a real game changer. Here's a snippet from YouTube to give you an idea. In this video Joe walks through one of his Hip Mobility routines.
Aside from the strength and mobility work there's also loads of other tips and tricks in addition to what you get from the free training plan. I really would recommend it. Paul's enthusiasm for speed training really helped to motivate me through to the end … so what were the results?
Results
Like many people training, work, golf and everyday life tried to get in the way, but the results were so impressive!
Here's my data from weeks one to eight: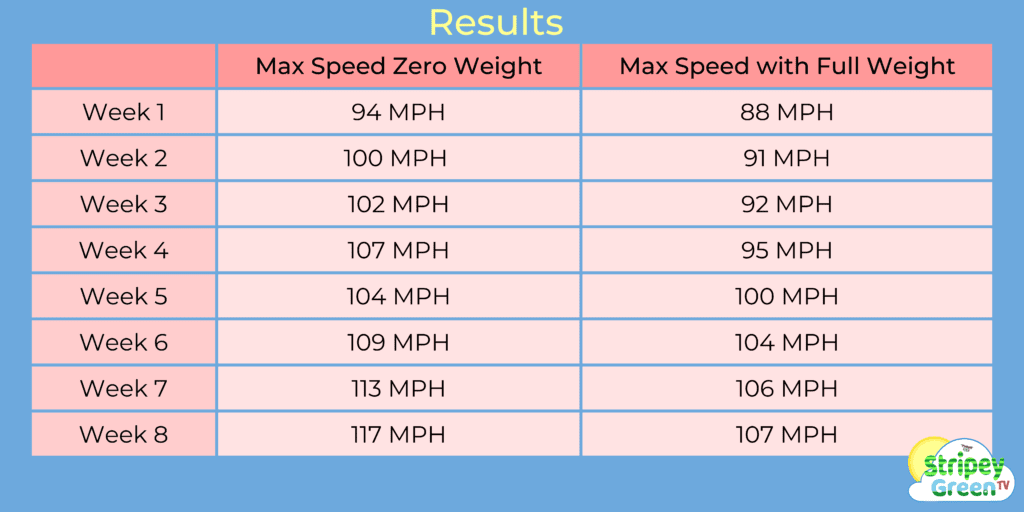 I gained 23MPH, which worked out as an increase of nearly 25% in my MAX swing speed!
What did that actually mean to me on the golf course?
Clearly I haven't increased my yardage by 25%, just because my maximum swing speed is now 25% higher. The speed training has however, without doubt increased my yardage. I would say on average I have increased by a whole club. This has been more noticeable with my shorter irons. I wish I had measured my standard swing speed prior to the course starting so that I had some physical numbers, but I feel as though the speed training has added around 10% to my distance in total.
Speed Training is not all good!
While I'm loving the fact I can hit smaller irons into the greens, speed training wasn't all good news. The downside was that I lost my rhythm with the driver. A few of the other students (not all) on my course reported the same thing. I put it down to lack of time. I think if I had a little more time, then I could have prevented this. While I was speed training I didn't get chance to get to the range and practice on my normal swing. I suspect if I had done, then I wouldn't have lost my rhythm. Within 3 weeks of getting back to the range my driving rhythm was back to normal … and I'm definitely hitting it further.
The only negative I would add about the Relentless Golf Speed Training Stick would be the grip. It's a very standard grip, and I have found that now after 3 months it is starting to wear a little. This may well be the same with all speed sticks since they're being exposed to excessive forces that standard golf club grips wouldn't be. The issue is easily fixed though, by fitting a new grip which only takes a few minutes, and if you do it yourself will likely cost you less than £10.
Speed Training Reduced My Handicap!
When I started speed training my handicap was 16, it is now 12.4 Admittedly this is anecdotal, because it's difficult to prove the speed alone has helped reduce my handicap, but I feel this is the case. Mainly, I feel like I am hitting a lot more "controlled" clubs into the green. Instead of hitting a 7 iron to the green, I'm now hitting an 8 iron. While that sounds like a tiny change, I think it has made a big difference to my accuracy and has been the driving factor to my recent handicap reduction.
Maintenance
Needless to say this new found speed won't just stay with me now that I've found it. Over time, my swing speed will begin to drop down without extra effort. To counteract that, I have planned to use a weekly "maintenance" session. One session per week will maintain my speed, and then over the winter, I will try again to boost my swing speed with another 8 week plan.
Final Thoughts
I lost a stone in weight and gained 25% on my maximum swing speed!
If you've read this article fully, then I presume you must have already bought a stick. If not, then you must already have one?
Seriously though, If you are genuinely trying to improve your golf, speed training (along with strength & mobility) should be part of your plan. If it is, then in my opinion, the Relentless Golf Speed Stick should be your stick of choice!
Check out other golf swing speed training aids in our comprehensive guide; Best Golf Swing Speed Training Aids.
Bye for now!