What is a Shotgun Start?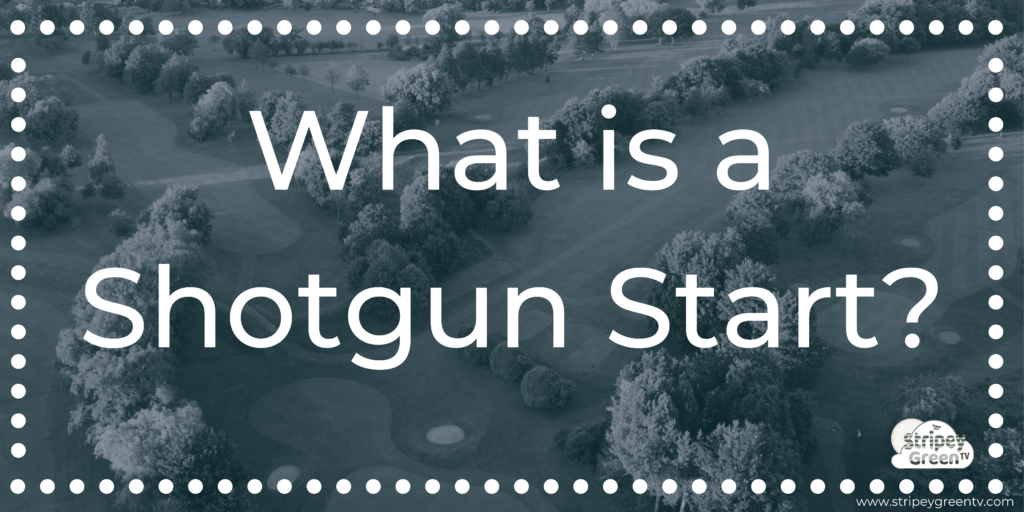 DISCLOSURE: THIS POST MAY CONTAIN AFFILIATE LINKS, MEANING I GET A COMMISSION IF YOU DECIDE TO MAKE A PURCHASE THROUGH MY LINKS, AT NO COST TO YOU. PLEASE READ MY DISCLOSURE FOR MORE INFO.
In a golf event, a shotgun start assigns each participating group to a set of distinctive beginning holes or places. The idea of shooting a shotgun into the air to signal the start time for all players inspired the moniker "shotgun start." It instructs the groups to start their designated holes simultaneously.
The golf tournament can start and finish simultaneously by starting each group on a different hole at the same time, lessening the inconvenience for other golfers wanting to play a round of golf on the same course that day.
In standard tournaments such PGA Tour events, each group of players usually start at different times off the first tee, which results in the last group finishing many hours after the first group. With a shotgun start format, tournament players can finish quickly and enjoy the rest of their day. Shotgun starts are frequently used in charity or social events that involve food and trophy presentations. Everyone will be seated at the same time, allowing the lunch or dinner to be scheduled at a specific time.
This way, a large field of competitors can complete a round without taking up the entire day's worth of driving range space in preparation for a tee sheet of starting times. On larger courses, shotgun starts will typically involve players riding carts or buggies to their starting holes. However, it's not always necessary to stay in the buggy/cart for the entire game. Players will occasionally be driven to their beginning hole, remove their bags, and walk the course from there.
What is used to create a Shotgun Start?
Traditionally, a shotgun would have been used to signal the start. More recently, golf clubs have used much safer methods such as the gas filled Klaxon Horn. If you do decide to purchase one of these, don't use it like Rebel TV in the video below!
… okay do, it's hilarious!
Is a Shotgun Start good for a Golf Club?
The benefits and drawbacks of a shotgun start tournament largely depend on whether you support the players or golf club. A financial incentive exists to complete the course's 18 holes as quickly as possible. A shotgun tournament restricts that quantity and can lower potential revenue. Less golfers could mean less green fees, less food and drinks sales, less driving range, and less pro shop use. That said, often shotgun starts are used for events that may bring in money to the club from a presentation and/or meal after the tournament.
Publicity, new visitors to the course, and assured sales across all sources are all positives of a shotgun start. From play to the awards presentation, the competition moves quickly for the participants. It's a terrific opportunity to socialise with friends and co-workers outside of the workplace. The price is often greater than for a typical round of golf, since it may include food & prizes.
The duration of the round is contingent upon the slowest group on the course, which cannot easily be played around due to the number of golfers on the course.
Golfers who are not playing in the shotgun start tournament may have to wait a long time for their tee time. They may even have to completely skip a day on the course because the competition is being held when they usually play.
Summary
A shotgun start is an excellent approach to shorten the duration of a tournament, regardless of the participants' decisions, and it is a fantastic way of guaranteeing that golfers come off the course at a similar time in order to facilitate a dinner or presentation after the event.
Keen to learn more about golf and golfing terms? Why not checkout the other articles in our "Golf Terms Explained" series.
Bye for now!