SuperSpeed Multipack – Review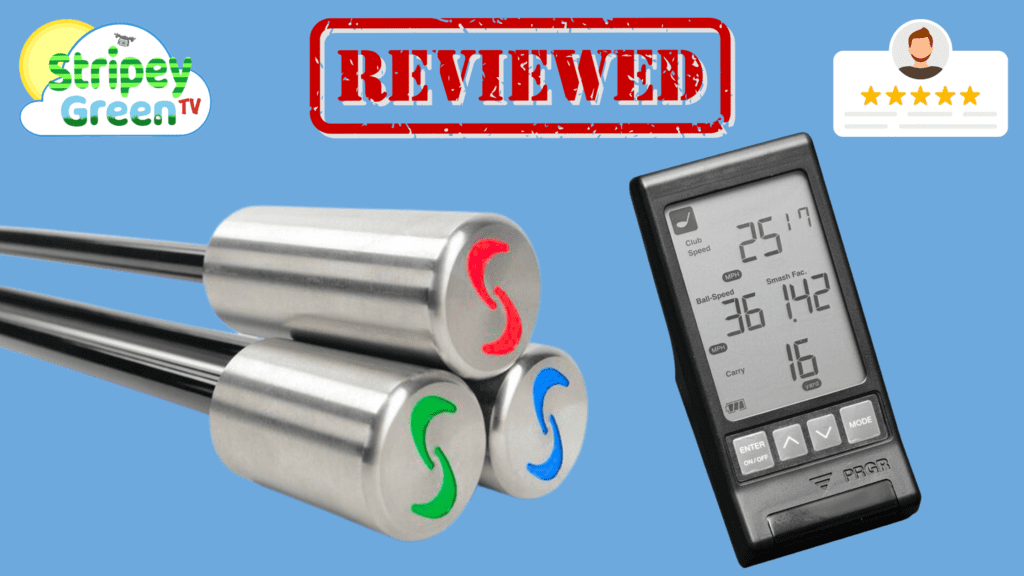 SuperSpeed Multipack – Price when reviewed £389 / $485| Check price on Amazon
What's in the box:
1 x PRGR Black Portable Launch Monitor
1 x SuperSpeed Golf Green "Light" Training Club
1 x SuperSpeed Golf Blue "Medium" Training Club
1 x SuperSpeed Golf Red "Heavy" Training Club
Today's Best Deals:
Found a better deal? Please let us know.
REASONS TO BUY
✅ Quality Construction
✅ Quick Results
✅ Effective Training
✅ Versatile
REASONS TO AVOID
👎 Premium price
👎 Time commitment
Why buy the SuperSpeed Multipack?
The number one reason for buying this multipack is to save money on buying these premium products separately. Aside from that there are plenty of other reasons. This is a super convenient pack, guaranteed to increase your power.
Highlights:
Quality Construction: These training clubs are exceptionally well-made. They feel like real golf clubs in your hands, which adds to the authenticity of the training experience.
Quick Results: A golfer will see significant improvements in swing speed within just a few weeks of using this product. If used correctly it adds yards to your game.
Versatile: Whether you're a beginner or an experienced golfer, the SuperSpeed Multipack can benefit your game. Customisable to your skill level, making it suitable for golfers of all ages and abilities.
Effective Training: The SuperSpeed Multipack includes three different weighted training clubs, each designed to help increase swing speed, flexibility, and overall power. The carefully crafted protocol makes it easy to follow the structured training regime. Overspeed training is the core method.
What is Golf Overspeed Training?
The core concept behind Golf Overspeed Training is to challenge the golfer's muscles and nervous system to move the golf club at higher speeds than they are accustomed to during their normal swing.
The human brain is responsible for controlling our movements. OverSpeed Training is a method that enhances the speed of muscle reactions during specific motions, such as the golf swing. It achieves this by employing golf clubs slightly lighter than your driver, which reduces the resistance during your swing and enables your body to move at a much faster pace than usual. Then the golfer increases the load to teach the brain that the body is capable of running a faster motor pattern.
The SuperSpeed training protocols are specifically designed to optimise this effect. Essentially, they remove the limitations on your golf swing's performance, resulting in higher club head speeds.
How do use the SuperSpeed Multipack?
SuperSpeed have designed a comprehensive training routine. You can register for free to read more about these routines. Register here on the SuperSpeed website.
For those aged over 14 years old the training consists of 5 different levels. SuperSpeed have clear instructions and videos for each level including warm-up routines. Realistically, to see positive result a golfer should expect to invest AT LEAST 6 weeks initially.
Each step of the way SuperSpeed provide tracking sheets such as the one below to record your progress.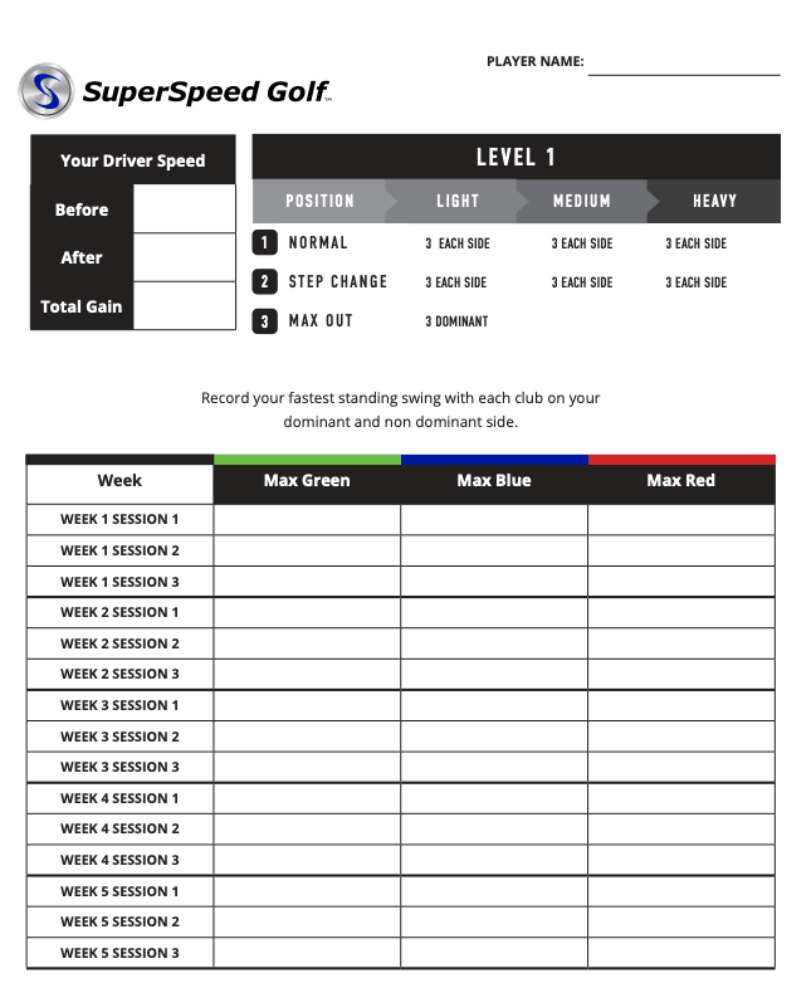 What results can a golfer expect from SuperSpeed Training?
Golfers who follow the SuperSpeed Protocol will initially see some quick results. Within a few sessions a golfer will likely see around 5% increase in club head speed. Swing speeds will then continue to increase as a golfer works through the full training plan.
When I completed speed training I saw an increase of 23MPH on my maximum golf swing speed which was an increase of 25%. It is expected most golfers would see an increase of at least 5-8%.
When to Complete Golf Speed Training
Speed training can be done at any time of the year, but most golfers choose to focus the bulk of the work in the "off-season". Initially swing speed training may give some temporary issues with swing rhythm. It's therefore more sensible to complete the full training routine through the winter months … not the week before a major!
Everything has something wrong, right?
As you will know from reading our reviews before, it's not all about the good news! Here's the downsides to the SuperSpeed Multipack.
PREMIUM PRICE : Exactly that. The product quality is fantastic but I personally can't see where the added value is from cheaper training sticks such as the Relentless Golf Speed Stick.
TIME COMMITMENT : This isn't really a gripe about the SuperSpeed product or brand, but like anything in life if you want to see good results you will need to invest time. Gaining club head speed and distance will not happen overnight. It will take a regular dedicated training plan to increase and then a good "maintenance" schedule to keep the speed you have gained.
ACCURACY : The PRGR portable launch monitor is relatively accurate. It is NOT however the same as using a more comprehensive tool such as Mevo+, Trackman or GC Quad. That said, it is VERY good considering the price.
Rick Shiels SuperSpeed Training
Watch YouTube sensation Rick Shiels video below talking about the basics of speed training with the SuperSpeed Sticks. In this video Rick also uses various tools from our Best Golf Swing Speed Measuring Devices Guide.
Manufacturer's Stated Key Features:
THE NUMBER ONE SWING SPEED TRAINING SYSTEM – It's time to start hitting longer drives with our golf swing aid expertly designed to help you increase your club head speed. Our Golf training aid was developed with over 20 years of experience in the golf and fitness industries. Our experience working with thousands of golfers looking for more swing speed can be found in both the smart design of our speed training sticks and the ours of training that comes with them.
USED BY MORE THAN 700 TOUR PROS – SuperSpeed Golf is the most trusted golf swing trainer for increasing your club head speed. Sets designed for Mens, Ladies, Seniors, Juniors and Long Drive Competitions.
INCREASE YOUR CLUB HEAD SPEED BY 5% IN 6 WEEKS – Based on the data of the tens of thousands of users, we can say with confidence that the SuperSpeed golf training system will help you hit the ball further.
PRGR RADAR – SUPERIOR ACCURACY – Uses Doppler radar and precise algorithms to show your swing speed, ball speed, carry distance, total distance and "smash factor" for each club. Can also be used in tennis, soccer and baseball.
THE SCIENCE OF OVERSPEED TRAINING – The SuperSpeed training system includes 3 specifically weighted clubs and over 2 years of online video instructions. Two of the clubs are lighter than your driver to get you moving fast and the third club is slightly heavier than your driver to train moving a heavier club faster. Following the science backed principles of overspeed training, our training always works from light to heavy to push your nervous system to increase speed.
SuperSpeed Multipack Summary
If you're looking to improve your swing speed and money is no object, then this premium quality all in one system is a good choice. Personally, I think by shopping around a golfer can get a similar setup for a much lower price, but there is no doubting the quality of the SuperSpeed products and the convenience of buying these two products as a bundle. Read our full guide on Swing Speed Training to see what other types of golf speed training are available.
The SuperSpeed Multipack is convenient, effective and will 100% deliver effective results if a golfer puts the time and effort into following the training plans. Swing Speed training is an investment that will undoubtedly help you lower your scores and enjoy the game more. It will increase your club head speed and therefore the distance you hit all your woods, irons and wedges.
Bye for now!