John Daly – Profile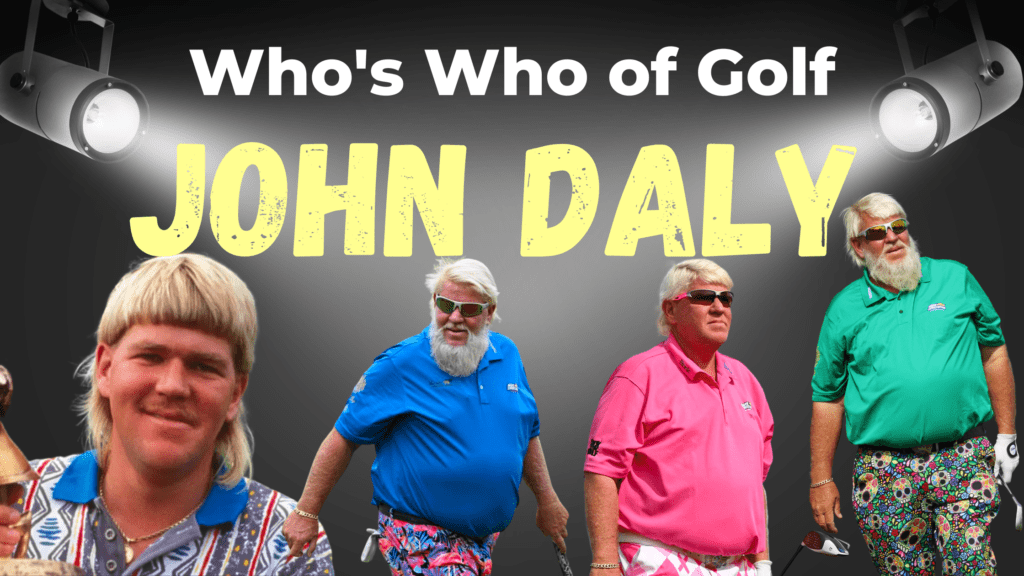 Full Name: John Patrick Daly
Nickname: Long John
Born: April 28th, 1966
Place of Birth: Carmichael, California, U.S.
Sporting Nationality: United States 🇺🇸
Who is John Daly?
John Daly is an American Professional Golfer famed for his big hitting off the tee. As you can see in the video below he has an incredibly long backswing. Daly's long drives helped him to win two Major Championships in the 1990's. First the PGA Championship in 1991 followed by the Open Championship in 1995.
John Daly Golf Swing 2022
John Daly really is one of the great characters in golf. You'll rarely see him without a cigarette and his trademark loud trousers.
John Daly Social Media Links:
20 Best John Daly Quotes
"I believe nicotine plus caffeine equals protein."
"That's why I never get injured. You can pull a muscle but you can't pull fat."
"I hit the ball as hard as I can. If I find it, I hit it again."
"There are probably some things I could do to keep my flexibility up, but I'd rather smoke, drink Diet Cokes and eat."
"My slogan is who needs fitness when you've got great equipment."
"Seems I used to do everything like I was on a mission. If it was alcohol, I wanted to drink till I couldn't see straight. If it was golf, I wanted to beat everybody's brains out. If it was driving, I can get there faster'n you can. It's not anybody's fault, I guess. I was stubborn as hell. I had no direction."
"It's a lot easier knowing you can't do something than knowing you shouldn't."
"I don't think I've ever stepped into a gym – they won't let me smoke there. I just thank God Miller Lite isn't as fattening as most beers. If I cut back on beer, though, I'd look anorexic."
"Money is just paper that gets us through life."
"This fitness thing is blown out of proportion. What am I going to do on a treadmill – smoke a cigarette and drink a diet Coke?"
"I was never able to have three of four beers. One's too many, and ten just ain't enough. Basically it's the way I've been since high school."
"Life is nothing but a memory. People who dwell on the bad ones aren't going to have a whole lot of good ones coming up."
"Everyone has addictions and my problem is that I have 5,000 of them. If it's not drinking, it's gambling; if it's not gambling, it's eating anything from burgers, doughnuts to M&Ms. The only addiction I don't suffer from is chasing women."
"I learned you can't drink whiskey and play golf."
"Do I have to know rules and all that crap? Then forget it."
"It sucks getting old."
"I was young and dumb back in the '90s, but I had a lot of fun."
"I've always said throwing a club shows you care."
"I think my worst enemy is me."
"I still wake up every day, so I'm winning."
You can read all about other members of the golfing world in our Who's Who of Golf.