Birchwood Golf Club – Review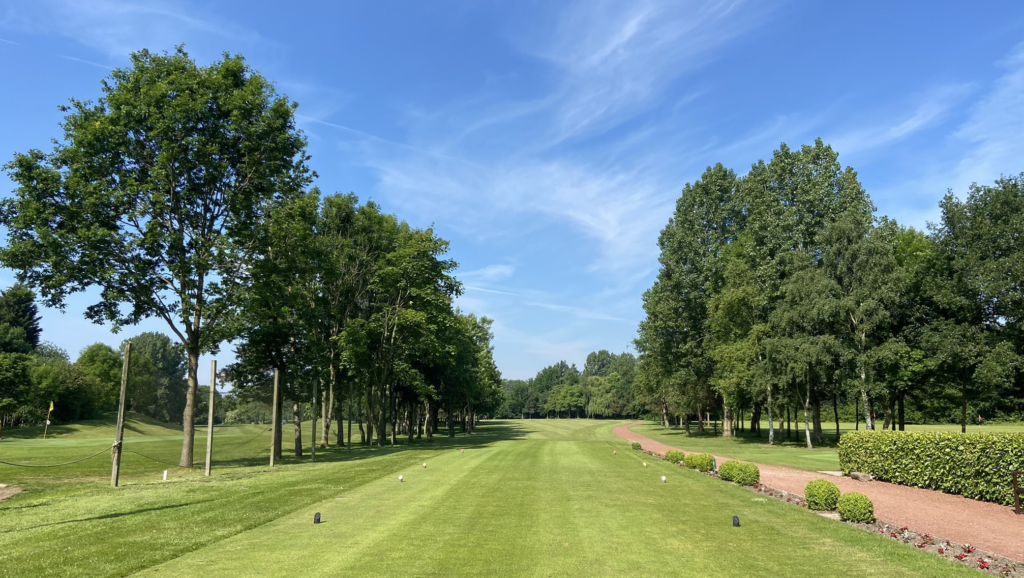 Birchwood Golf Club is a 6623 yard long, Par 72 golf course situated in Warrington, Cheshire, in the North West of England. There's 18 picturesque holes positioned in a triangle, surrounded by the M62, M6, and a residential area.
I played Birchwood off the Black tees at the end of May 2022 in a North Cheshire League 2nd team match for Flixton GC. Sadly, I lost 2&1 to Joe, a very handy golfer with a rapidly decreasing handicap, who hits the ball even higher than me.
Jam-packed with water hazards and bunkers, Birchwood was designed and built in the 1970s on 240 acres of rolling parkland.
How Long is Birchwood Golf Course?
From the back, Black Tees, Birchwood Golf Course is 6623 Yards long (6,056m)
Birchwood Golf Club Scorecard & Slope Index
⚫️ Black Tees: Par 72, 6623 Yards, Slope Index 131
⚪️ White Tees: Par 72, 6342 Yards, Slope Index 128
🟡 Yellow Tees: Par 72, 6070 Yards, Slope Index 128
🔴 Red Tees: Par 74, 5488 Yards, Slope Index 128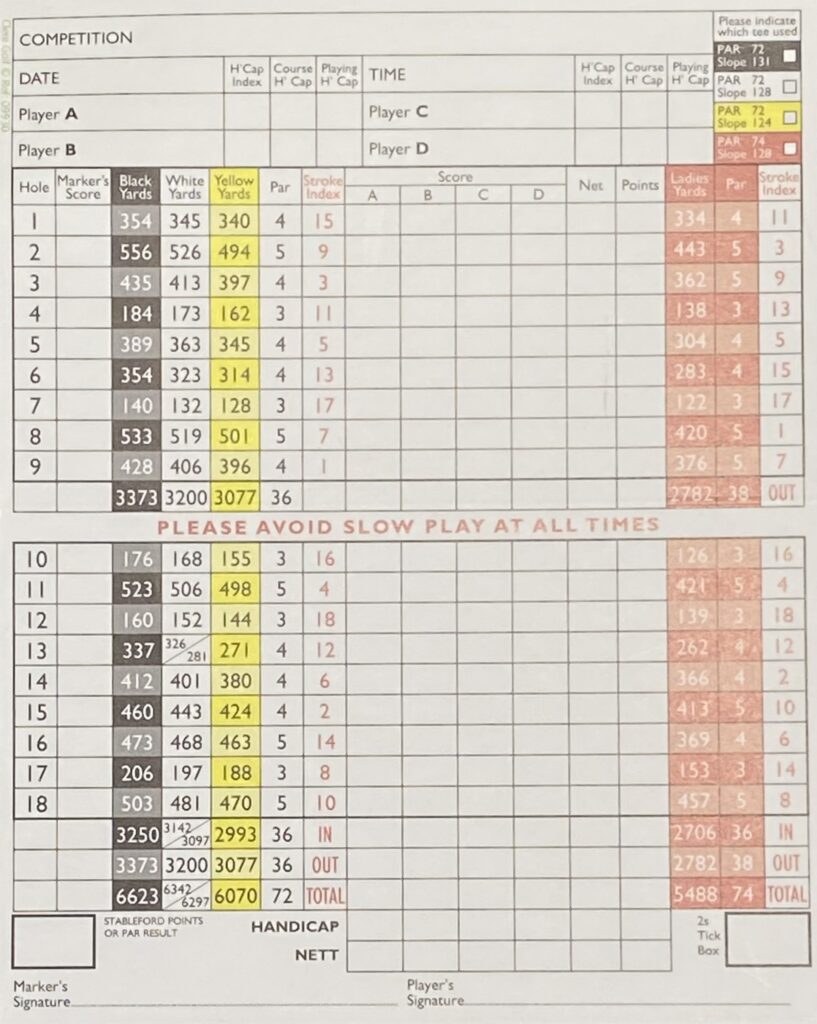 Birchwood Golf Club Contact Details
📍 Address: Kelvin Close, Birchwood, Warrington, Cheshire, WA3 7PB – United Kingdom
🖥️ Website: http://www.birchwoodgolfclub.co.uk/
@ Email: [email protected]
☎️ Tel: 01925 818 819
🏌🏼Pro: Carl Edwards | 01925 825 216 | [email protected]
Opening Hours
Monday

9:00 AM – 7:30 PM

Tuesday

9:00 AM – 8:30 PM

Wednesday

9:00 AM – 8:30 PM

Thursday

9:00 AM – 8:30 PM

Friday

9:00 AM – 10:30 PM

Saturday

9:00 AM – 8:30 PM

Sunday

9:00 AM – 8:30 PM
There's lots to like about Birchwood Golf Club, but my top two features would be the quality of the greens and the course layout.
Birchwood Golf Club Greens
The greens were really lush, a little slower paced compared to my home course (exactly how I like them), and they ran very true. They were heavily watered, which allowed me to fire balls in aggressively and stop the ball quickly. The green speed gave me the confidence to attack chips and pitches into the green. It was lovely to see nice deep pitch marks (all repaired!) from any shot in excess of around 50 yards.
Birchwood Golf Club Layout
The layout of the course was interesting. There's a lot of land at the course; it meanders a little, so golfers have to cross a road a few times in-between holes.
The drive on the first hole is quite tight (luckily I hit it down the middle), but other than that, most tee shots are fairly forgiving but certainly not easy. Although we were playing off the very back tees, a driver wasn't the club to use on a lot of holes. There are a number of holes where if you hit the ball over 230 yards off the tee, then it might be safer to club down and aim into the wider landing zones.
Birchwood has many trees, lakes, ditches, and well-placed bunkers to catch out stray shots, and in general it seems to be maintained very well. Certainly from a presentation point of view, it is a good looking course. It is relatively flat, but there were some nice elevation changes off some of the back tees.
The only downside to Birchwood Golf Course was the constant noise from the motorways. I realise that there's nothing that can be done about the noise, and I presume if playing there every week, then it probably wouldn't be noticed.
Birchwood Golf Club Best Hole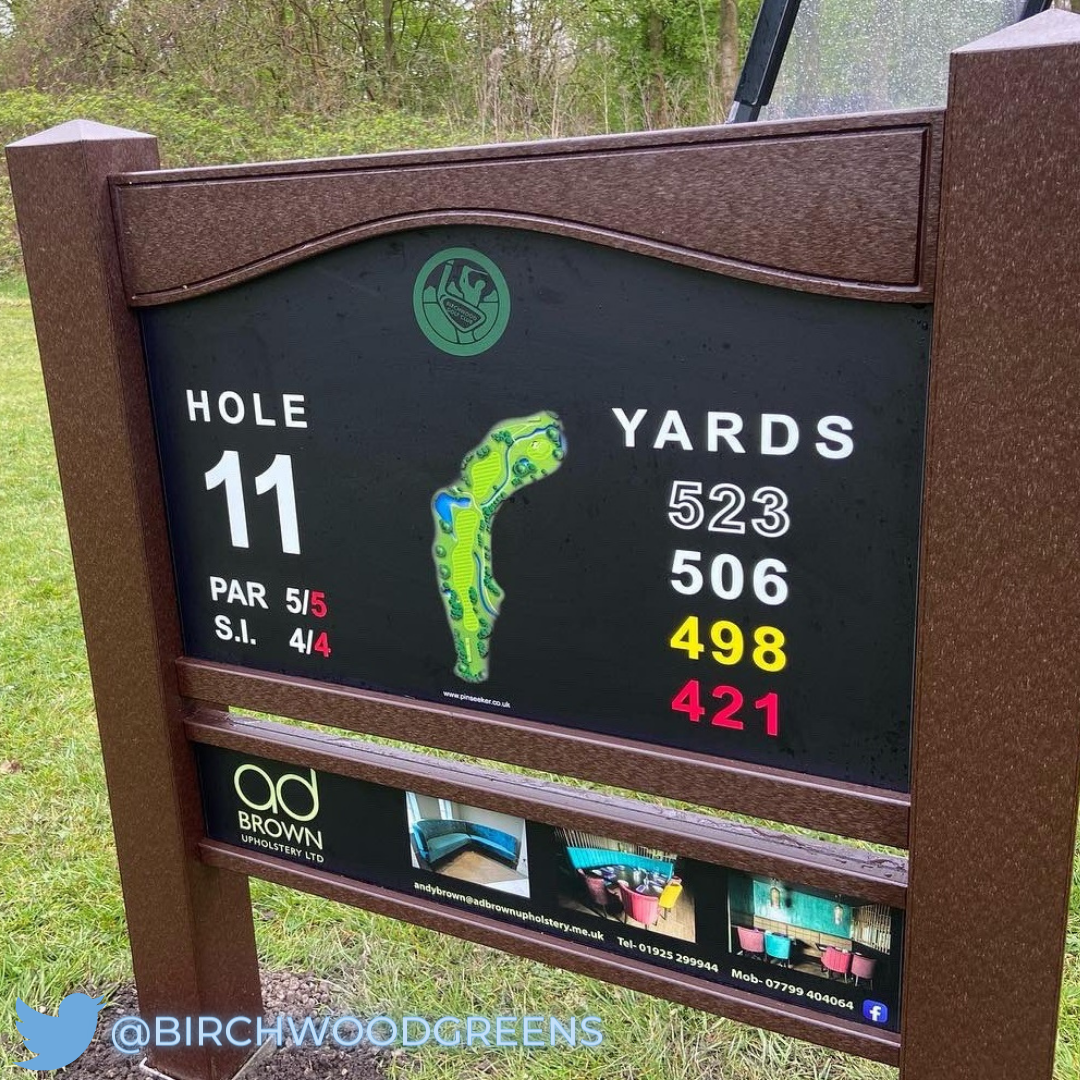 I think the best hole at Birchwood Golf Club is the 11th. Off the black tees, it's a 523 yard dogleg par 5 that requires a good tee shot to a tight landing area. If you manage that, then you've got a long second to carry into the next layup area. From there, you should leave yourself a low iron or wedge to a green protected with water and bunkers. My perfect strategy for this hole is 3 wood, 3 wood, 8 iron to the green.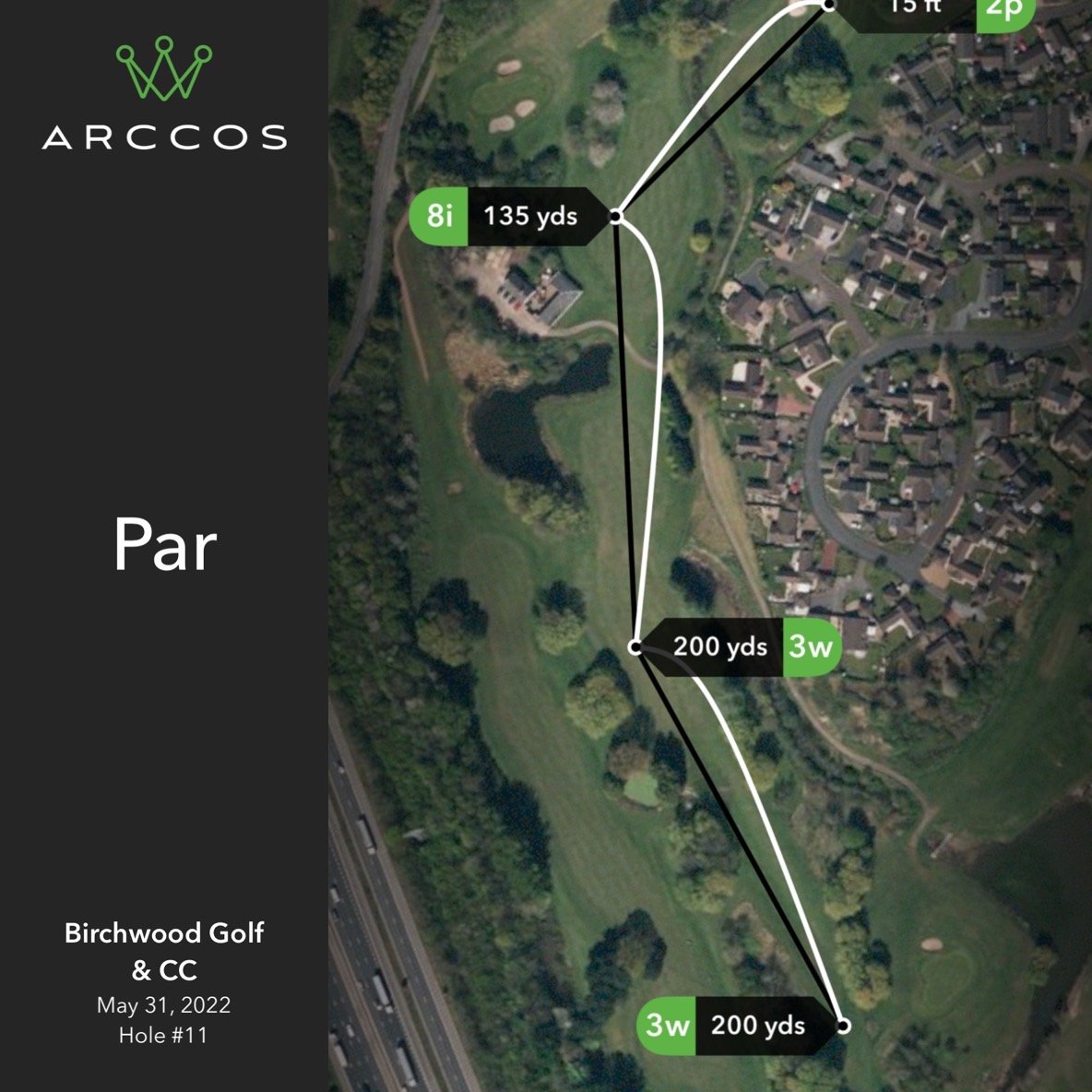 Instead of following the perfect strategy, I hit two drivers off the tee into the housing estate on the right. On the bright side, it then allowed me to walk the hole and enjoy the views!
Practice Area
Birchwood has a very good practice area with two driving nets that have good quality mats to warm up on. Next to the nets, there's a well kept and undulating chipping area (with bunker). Towards the first tee, there is a fairly large putting green. I find it really frustrating when practice greens are not the same as the greens on the course, but this one was spot on! To the right of the first hole, there is also small driving range area which allows you to hit some shorter irons.
Clubhouse
I briefly popped into the clubhouse afterwards, where we had a bite to eat after the match. The service was exceptional, food was delicious (Chickpea Vegetable Chilli), and the Guinness bang on form. There was a fairly relaxed atmosphere within the clubhouse, and the members I met were very friendly.
Pro Shop
The Pro Shop wasn't a large store but did seem to be well stocked with core brands. There were a few good offers on around the shop, and it was also nice to see plenty of ladies equipment in there, since too many Pro shops tend to forget about their lady members.
The Club Professional (& Director of Golf), Carl Edwards, was friendly and welcoming. Judging by his interaction with the members, he seems to be a valuable member of the club. It is hardly surprising, since he's been there since September 2007. Carl also has an indoor coaching room, known as the Cheshire Golf Performance Studio. The studio has the following on offer:
Indoor Golf Simulator experience using the GC2 software
Indoor Video Analysis using the latest video technology
Indoor Putting Green & analysis
Bar stools and table to enjoy refreshments
Carl offers custom fitting through his studio, and the venue can be hired for practising all aspects of your golf game.
Summary
Off the black tees, Birchwood is a challenging golf course that makes the golfer think on every tee. With fantastic facilities, I think that it would be a good venue for a golf club or society day out.
With prices from £15 per round, Birchwood is well worth a visit.
You can keep up to date with the latest news at Birchwood Golf Club through their Facebook & Twitter accounts. Their Greens Dept also has a Twitter account, posting regular updates about all the work being done on their course.
Enjoyed this review? Why not checkout my other course reviews and see where else I've played.
Bye for now …