DRM Golf Swing Speed Radar – Review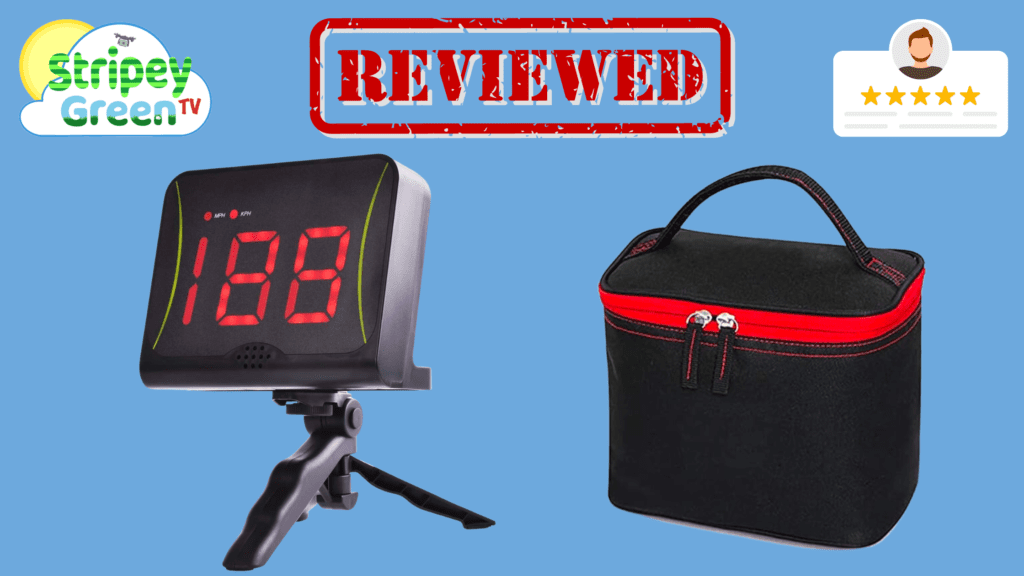 DISCLOSURE: THIS POST MAY CONTAIN AFFILIATE LINKS, MEANING I GET A COMMISSION IF YOU DECIDE TO MAKE A PURCHASE THROUGH MY LINKS, AT NO COST TO YOU. PLEASE READ MY DISCLOSURE FOR MORE INFO.
DRM Golf Swing Speed Radar – Price When Reviewing £79.99 / $102.15 | Check price on Amazon
REASONS TO BUY
✅ Value for money, one of the cheapest solutions around for measuring swing speed
✅ Measures between 3 and 150mph
✅ Displays swing speeds even when not striking a ball
✅ Voice feedback
✅ Storage bag provided
REASONS TO AVOID
👎 Accuracy
👎 Bulky design
Today's Best Deals:
Golfers are always in pursuit of the perfect swing, aiming to achieve more distance and accuracy. To help golfers understand their swing mechanics, and unlock their true potential, technology and measuring devices have become an integral part of the sport. It's rare now to see a professional golfer on the driving range without some form of measuring device.
Among these innovations is the DRM Golf Swing Speed Radar, a device designed to provide golfers with instant, precise data on their swing speed. In this review, we look into the features and performance to see how it stands up against some of the other options in the market.
Read our How to Measure Swing Speed article to see a comprehensive selection of the best swing speed measuring devices on the market today.
Key Features
KPH or MPH Speed Readouts
Records swing speed without the need to physically hit a ball
Large LED Display
Tripod and carry case Included
Suitable for Golf, Baseball, Football, Soccer, Lacrosse, Hockey, and more
Voice Speed announcement
Stores last 10 Speeds
Single Person Operation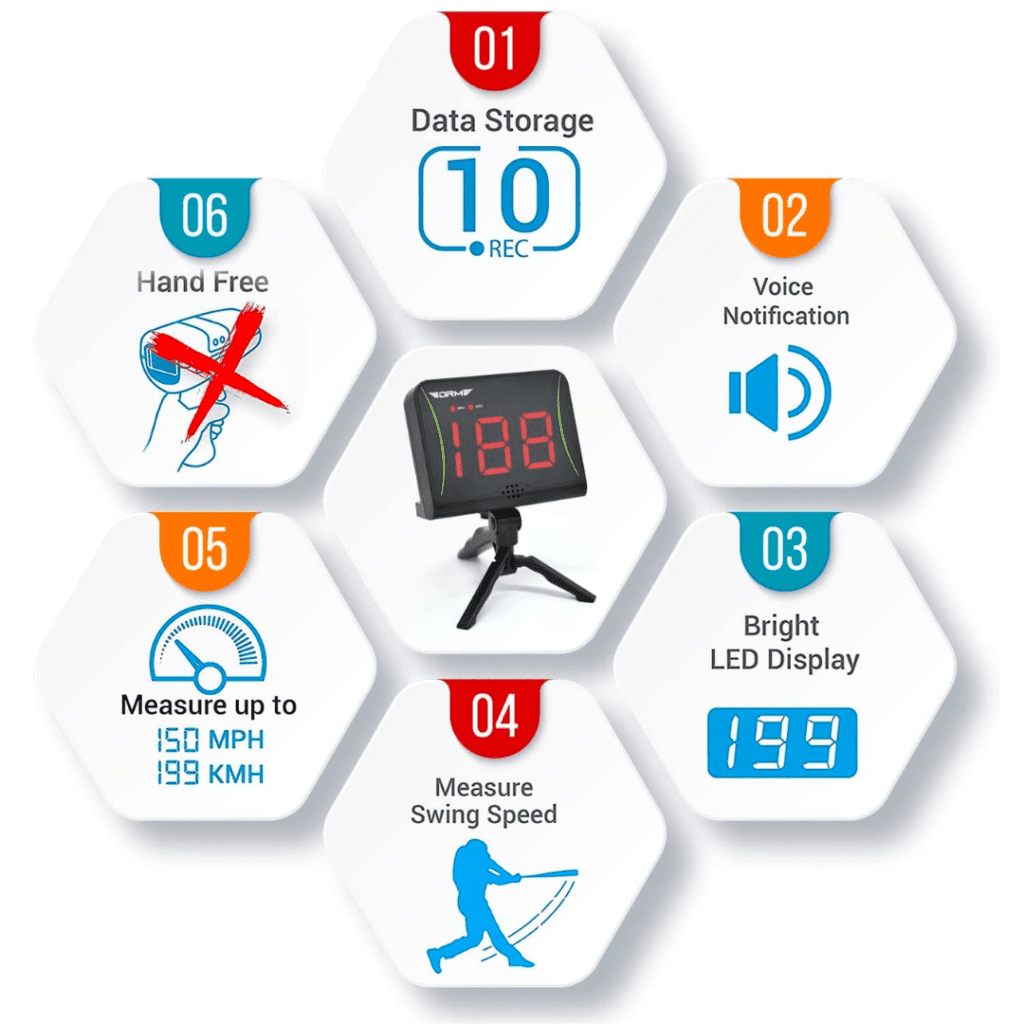 Performance and Accuracy
The most crucial aspect of any swing speed radar is its accuracy. In testing, the DRM Golf Swing Speed Radar demonstrated fairly impressive accuracy, delivering consistent readings across multiple swings.
The DRM Swing Speed Radar is not the most accurate measuring device on the market. I found the device to be a few mph different to some of the more premium monitors. BUT is was consistent! This consistency allows a golfer to measure their speed improvements accurately. See my INCREDIBLE speed training results here.
The big question to ask if you're thinking of buying the unit would be, is the actual speed measurement very important to you? If the answer is yes, then this might not be the right product for you. If you are just looking to measure improvement though, then this will 100% be able to do that for you. Personally, I couldn't justify spending more money at the time, and I am really pleased with the data I get from the DRM radar.
This golf swing analysis tool excels in providing quick feedback. The radar instantly announces the swing speed either by digital display or a voice announcement. It's worth noting that the voice announcement can be turned on and off. I'm not sure a golfer would want it on in a public area for example!
There's also two modes. A still mode, and a move mode. Have a play around, but I found the move mode gave me more consistent readings. The still mode records lower speeds, and I found it picked up random data sometimes, and not my swing.
So close! The last thing I wanted to mention in terms of performance, is placement. One of the beauties of this radar is that it can be placed close to the swing and as a result can be used in small spaces.
Design and Build Quality
The DRM Golf Swing Speed Radar is "chunky". By that, I mean it certainly isn't compact, however it will easily fit in a golf bag. A lot of the more premium radars on the market are small enough to fit in your pocket. This definitely isn't!
The radar does feel robust though. It feels like it could be dropped a few times and withstand the impact. Since I use this device daily, I DIDN'T want to perform a drop test on it to be sure!
There is a tripod which can be attached to the DRM radar to allow a golfer to set it up in a number of different environments. Alternatively, there is a screw mounting allowing it to be fitted to any tripod of your choice. Since golf is played on the ground, you'd be unlikely to need this. I set mine up on the floor without using the tripod.
The radar also comes supplied with a bag to keep it clean when not using.
Big Numbers!
It goes without saying that a golf radar like this should be readable. That said, I have seen quite a few radars with small LED displays that are difficult to read. There's no such worry with this radar. The numbers are huge, bright red, and can be read from several metres away.
I have found though in bright sunshine deepening which way the screen is facing sometimes it can be difficult to decipher the numbers. If that's the case, then there's the voice announcement that can be used as a backup.
Does the DRM Golf Speed Radar work Indoors?
Yes, this works just as well indoors as it does outdoors. It doesn't need to be placed too far away which means a golfer can use it indoors in a tighter space than would be needed for a launch monitor for example.
What batteries does it use?
The DRM Swing Speed Radar is not rechargeable. It uses 5 x AA batteries. That's a lot of batteries but if you are someone who forgets to keep things charged up, then this might well be a positive feature.
How big is the DRM Golf Swing Speed Radar?
As mentioned above the radar is a little on the larger size compared to other pocket sized radars, but it certainly isn't "big". The front of the screen measures 17.5cm wide by 14cm high.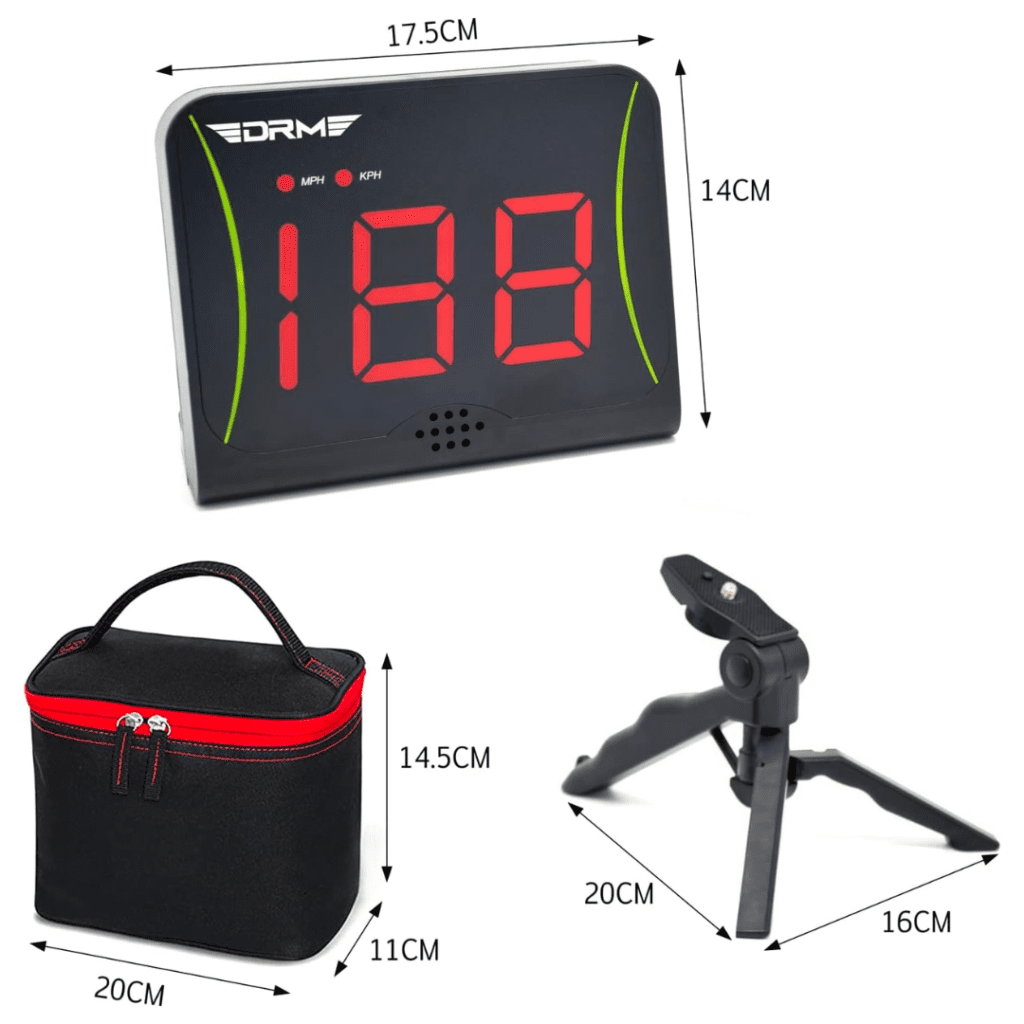 Summary
The DRM Golf Swing Speed Radar is undoubtedly a good device to purchase if you're looking for a relatively cheap way to monitor your swing speed improvements. It doesn't have all the features of the more premium priced measuring devices on the market, but if cost is a key factor in your purchase, then don't overlook the DRM Golf Swing Speed Radar. Just be aware that it doesn't have quite the precision speed tracking found in more expensive radars.
There are some nice features which can help any golfer to analyse their golf swing speed. The key one being that it will measure the swing speed without the need to physically hit a golf ball. Perfect for golfers that have limited space or are performing swing speed training.
Whether you're a seasoned golfer looking to enhance your skills, or a beginner seeking to build a solid foundation, the DRM Golf Swing Speed Radar is a worthy investment. Don't forget to check out our other top rated radars.
If you've spotted any errors, or would like to add your opinion please pop a comment below or drop us a message.
Bye for now!