Product Review – Craftsman Golf Rangefinder Case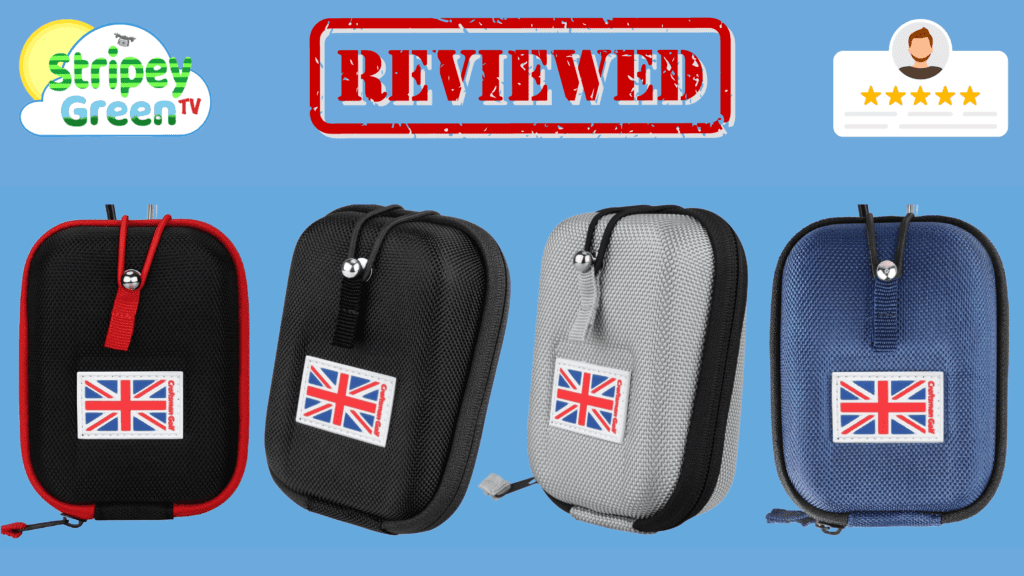 DISCLOSURE: THIS POST MAY CONTAIN AFFILIATE LINKS, MEANING I GET A COMMISSION IF YOU DECIDE TO MAKE A PURCHASE THROUGH MY LINKS, AT NO COST TO YOU. PLEASE READ MY DISCLOSURE FOR MORE INFO.
Craftsman Golf Rangefinder Case – Price when reviewed: £14.99 / $19.28 | Check price on Amazon
I came across this Craftsman Golf Rangefinder Case when I needed to order a replacement for my original storage case that came with my rangefinder. That one had a faulty magnet, which meant that the lid wouldn't stay closed therefore I was keen to look around and find a replacement.
Available currently in four different colours the Craftsman rangefinder case reviewed really well on Amazon.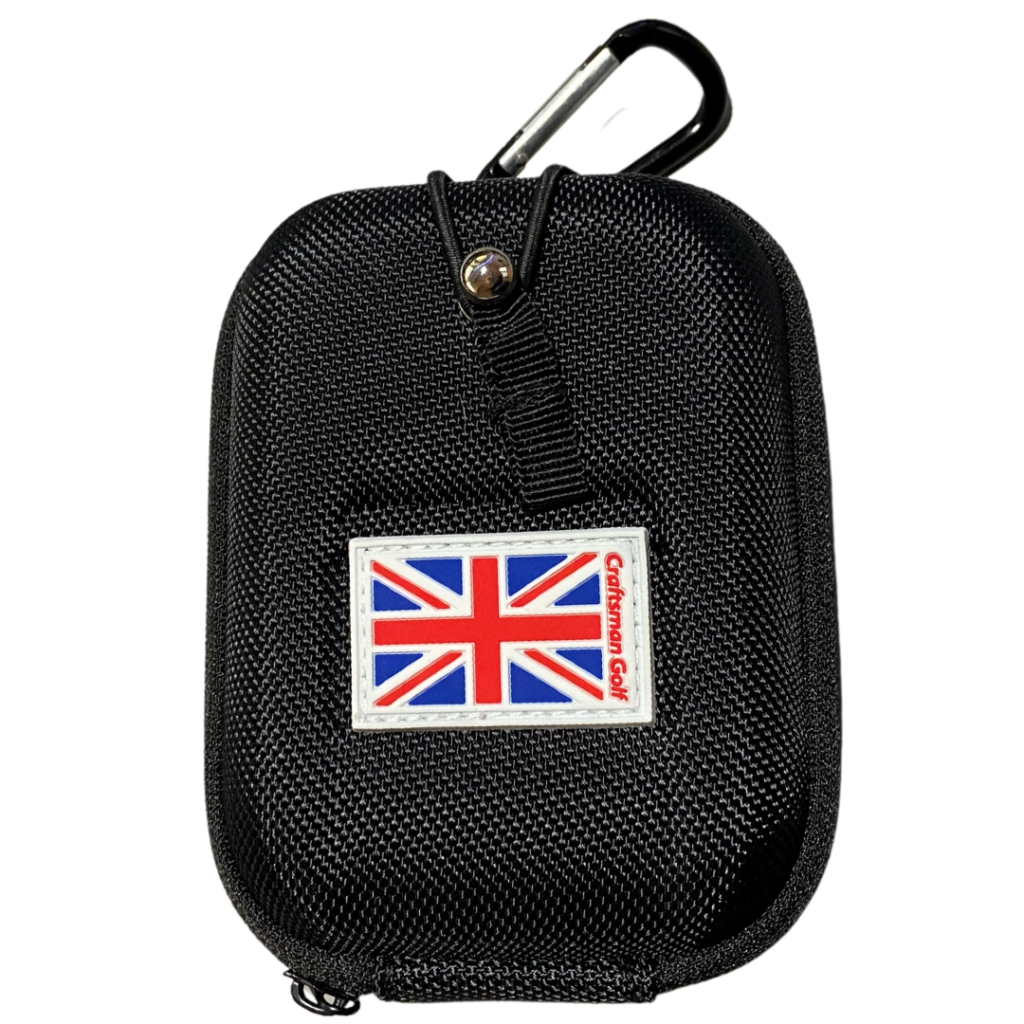 This case has a hard, yet flexible ethylene vinyl acetate (EVA) shell that feels strong enough to withstand the regular bashing it will get on the golf course. The strength of it certainly seems to be similar to the cases I have seen from premium branded rangefinder cases. The case is supplied with a carabiner to make it easy to hook onto your golf bag or alternatively a belt or strap can be looped though the back as seen below.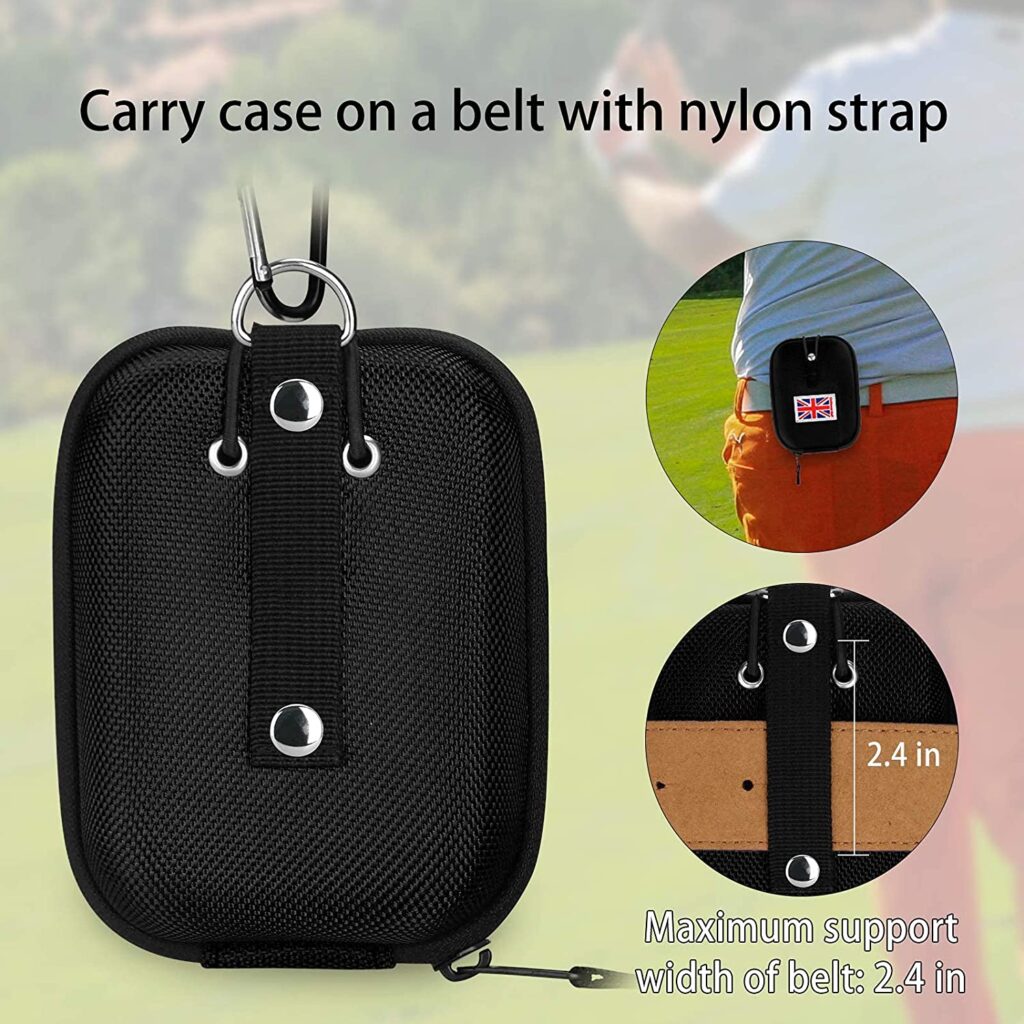 Who are Craftsman Golf?
Craftsman Golf was formally setup in 2012 by David Johnson, a golfer who loved to create and design headcovers for his clubs. Inspired from David's original passion for headcovers, the company now sells a wide range of golfing products through their website and also through Amazon. Exclusive Craftsman discount codes are available on our SGTV Discounts page.
How Big is the Craftsman Golf Rangefinder Case?
The rangefinder case measures 13.5 cm x 11cm x 5cm.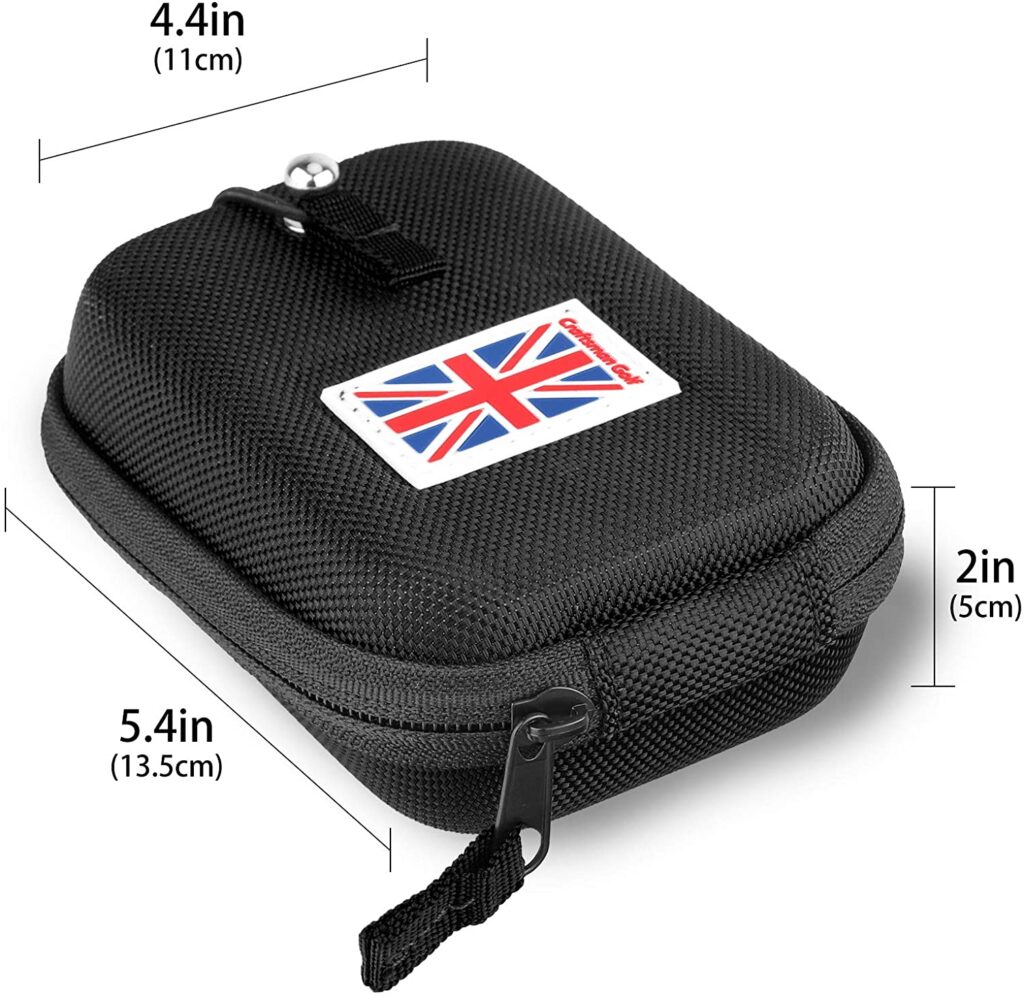 Is the Craftsman Golf Rangefinder Case Waterproof?
The case is water-resistant and shockproof. I have played several rounds now in Manchester's heaviest rain and my rangefinder has been safe and dry at the end of it. It certainly copes against standard winter weather conditions. If it was submerged then water would come in through the zip and the holes where the elastic strap comes out.
Which Rangefinders Fit into the Craftsman Golf Rangefinder Case?
This case fits my PeakPulse Rangefinder, which is a relatively large scope. The beauty of buying through Amazon of course is that if it doesn't fit your rangefinder their returns process is really simple.
Reading the reviews online from other people, it seems to fit the following:
Nikon Callaway Diablo Octane Rangefinder
Bushnell V2, V3 & V4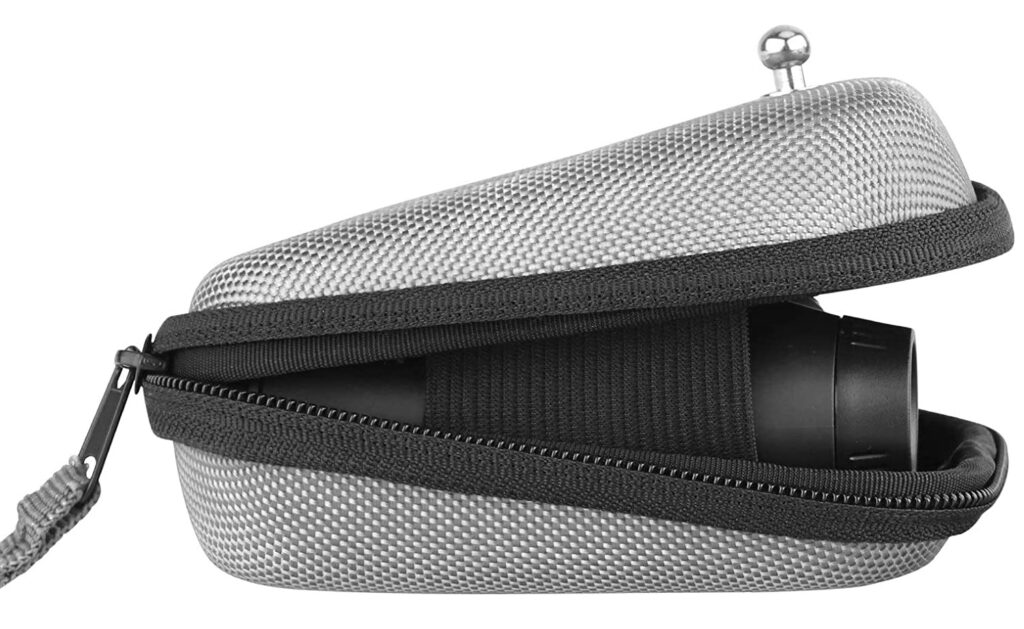 Online reviews also suggest it doesn't fit:
How Many Colours Is the Craftsman Rangefinder Case Available In?
Currently there's four colours. Black with a Red trim, All Black, Silver and Blue.

Summary
Pros
Budget price
Waterproof & Shockproof
Fits most rangefinders
Available in four different colours
Carabiner supplied with it to clip onto golf bag
Cons
Rangefinder cases will tire and need replacing if you're playing golf regularly. No matter how you look after them they're bound to get quite a battering while hanging off your golf bag. The Craftsman Golf Rangefinder Case is a simple affordable solution that displays premium performance.
At the time of writing this article it is priced at £14.99 (around $20), the same price as the BOBLOV case I reviewed previously. This case is very similar, but the choice of colours makes the Craftsman case stand out for me.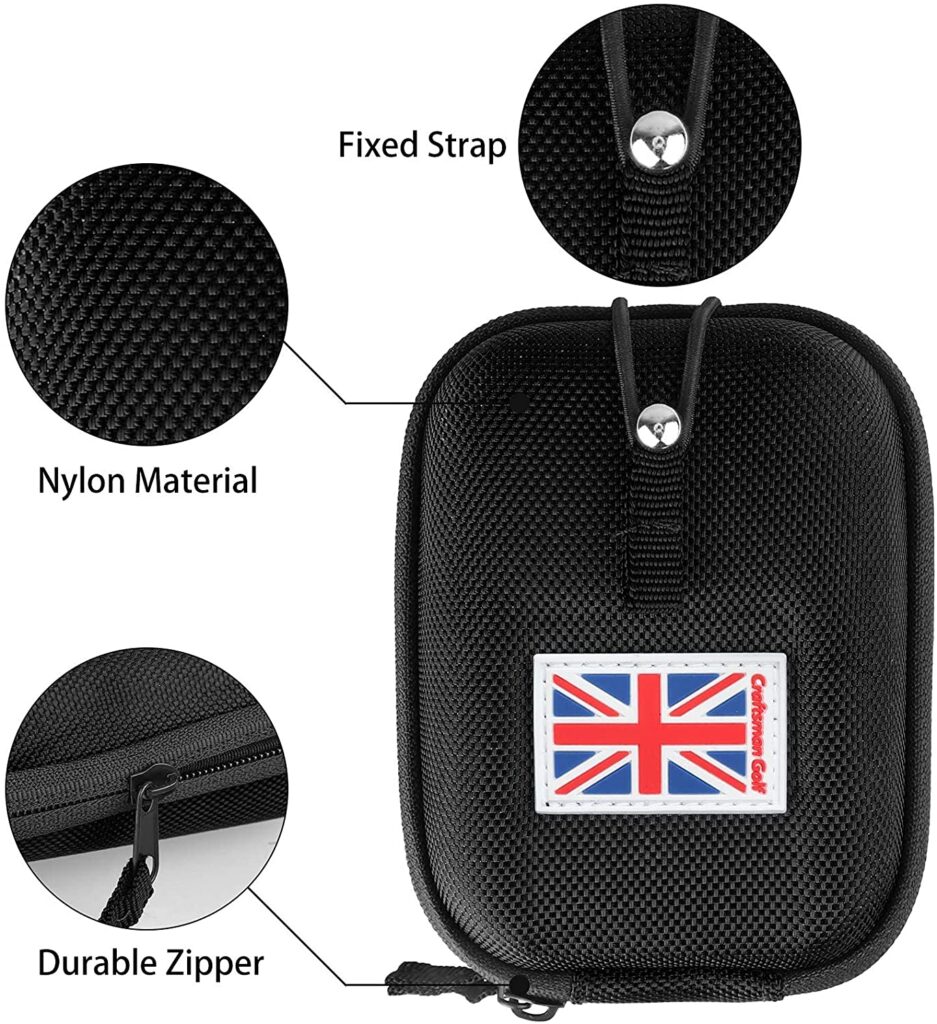 I hope you've found this Craftsman Golf Rangefinder Case review useful to show you the pros and cons and to help you choose the right rangefinder case for your needs. If you're looking for a new rangefinder or want to look at other cases then why not checkout my other rangefinder reviews. Looking for more goodies for your golf bag? Take a look at the Craftsman Golf Scorecard holder.
Until next time, bye for now!