Product Review – BOBLOV Golf Rangefinder Case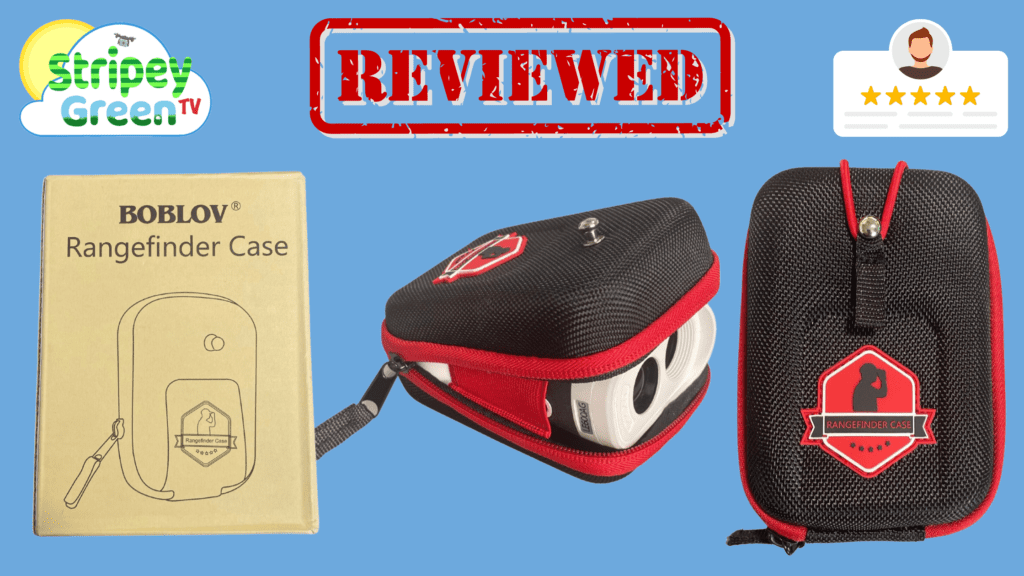 DISCLOSURE: THIS POST MAY CONTAIN AFFILIATE LINKS, MEANING I GET A COMMISSION IF YOU DECIDE TO MAKE A PURCHASE THROUGH MY LINKS, AT NO COST TO YOU. PLEASE READ MY DISCLOSURE FOR MORE INFO.
BOBLOV Rangefinder Case – Price when reviewed: £14.50 / $18.65 | Check price on Amazon
I recently ordered this BOBLOV Golf Rangefinder Case from Amazon to fit my PeakPulse Rangefinder, since the original storage case that came with my rangefinder had a faulty magnet, which meant the lid didn't stay closed. Keen to make sure I didn't lose my rangefinder, I set about finding a spurious case that would fit the PeakPulse 6Pro Rangefinder.
As a result, I read a lot of different reviews before deciding to go for the BOBLOV Golf Rangefinder Case.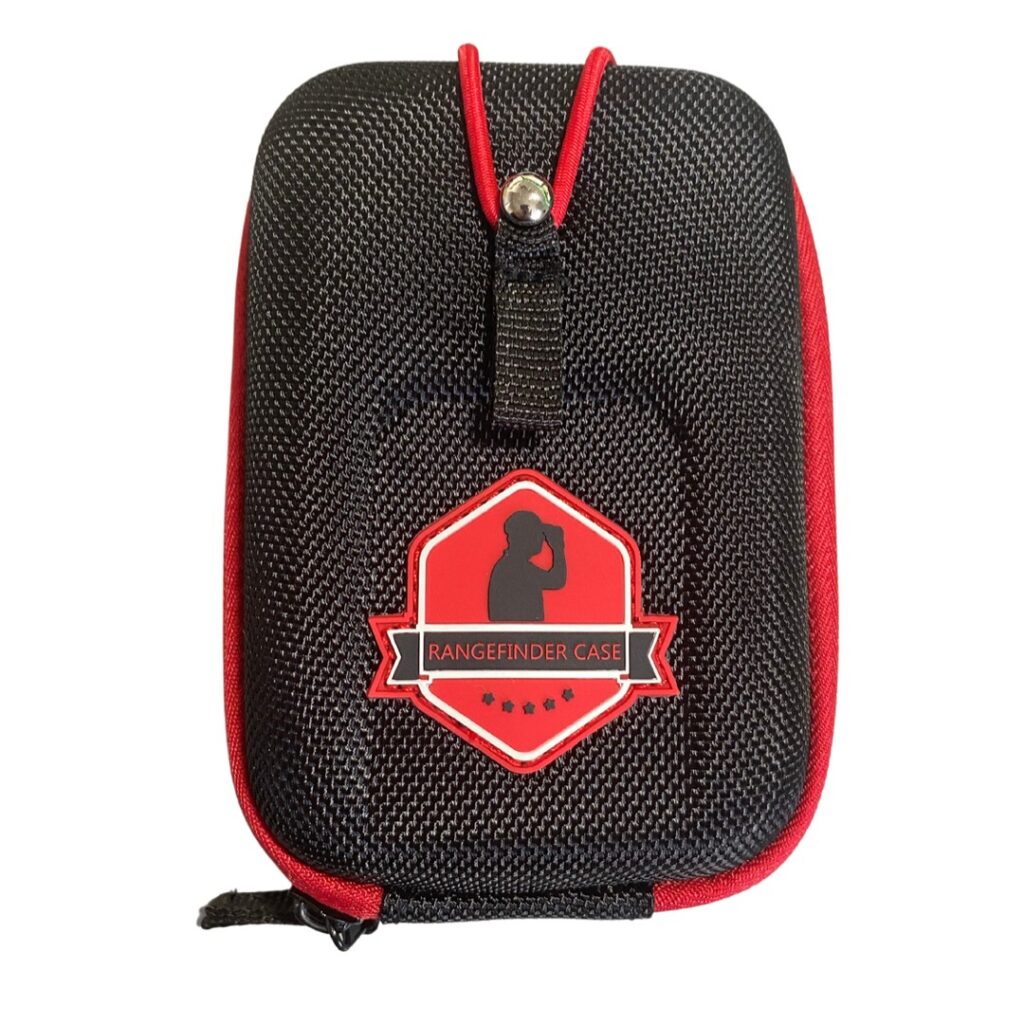 This BOBLOV case has a hard, yet flexible EVA (ethylene vinyl acetate) shell that feels very robust and certainly on a par with the cases I've seen from Bushnell and other premium manufacturers. The case comes supplied with a carabiner to make it simple to hook onto your golf bag. Alternatively, you could loop your belt or a strap through the red strap you can see below.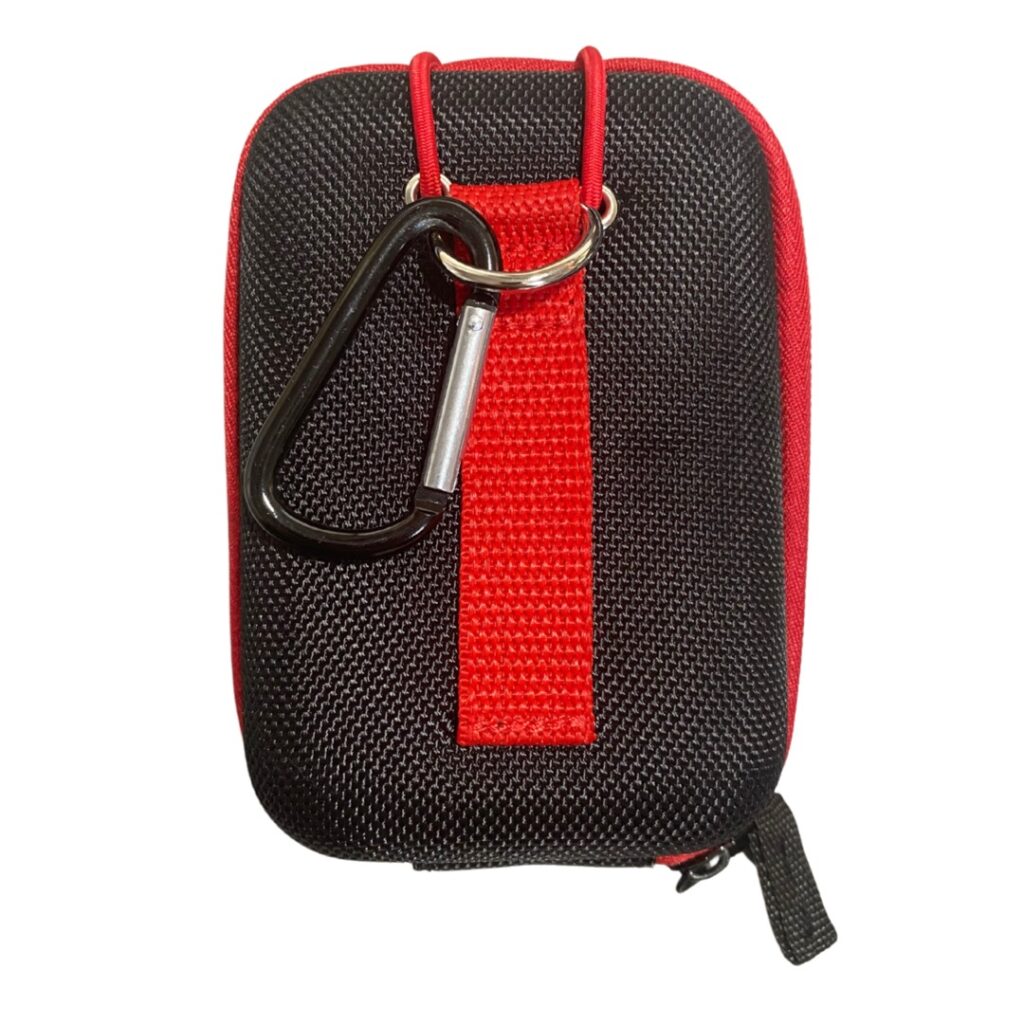 Who are BOBLOV?
BOBLOV specialise in optical and image products, body cameras, and rangefinders. You can see more of their range in their Amazon Storefront. It looks for now as though there's only one choice of colour, but hopefully they'll bring out more in the future. The black and red case is a fairly neutral looking when attached to a golf bag, though.
Is the BOBLOV Golf Rangefinder Case Waterproof?
Yes, the case is waterproof and shockproof. I played 18 holes last week in Manchester's finest heavy rain, yet my rangefinder was safe and dry at the end of the round.
Which Rangefinders Fit into the BOBLOV Golf Rangefinder Case?
This case fits my PeakPulse Rangefinder, but the great thing is if you do buy it from Amazon, then you can always return it if it isn't suitable. Reading the reviews online from other people, it seems to fit the following:
Bushnell V2, V3 & V4
Nikon Callaway Diablo Octane Rangefinder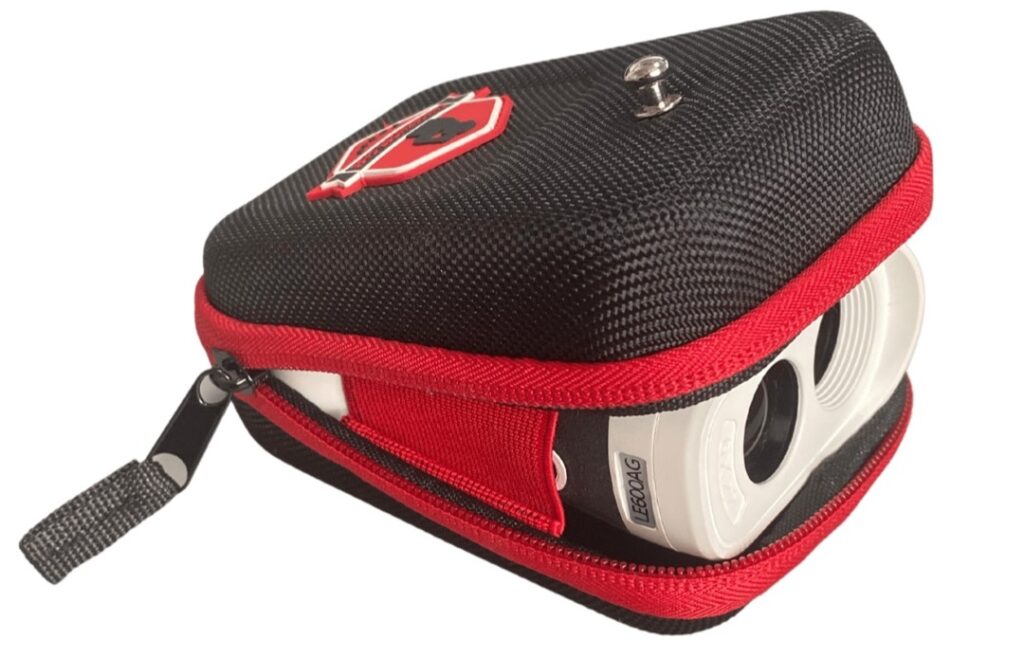 Online reviews suggest it doesn't fit:
Summary
Pros
Budget price
Fits most rangefinders
Waterproof & Shockproof
Carabiner supplied with it to clip onto golf bag
Cons
Only available in black and red (at the time of writing this article)
I've only had this case now for just over a month, but so far so good! Some online reviewers have suggested that the zip breaks quite easily. As yet, all seems fine with my zip, but if that changes then I'll update this article. I only use the zip twice per round, so I wonder if others are zipping it open and closed each time they use it during a round. That is, I unzip at the start of the round, then use the elasticated fixing strap to keep it closed.
All in all, I think this BOBLOV Golf Rangefinder Case is a good purchase. It has a budget price (under £15/$20), yet a more premium performance. Rangefinder cases tend to take quite a battering while dangling off a golf bag. Wear and tear will mean you'll likely need to replace them every so often. However, I wouldn't hesitate to recommend this one.
I hope you've found this BOBLOV Golf Rangefinder Case review useful to show you the pros and cons and to help you choose the right rangefinder case for your needs. If you're looking for a new rangefinder then why not checkout my rangefinder reviews.
Until next time, bye for now!