Alomejor Power Swing Fan Trainer – Review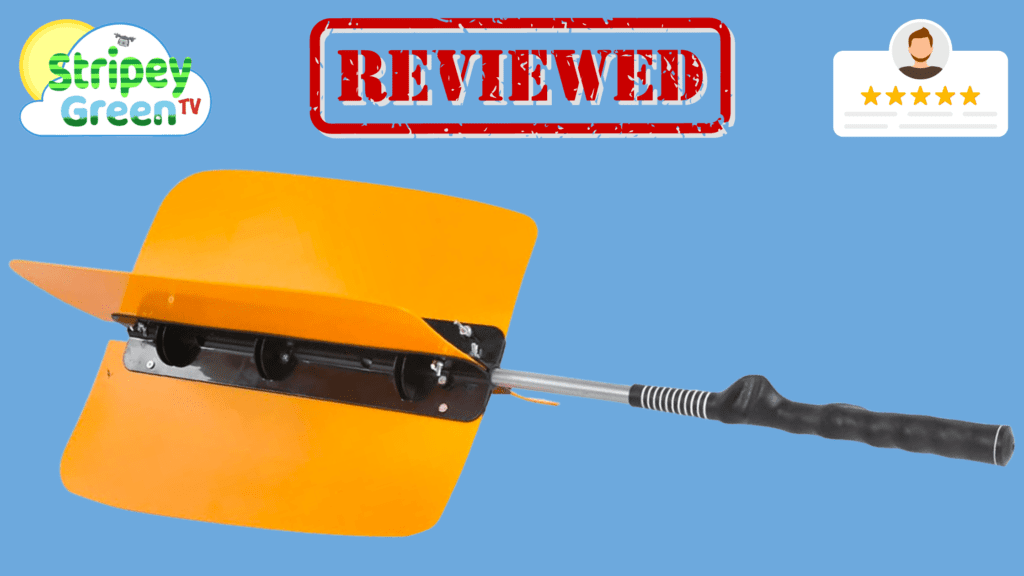 Alomejor Golf Power Swing Fan – Price when reviewed £40.99 / $52.56 | Check price on Amazon
Specification:
Material: ABS
Optional Colours: White, Yellow
Weight: 950g
Total Length: Approx. 77cm / 30.31″
Width: Approx. 32cm / 12.60″
Blade Length: Approx. 39.5cm / 15.55″
Today's Best Deals:
Found a better deal? Please let us know.
REASONS TO BUY
✅ Low cost
✅ Only requires small area to use
✅ Dual Performance – Helps improve swing speed and grip
REASONS TO AVOID
👎 Needs assembly
👎 One size fits all, not suitable for left handed golfers
The Alomejor Golf Power Swing Fan is just one of a number of this style of golf speed training device on the market at the moment. Power swing fans have been around for some time now and there are several different versions of fan available, at a range of prices.
I tried the Alomejor Power Swing Fan which has been available since early 2020 sits above the very cheap looking versions, but below the premium fans.
The first thing I loved was the cost. Many other speed training tools run in to the hundreds of pounds. This is a very affordable and effective way to improve a golfers swing speed.
Secondly the size. The power swing fan is relatively compact and because a golfer isn't physically hitting a ball, there's not too much room needed to use this. In fact, I was even able to use it safely indoors in one of our rooms with a higher ceiling.
The other thing I really enjoyed about the fan was the "swoosh". The fan makes a physical noise as it is swung. The more swoosh, the quicker the swing. The audible feedback makes it really easy to work on lag, and helps to make sure the power is in the right part of the swing.
Not only does this tool help to improve a golfers swing speed, but the ergonomic training grip also helps a golfer to line up their grip. Using this regularly, should help a golfer to remember exactly how to grip a "standard grip" when playing on the course. The caveat to this is that there is only one size of grip as mentioned in more detail below.
How to use the Alomejor Golf Power Swing Fan
Strangely there doesn't seem to be any instructions with the product?! I read a lot of articles online and I came up with this routine.
20 x two handed swings
20 x one handed swings (using left hand)
20 x HARD two handed swings
This routine only takes around 10 minutes but it feels like a good workout. A word of CAUTION though … make sure you warm up first! It's really easy for a golfer to injure themselves if speed training without a thorough warmup.
Everything has something wrong, right?
As you will know from reading our reviews before, it's not all about the good stuff! Here's the downsides to the Golf Power Swing Fan.
ONE SIZE FITS ALL : Exactly that. The grip was the perfect for me, I wear a M/L glove. I would imagine if you had bigger hands or very small then this may not work for you. Plus the grip only works for R/H golfers!
NEEDS ASSEMBLY : As you can see from the image below, this comes in 26 parts … although it only took me 6 minutes to assemble you may prefer to pay more and buy a pre assembled version.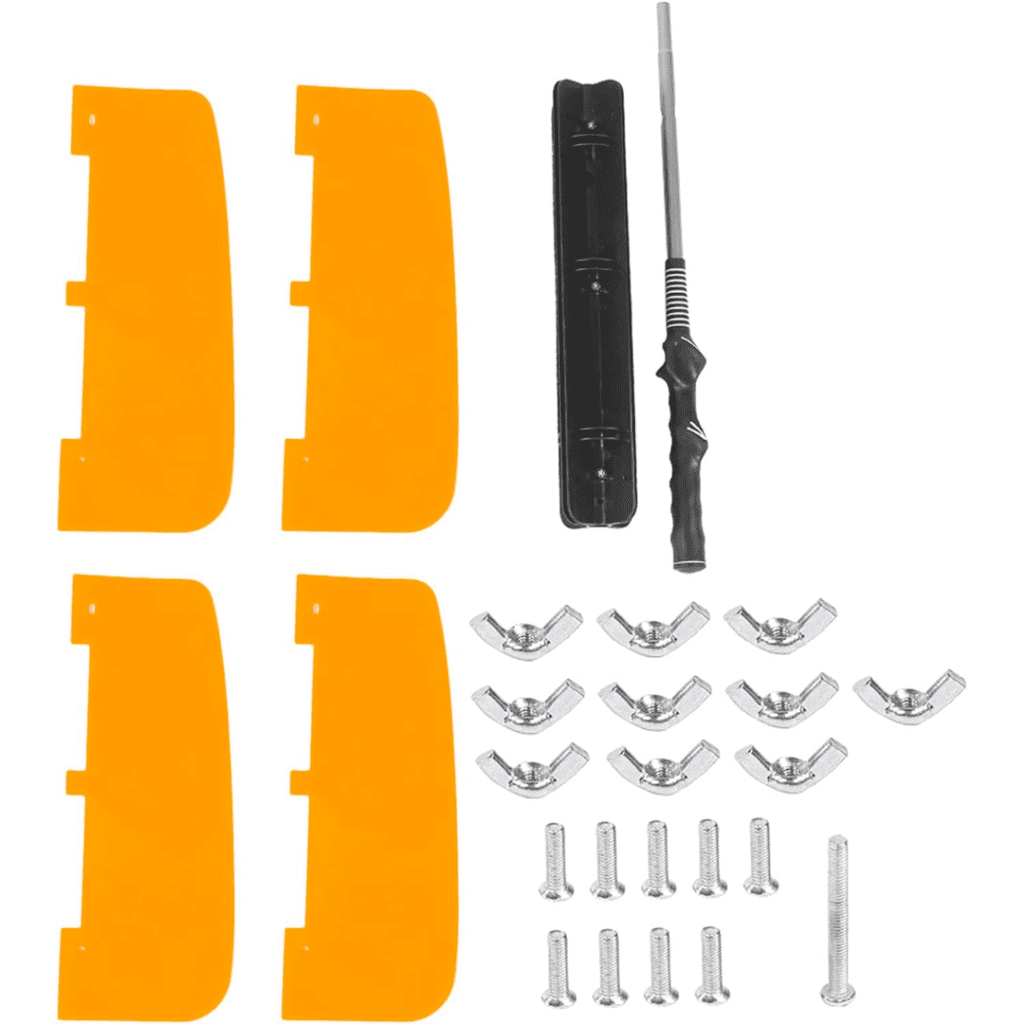 Manufacturer's Stated Key Features:
IMPROVES STRENGTH AND MUSCLE MEMORY – The golf power training tool used to improves strength and muscle memory, helps improve extensibility and correct swing way, builds strength through wind resistance, designed for golfers of all skills.
EASY TO INSTALL AND REMOVE – The golf power resistance trainer adopts hollow slot main body, smooth wind guide, your swing trajectory will not appear snake deviation, still swing out is circular arc. , accessory humanised designed, easy to install and remove.
INCREASE THE DISTANCE OF SHOT – The golf wind trainer is heavier than conventional swing type trainers, have strong experience of actual battle effect. Effectively increase the distance of shot, swing control ability and accuracy.
INCREASE FORCE – This golf swing trainer increases wind resistance, long term using of wrist force, arm force, waist force get sufficient exercise. Core muscle training utilises air resistance from four wind blades. Strengthen core muscles(eg: the wrists, arms, shoulders), develop muscle memory.
RUBBER NON-SLIP HAND GRIP – This golf fan trainer with rubber non-slip hand grip, length 26cm, stainless steel rod body, main body composed of 4 symmetrical fan blades, propeller shaped fan blades.
Box Contents:
1 x Handle Golf Club
4 x Fan Blade
1 x Hollow Slot Plate
10 x Screw
10 x Nut
Watch PGA Professional Katie Robinson using a similar device below. Simple but effective.
Alomejor Golf Power Swing Fan Summary
If you're looking to improve your swing speed and your grip then this will undoubtedly give positive results (unless your hands are the wrong size as per above). Personally I would prefer to use a Speed Stick for golf speed training but if you've tried Speed Sticks and they don't work for you then this could be a good alternative.
The Alomejor Golf Power Swing Fan certainly gives a good amount of resistance when swinging. The resistance is definitely enough to help a golfer to increase their swing speed with regular use. If you are trying to improve your golf swing speed then you should also read our Best Golf Swing Speed Training Aids article.
Bye for now!