Product Review – Craftsman Golf Waffle Golf Towel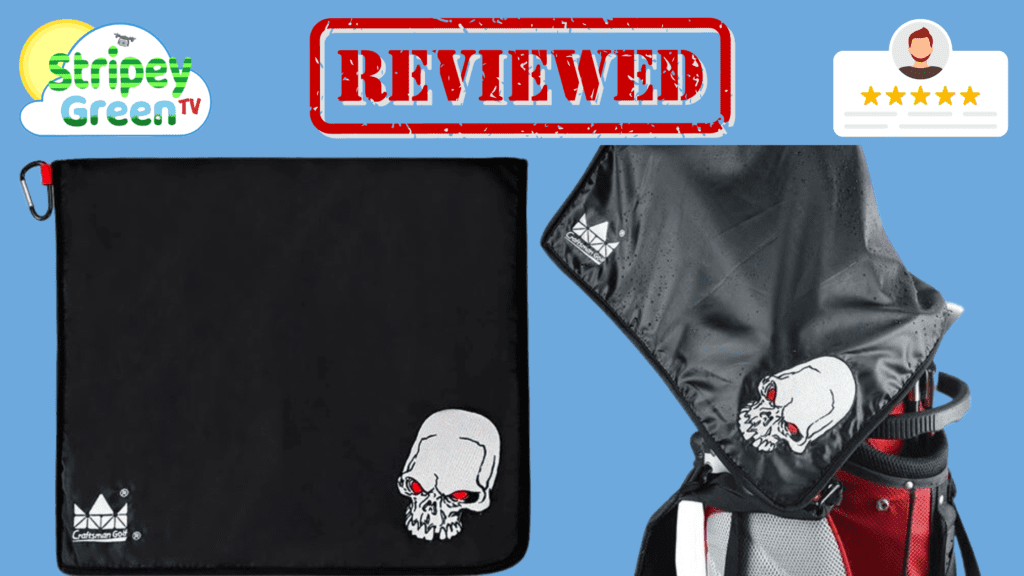 DISCLOSURE: THIS POST MAY CONTAIN AFFILIATE LINKS, MEANING I GET A COMMISSION IF YOU DECIDE TO MAKE A PURCHASE THROUGH MY LINKS, AT NO COST TO YOU. PLEASE READ MY DISCLOSURE FOR MORE INFO.
When I started thinking about writing this article, I thought that there's not really a lot to tell you in a waffle golf towel review. After all, surely a golf towel is just that … but I was wrong. Actually, Craftsman Golf have designed a towel that is not just for cleaning your golf gear. It doubles up as a rain cover for your golf bag and could even improve your golf game as well!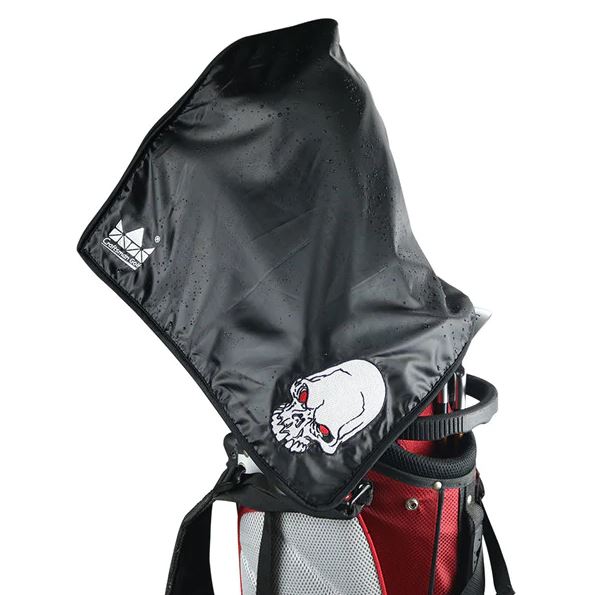 What is the Waffle Golf Towel Made from?
On one side of the towel there's a water-resistant polyester outer that repels rain, which is perfect for covering the top of a golf bag.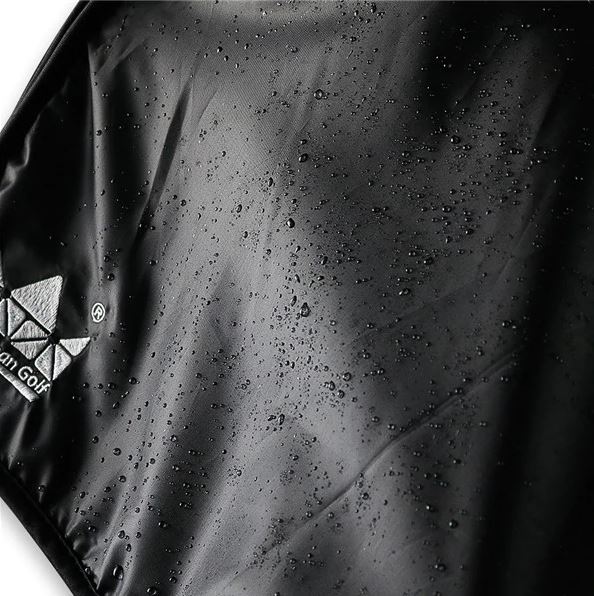 On the inside is a soft waffle textured towelling material, just the ticket for cleaning golf equipment. The waffle design improves the towel's ability to suck up water by increasing the surface area of the towel. The microfibre material is super efficient at removing dirt, mud, sand, and grass from a golf ball or golf club. When the towel gets dirty, simply slip it in the washing machine to freshen it up.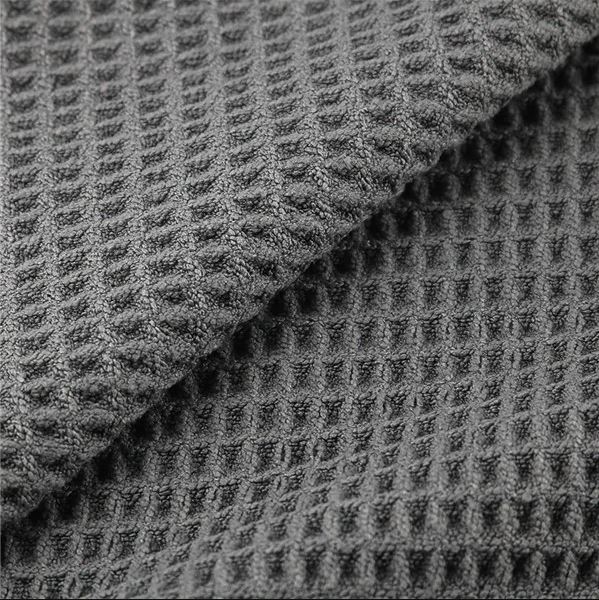 The towel also comes supplied with an Aluminium carabiner clip to attach it to a golf bag.
How big is the Waffle Golf Towel?
The waffle golf towel measures 16.5″(42cm) x 15.7″ (40cm). The folded design gives twice that size in terms of surface area of waffle material within the towel to clean a golf ball of club with. The length of it means that the towel hangs off a standard golf bag nicely without reaching the ground, picking up dirt, or catching in golf trolley wheels.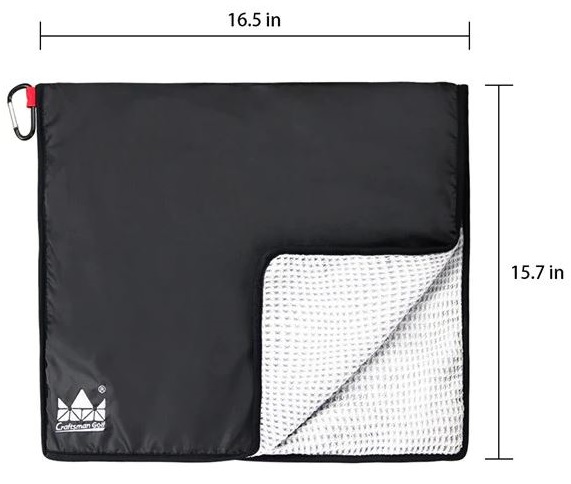 Why do you need a golf towel?
Golf towels are incredibly versatile. There are several reasons that it's handy to carry one in or on a golf bag. Primarily, I use a golf towel for cleaning dirt from my golf clubs and cleaning my golf balls. For this purpose. I like to keep the towel wet to make it easier to wipe off stubborn stains.
It is handy to also carry a second dry towel in your golf bag. A dry golf towel is useful for wiping down club grips if they become wet due to rain or sweat. Dry towels are also handy for wiping sweat from a golfer's hands or face in warm conditions and preventing a club from slipping out of the hands.
As if those points aren't enough reasons to have a towel in your golf bag… then, a towel can also be used to improve your golf! Checkout this "Home Golf Drills with Towel" video from the Shee Sister's YouTube channel Shee Golfs.
Who are Craftsman Golf?
Craftsman Golf, the creators or this waffle golf towel, was setup in 2012 by David Johnson. The setup of the brand was inspired by David's passion for crafting personalised golf headcovers. The company now sells a wide range of golfing accessories through their website and also through Amazon. There are exclusive Craftsman Golf discount codes available on our SGTV Discounts page.
Summary
Pros
Waterproof on one side
Waffle fabric for easy cleaning
Doubles up as a clubhead cover
Available in a range of different designs
Supplied with carabiner to clip towel to bag
Good value
Cons
This waffle golf towel is priced around £20 ($25) on the Craftsman Golf website which is good value compared to similar products, which can range up to £50 online. I love the fact that the towel is dual purpose and can also provide a cover for the golf bag. This bonus means that there's no need to carry both a towel and a cover. There are a few different designs and colours to choose from. I'd like to see some personalised options like Craftsman Golf offer on some of their other products. When I asked Craftsman Golf about personalisation, they have said that they hope to offer this option in the future, so watch this space!
I hope that you've found this Craftsman Golf Waffle Golf Towel review useful towards helping you choose the right scorecard holder for your needs. If you're looking for new golf equipment, then why not checkout my other product reviews?
Until next time, bye for now!