Shot Scope G5 GPS Golf Watch – Review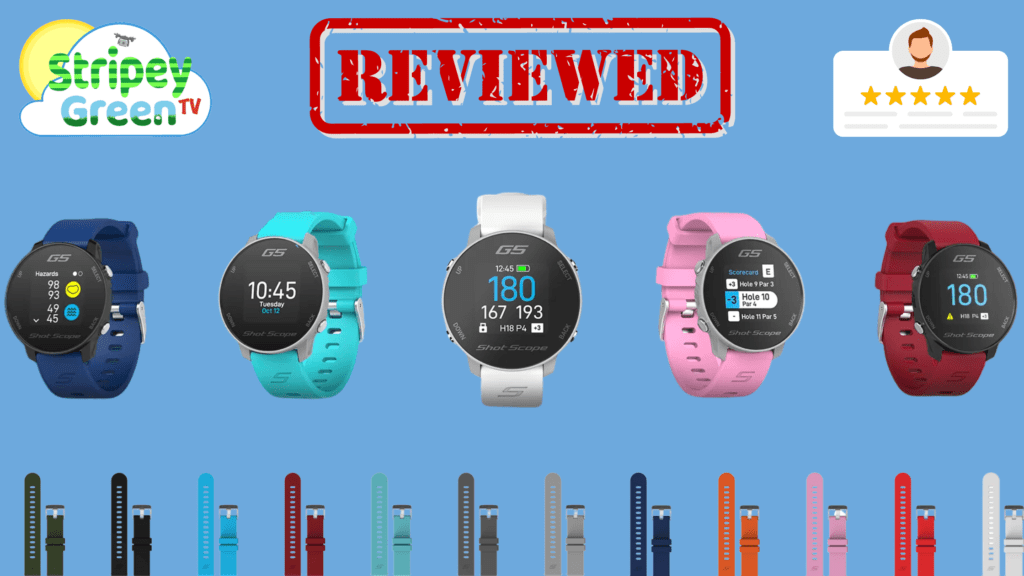 DISCLOSURE: THIS POST MAY CONTAIN AFFILIATE LINKS, MEANING I GET A COMMISSION IF YOU DECIDE TO MAKE A PURCHASE THROUGH MY LINKS, AT NO COST TO YOU. PLEASE READ MY DISCLOSURE FOR MORE INFO.
Shot Scope G5 GPS Watch
Based in Scotland, Shot Scope are a golf tech brand that have been leading the way within the golf accessories category since their formation in 2013.
Their brand new Shot Scope G5 GPS watch, released on the 12th July 2023, is the latest instalment of their "G" watch range. The G5 takes over from the previous Shot Scope G3 watch. This "G" range has always offered golfers phenomenal value for money and the new G5 is no exception.
The Shot Scope G5 GPS Watch offers quick and accurate distances on over 36,000 preloaded golf courses from around the world, and is priced low compared to it's rivals at £149.99 – Save up to 15% using discount code STRIPEYGREEN at the checkout (see all Shot Scope discount codes here).
What's new with the G5 GPS Watch?
Style! The main update from the G3, is that this watch is now available in a range of different colour options. The watch straps are available in 12 delectable colours, and each watch is supplied with a choice of two strap colours.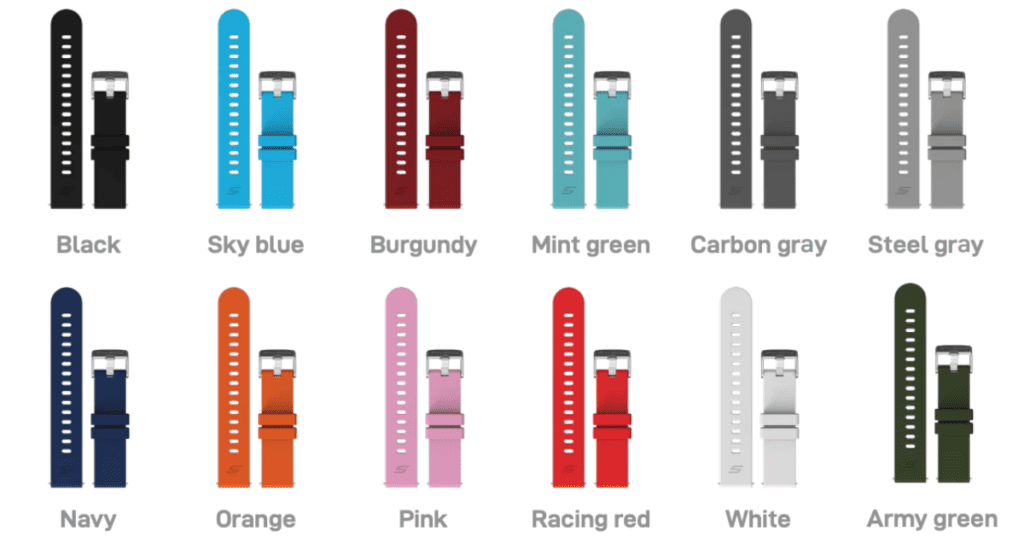 Not only can golfers personalise their watch strap but the colour of the watch case can be chosen at the point of purchase as well.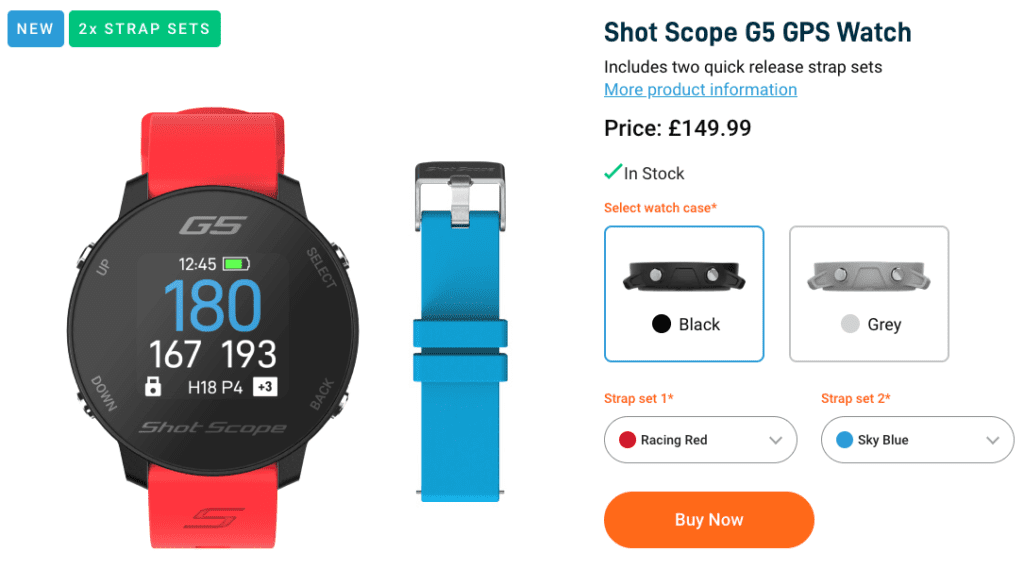 This is the first Shot Scope product to offer an extended range of straps and housings like this. If you want to have a different strap for everyday of the week additional straps can be purchased on the Shot Scope website. They are priced at £14.99 each.
Why is the G5 GPS Watch so Cheap?
The G5 keeps it simple. Shot Scope have designed a product that offers a good amount of features, yet still hits an economical price point. Unlike some of the more expensive watches on the market, the G5 makes it easy for golfers that want to stay focuses on their game. It's perfect for golfers that either hate technology, or only want to know their basic distances on the course. The watch can be used straight out of the box and without a mobile phone.
How's the Quality?
This watch might be super light, but it still feels like the high quality that I would expect from Shot Scope products. At only 42g it does feel featherweight on the wrist, but the glass screen and super soft strap give an overall feel of premium quality. I've used it now for several rounds and it still has that brand new "out of the box" look.
Super Simple
There's two ways of setting the watch up. The super simple way is just to select the time, and then go and play golf! Alternatively, using the Shot Scope app, the watch can be setup using your mobile phone or tablet, which will offer you a more comprehensive experience (If you want to update the device's firmware or update the golf courses then you will need to connect to the app).
How Long Does the Battery Last?
Shot Scope say the battery on the G5 will last for up to 10 days when using it in "watch mode" or at least 2 rounds of golf in "GPS mode".
Keep Your Score as you Play
Never lose a scorecard again! The Shot Scope G5 GPS Watch will keep your score while you play. If you're the type of golfer that prefers not to know, then don't worry, this can be turned off.
Over 36,000 Golf Courses!
As with all Shot Scope watches the G5 comes preloaded with over 36,000 golf courses. Shot Scope course mapping is different to many other companies in the fact that the data is owned and managed by themselves, not a 3rd party company. This means quick updates can be made to any course in the world. Has your course added a new bunker? Let Shot Scope know and the course will be updated within 48 hours!
Watch how the team map the courses:
Hazards & Doglegs
In addition to the front, middle and back distances, the G5 gives precise distances to the front, and carry distances, of each hazard on the course. I love this feature. Usually I have to get my rangefinder out to ping bunkers or trees. This is super quick, just a click of a button.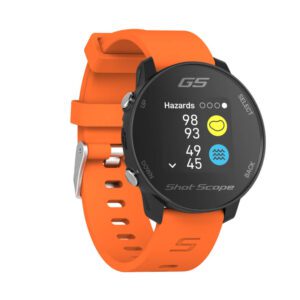 There is also a dogleg and layup feature which tells the golfer precise yardage to reach doglegs or to fixed layup yardages.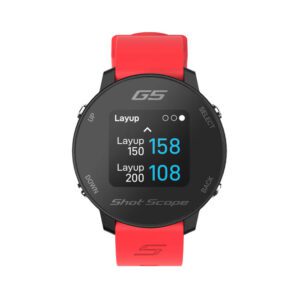 The watch also has a "brag mode" where you can show off to your mates how far you hit your last shot!
How Good is the Shot Scope G5 GPS Watch Screen?
In short … it's superb. The daylight readable MIP (memory in pixel) colour screen on the G5 is made from a hardened mineral glass. This should mean it's robust and hard wearing. The screen is crisp and clearly shows the front, middle and back distances when in use. If you are struggling to see the screen at all there are three different setups you can chose including a large single distance display option.
I guess the only downside to the screen is that it isn't a touch screen, but in reality that would be asking a lot at this price point. The watch is operated using the buttons on either side of the face.
GPS, Rangefinders or GPS Watches? Which are the best to use?
I personally use a hybrid of a GPS Watch and a rangefinder. The rangefinder is good for finding exact distances to certain objects, including trees and flags, but it is not the quickest method. Rangefinders take 20-30 seconds to get out of a golf bag, scan the distance and then put back.
GPS Golf Watches give instant yardage simply by lifting an arm up!
Money Back Guarantee!
Still not sure? Shot Scope offer a 30 day money-back promise that gives you the peace of mind to try the product worry free. If you're not happy, just contact Shot Scope and they'll arrange a no hassle return.
What's in the box?
1 x Shot Scope G5 watch case
2 x Shot Scope color strap sets
1 x USB charger
Free iOS / Android app
2 year Shot Scope warranty
Product Details
Quick set up, ready to play straight out of the box
Lightweight at only 42g
Simple and easy-to-use golf watch
Dynamic front, middle and back distances to the green
Front and carry distance for every hazard
Layup points and dogleg distances
36,000+ preloaded courses worldwide
Digital scorecard to keep your score as you play
Choose from 12 interchangeable quick release coloured straps
Daylight readable colour screenPost round summary – total time played and score
Last shot distance measurement: Track your shot distance
Distances available in Yards or Metres
Conforms to the Rules of Golf
Wear as an everyday watch with multiple clock faces
Battery life: 2+ rounds of golf Free mobile app for quick and seamless course updates
Free firmware updates, including new features
Play courses worldwide with no subscription fees
Large digit display mode
No phone required on the course
2 year Shot Scope warranty
Quick course edits – Shot Scope in-house mapping team can make edits to a course within 48 hours
G5 GPS Watch Specification
Lens Material: Hardened Mineral Glass
Strap Material: Silicone with dust resistant coating
Button and buckle Material: Brushed Steel
Watch Case Material: ABS plastic
Weight: 42g
Battery Life:
GPS Mode: 2+ rounds of golf
Watch Mode: 10+ days
Display Resolution: 176 x 176 pixels
Display Type: Daylight readable MIP (memory in pixel)
Colour Display: Yes
Bluetooth: Bluetooth 5
GNSS Tracking: GPS L1, Galileo E1, Glonass L1
Connected Smartphone Apps: Android and iOS
GPS Distance Measurement: Yards or metres
Summary
If you're looking for a stylish golf watch but don't want to break the bank then the G5 could just be the one for you! I can wholeheartedly recommend it.
*Don't forget to use discount code STRIPEYGREEN to save up to 15%!
I hope you've found this Shot Scope G5 GPS Watch review useful to show you the pros and cons, and help you to choose the right GPS watch for your necessities and budget.
If you've spotted any errors or would like to add your opinion please pop a comment below.
Bye for now!